Club Meeting
Smoketown Brunswick
Meets on 1st and 3rd Fridays every month (holiday exceptions)
Steadman-Keenan American Legion Post
18 South Maple Ave.
Luncheon served
Currently held virtually until firther notice

Happy Hour fellowship meeting 2nd Wednesday monthly from 5:30-8pm at
Smoketown Brewing Station
West Potomac St.
Brunswick, MD 21716
Social Distancing
Birthdays
Ernie Stepoulos


November 3rd
Kevin C. Kenny


November 10th
Lois A. Jarman


November 10th
Club Leaders
Upcoming Meetings and Events
Wednesday, October 14th, 5:30pm-8 – Happy Hour Fellowship at Smoketown Brewing in Brunswick
Please join us this coming Wednesday!!
Friday, October 16th, '3rd Friday' Meeting via Zoom at Noon
Saturday, October 17th, 11am – Paul Harris Fellow Award Presentation at Entrance to Rivers Edge Trail in Brunswick ( at the end of Cummings Drive near the BMS entrance drive)
---
O2GO 2020: Smoketown Rotarians in Service



Smoketown Rotarians safely prepared over 2,000 individual servings of Apple Strudel for O2GO 2020! In the photos below are Kim Grizzle and Jennifer Lolli-Hall and Chris Mourlas with Arch Hodges. Thank you for your service!
---
Carroll Creek Rotarian Ashley Waters has launched a "Pints to End Polio Now" event with Smoketown Creekside on October 24 (World Polio Day), in which Smoketown Creekside will donate $1/Pint between 12PM-5PM that day and those dollars will be matched by Ashley.
As Smoketown Brewing Station's original operation is based in Brunswick, and proprietor David Blackmon is a Charter Member of the Smoketown Rotary Club you might be interested in this fund raiser.
If anyone is interested in working with Ashley on this, please reach out to her at
---
DG Jimmie Was Awarded State of Maryland Governor's Citation
By Sonia Liu
on Friday, September 11, 2020
The Honor of Our District -
We are so excited to share this wonderful news with you. Our District Governor Jimmie Gorski was awarded Governor's Citation by the State of Maryland Governor Larry Hogan. Please find the citation below:

"Governor of the State of Maryland, to JIMMIE GORSKI, Greetings: Be it Known: That on behalf of the citizens of this State, in recognition of a special tribute to honor you on your selection as the District Governor for Rotary District 7620—with sincere gratitude and congratulations on your long and distinguished record of accomplishments as a lifelong educator and leader in the community; and as our citizens join in expressing our great respect, admiration and sincere best wishes for continued success, we are pleased to confer upon you this Governor's Citation.
Given Under My Hand and the Great Seal of the State of Maryland, this 28th day of June, Two Thousand and twenty
Lawrence J. Hogan, Jr., Governor
Boyd K. Rutherford, Lt. Governor
John C. Wobensmith, Secretary of State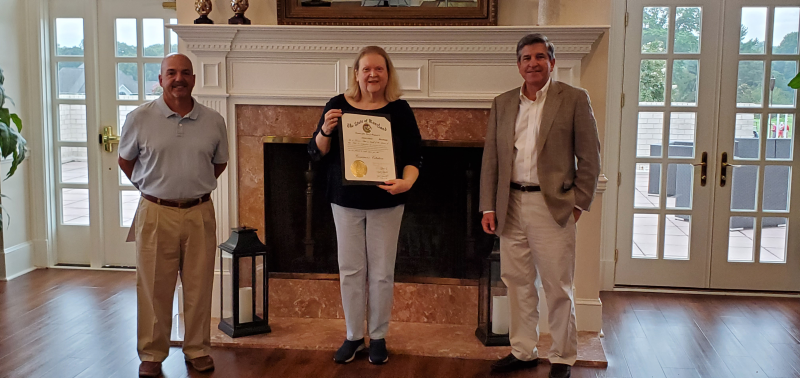 L-R: Andy Colevas, Club President of Upper Marlboro Rotary, DG Jimmie Gorski and Paul Ellington, Founder and Principal, State and Local Advisor Government Relations. Both are former students of DG Jimmie Gorski.
---

Dr. Tunji Funsho, chair of Rotary's Nigeria National PolioPlus Committee, joins 100 pioneers, artists, leaders, icons, and titans as one of TIME's 100 Most Influential People. TIME announced its 2020 honorees during a 22 September television broadcast on ABC, recognizing Funsho for his instrumental leadership and work with Rotary members and partners to achieve the eradication of wild polio in the African region.
He is the first Rotary member to receive this honor for work toward eradicating polio. Read More....
Virtual World Polio Day
By Sonia Liu
on Sunday, September 27, 2020
VIRTUAL WORLD POLIO DAY
Rotarians - register here to receive the meeting link info in your email confirmation.

Non-Rotarians Register here.
AGENDA
12:00PM Intro: Billy Louis & DG Jimmie GorskiKeynote Speakers:12:10PM
Mr. Chuck Davidson
Zone 33N End Polio Now Coordinator
12:30PM
Dr. Michel Zaffran
WHO Director, Polio Eradication Program
12:50PM
Closing Remarks


Watch Video Dare to Dream