District Leaders
L. Kirk Bouchie
District Governor
Mandy Jo Lohrum
Assistant Governor, PHF Society Chair
Shanon O'Toole
Assistant Governor, RLI District Chair
Lance Eberle
District Governor Elect
Laura J. Carie
Vice Governor
Kim Ingalsbe
Assistant Governor
Sara G. Laughlin
Assistant Governor
Charles Miller
Assistant Governor
Pepper PR Mulherin
Assistant Governor
Scott Peyton
Assistant Governor
Lacretia Ulery
Assistant Governor
Randall D. Wheeler
District Secretary
Featured in the July 2021 Newsletter:
Governor Kirk's July Message

Rotarians in District 6580 Meet at the Charles C. Hedde MD Health Education Center to Celebrate the Past Year and Welcome in New Leadership

Greenburg Rotary Club's 'Service Above Self' Award

Franklin Rotary Club's District Grant Project a Success
for Girls Inc. of Johnson County

We are THIS close!! New Strategy 'Delivering in a Promise' sets Roadmap for Polio Free World amid COVID 19

The NEWEST Club in the District is talking Vincennes by STORM!!

'This is what They do, This is Who they Are', Civic Award Given by Rotary Club of Evansville has a Rich History

Take Your Rotary Leadership to the Next Level with RLI!!

What is Coming Up on the Rotary District Calendar??
Do you know of Stories of Rotary's work in your community to share in this newsletter? Please contact Bettye Dunham, bdunham@rauchinc.org.
---
Governor Kirk's July Message

SERVE TO CHANGE LIVES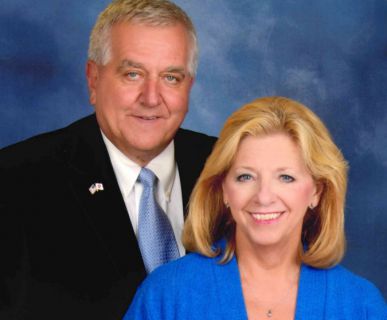 Greetings fellow Rotarians,

As we begin a new Rotary year I am very honored and humbled to be our district governor. I recognize that I follow in a long line of very distinguished footsteps. This year will offer all of us many opportunities to gather as we continue our service to our communities and our world. Last Saturday about 70 Rotarians from all around the district gathered in Vincennes to celebrate our district governor changeover. This was the first in-person district event since late February 2020 when we gathered for a very successful Rotary Foundation event in Bloomington. That now seems like ages ago as we have all lived through a worldwide pandemic, the likes of which none of us had experienced before. On behalf of all 1500 District 6580 Rotarians I commend Past District Governor Jessika Hane for her unwavering leadership of our district through this most difficult year. Wow, what a job she did! We added two new clubs, grew in membership, increased our giving to the Rotary Foundation and never missed a beat serving our communities! She led our district agenda through oh so many zoom meetings…"please unmute yourself". With the support of all the club presidents, district committee chairs, assistant governors, past and future governors and Bettye Dunham, our district administrative assistant, Jessika had a great year as our district governor. Please congratulate and thank her and Bryan when you finally get to see them this year. Jessika, THANK YOU!

On February 1, 2021, during our virtual International Assembly of all incoming district governors, Rotary International President Elect Shekkar Mehta announced the theme for our new Rotary year. SERVE TO CHANGE LIVES. He has challenged all of us to bring new members into Rotary. His slogan is Each One…Bring One. I ask each of our members to consider making this a priority this year. Our goal is to increase worldwide Rotary membership from 1.2 million to 1.5million members. Club service is also a high priority of the incoming president, including a new initiative to involve clubs in the empowerment of young girls all over the world. More on this later. Of course no plan would be complete without goals for our foundation support. The Rotary Foundation is the engine that drives our organization's ability to do so much good in the world and in our communities. District grants, global grants, etc. are made possible by the generosity of our members at the club level. I look forward to working with all of you this year on membership, service and foundation support. As President Shekkar said, " I am the shaker and you all are the movers". I know we have many movers in southern Indiana Rotary! I know we can and will change lives!

As I close my first newsletter message as district governor I want to tell you all just a little about myself and my family. My wife Becky and I were born in Vincennes, Indiana. We attended Lincoln High School and were married at the young age of 19 back in 1978. We have lived in Bloomington, Dallas, TX and Indianapolis prior to coming home in 1987 where we have since lived. I joined the Vincennes club that year and have served two terms as club president. We have two grown sons, Doug and David. Doug's family lives in Westfield and David's family lives in Vincennes. We have five grandchildren and two grand dogs (both live with us now). We enjoy all things involving the grandkids. We support Vincennes Lincoln and Indiana University academics and athletics and are St. Louis Cardinal fans. We enjoy vacations to Hilton Head, South Carolina. For the first half of my career I worked in banking as a commercial lender and bank president. Since 2004, I have served as general manager of Vincennes Water Utilities with about 45 team members. . I also am the volunteer president of our local youth baseball program since 1989. I serve on several boards including Vincennes University Foundation, Knox County Development Corporation, Grouseland Foundation, Vincennes Rotary Foundation, Vincennes Cub League, Vincennes Area Builders Association, and Vincennes YMCA. Enough about me.

Next month I want to tell you about our district leadership team and all the wonderful folks that have stepped up to Serve to Change Lives. Bettye and I are already scheduling my club visits and I look forward to seeing all of you soon. Watch for calendar announcements of upcoming district events. Mark your calendar for April 9, 2022 for our district conference in Bloomington (more later). Please contact me if I can help you and your club be successful in this very exciting and busy 2021/22 Rotary year. As we celebrate Independence Day, enjoy time with your friends and family. We have learned the importance of time together, when we were apart for so long last year. Thanks to all of you for your service!

Be safe and stay healthy,
L. Kirk Bouchie
Rotary International
District 6580 Governor 2021-2022
PO Box 749
Vincennes, IN 47591
812-887-7681
kbouchie@vinutilities.com
---
Rotarians in District 6580 Meet at the
Charles C. Hedde MD Health Education Center
to Celebrate the Past Year and
Welcome in the New Leadership

by Gary Hackney, President, Vincennes Rotary Club
On Saturday, June19th over 65 Rotary district 6580 Rotarians met in Vincennes at the newly opened, and beautiful Charles C. Hedde MD Health Education Center on the campus of Good Samaritan Hospital, for the annual changeover luncheon. This gathering was the first in person, live event of the district since February 28, 2020 when the district celebrated the success of the Foundation at Oliver Winery in Bloomington.

The event was kicked off by PDG Jim Gislason ringing the Governor's bell followed by an inspirational reflection by PDG Peggy Peter. A delicious luncheon was provided by the Vincennes Rotary Foundation.

District Governor, Jessika Hane handed the reins of the district over to incoming Governor, Kirk Bouchie and PDG Jim Gislason administered the oath of office.

Dan Ryan, representing Zones 30 and 31, presented an award honoring District 6580 with the First Place Award for increasing their membership in the Paul Harris Society along with a $4,000 check. Laura Carie was recognized with the Orphie Bridges award. Other individual awards were presented and pins exchanged. Finally, incoming Governor Kirk shared his vision for District 6580 for the year 2021-2022.

Individuals attending to celebrate Jessika's outstanding year and to honor Kirk for leading the club in the coming year included Vincennes Mayor Joe Yochum, many members of the Vincennes Rotary Club, Dan Ryan representing the Rotary Zone, many PDG's, AG's, and other district leaders, and several President-Elects from around the district.
Outgoing Governor Jessika receive a bumpersticker from
incoming Governor Kirk.
PDG Laura Carie receives the Oprhie Bridges Award.
Hillary Person, President Elect of the Bloomington Sunrise Club
presents Dana Worland, President Nominee of the
Vincennes Club with the Home of the District Governor banner
---
GREENSBURG, INDIANA ROTARY CLUB'S
"SERVICE ABOVE SELF" AWARD

One of three essay contest winners: Jenna Geis

'Service Above Self' Essay by Jenna Geis
Throughout the duration of my high school career, I have immersed myself into many community activities and organizations. The community service component of the organizations I am involved with have proven to be my favorite parts. I have had the honor to participate in donating money to a Safe Haven Baby Box in Greensburg, ringing bells or the Salvation Army and Cheer Fund, making and delivering farmer goody bags, and so much more. However, a time when I truly put service above self, was in the midst of the COVID-19 pandemic. When we were first let out of school, I was very happy. To my slim knowledge, we were just going to have a month off of school and be back to normal, but that was not the case. The more things we missed, the more pity I felt for myself. Although, one day I finally had a wake up call. I was watching the news and all I heard were solemn voices speaking of the lives the pandemic has affected. I finally came to this realization: there were people suffering around me, and I was worried about missing a school dance. From that, I decided that I wanted to support those struggling the most in my community. Here in Decatur County, our local nursing homes were a hotspot for the coronavirus. With that knowledge I decided to organize a campaign to send kind, uplifting messages to the staff members and residents within these facilities, To do this, I started an Instagram page, created a hashtag, and placed a box at the front of my school for individuals of the community to place their messages of kindness. Messages displaying kind words and encouragement flooded into this yellow cardboard box. By the end of this campaign, we delivered over 200 messages of positivity to staff members and residents in our local nursing homes. However, the amount of messages was not even the highlight of the whole campaign. The twinkle in the eyes on the mask-covered faces of the nurses that came out to receive the cards were priceless. It demonstrated a sign of relief and thankfulness without them even having to speak a word. This is what really showed me that putting service above self is very important. Knowing that I have done something to allow someone to find a smile through the fear and anxiety that was the pandemic is better than any self gratification fathomable. These interactions have morphed me into an excited advocate for service along with an individual who lives by
"Service Above Self'.
---
Franklin Rotary Club's District Grant Project a Success
for Girls Inc. of Johnson County


Franklin's District Grant Chair, Tim Thurston and Franklin Rotary President, Steve Brown present the grant check to Girls Inc CEO, Sonya Ware-Meguiar
by Tim Thurston, District Grant Chair of the Franklin Rotary Club
The Franklin Rotary Club received a Rotary District Grant to assist Girls Inc. of Johnson County update its playground. Girls, Inc. of Johnson County, located in Franklin, IN, is part of a national nonprofit youth organization dedicated to inspiring all girls to be strong, smart, and bold. Girls Inc. has been providing safe, quality, and enriching programs for the young women in the community for 75 years. It serves over 400 girls through daily after school programs and summer day camp. Girls Inc. empowers girls to understand, value, and assert their rights.

Girls Inc. needed an update of playground equipment and landscaping. In consultation with their CEO, Sonya Ware-Meguiar, The Franklin Rotary Club and other volunteer groups were allowed to safely be on the Girls Inc. campus when COVID restrictions have been lifted. Although the pandemic did delay the completion of this district grant project by a few months, it is now done and the Girl Inc. summer program is underway again.

The club's and district grant's funds were used to defray the cost of the rubber mulch. Additionally, Franklin Rotary Club arranged for feet-on-soil service days to renovate the playground area. In late May Franklin Rotarians gathered at Girls Inc. for a landscaping and clean-up Day.
CEO Sonya Ware-Meguiar expressed her appreciation to the club, "The Clean-Up Day was a huge success! Our place looks amazing and the girls noticed all this work when we opened up our summer camp."

In early June, Franklin Rotarians and Girls Inc. board and staff members gathered for the Installation Day to spread rubber mulch, install new playground equipment that included a geometric dome and giant Connect Four game, and demolished an old shed.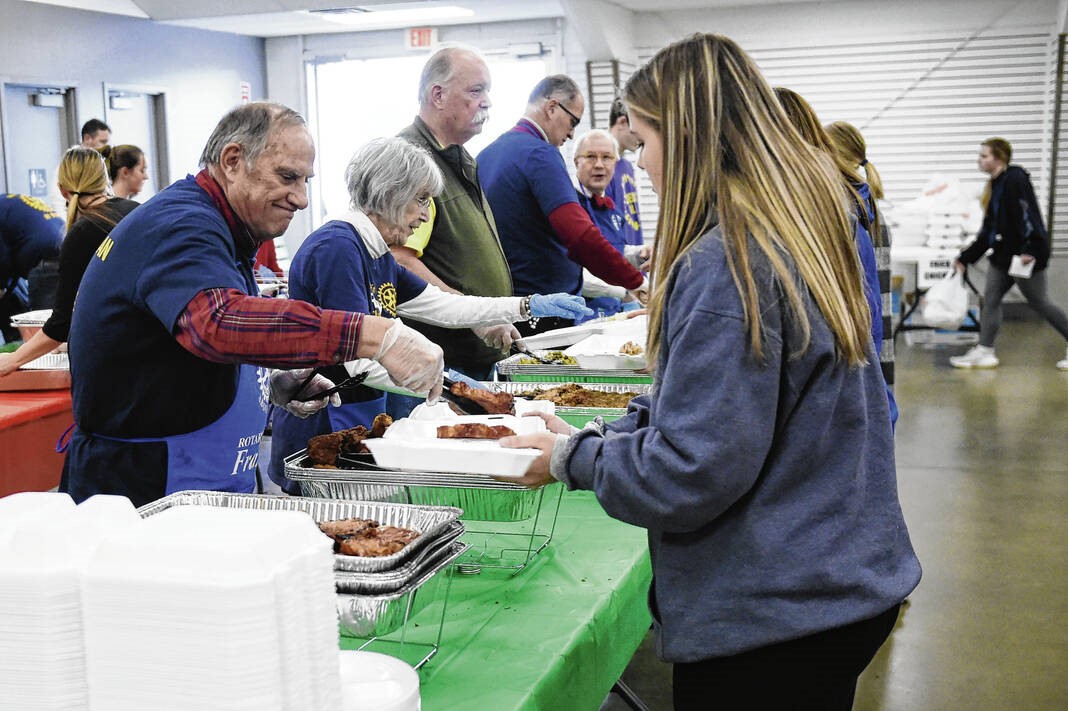 President Steve Brown, in gratitude for the hard work done by the Franklin Rotarians, said, "Once again, Franklin Rotarians embodied Rotary's 'Service Above Self' as we came together during a couple hot Indiana June days to make our community a better place. Girls Inc., and the girls it serves will be able to enjoy this refurbished playground for years. Let the memories begin!"

Sonya Ware-Meguiar expressed her reaction for all the hard work put in by these volunteer groups, "It is amazing what happens when we get groups to collaborate on a project. New friendships are made and we got a new playground. We have more work to do as we update our facilities and know we can count of groups like the Franklin Rotary Club to stand ready to serve."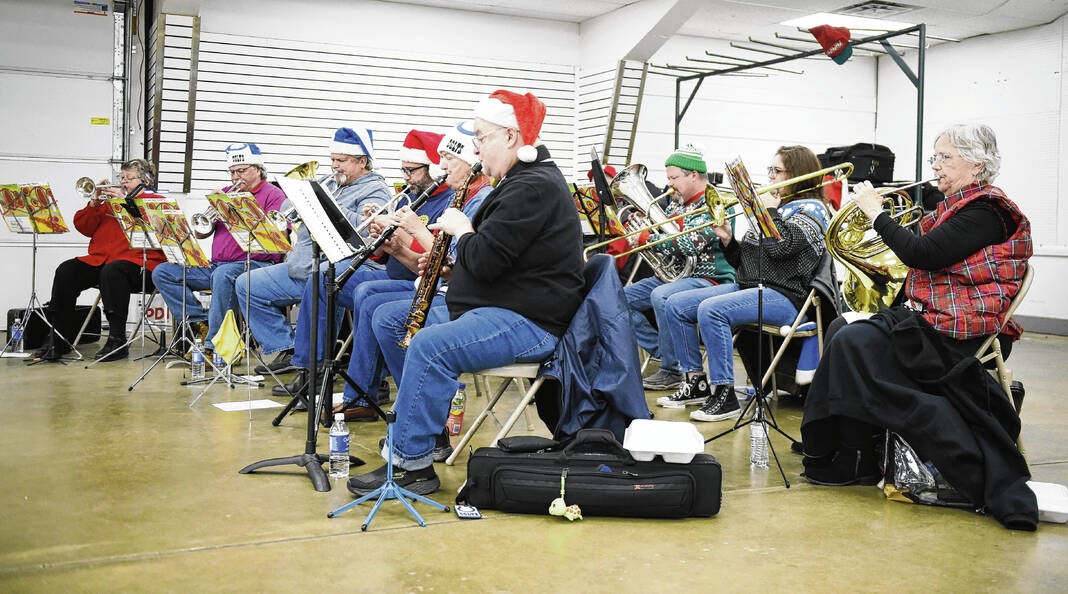 ---
We Are THIS Close!!


New Strategy, Delivering on a Promise,
sets out Roadmap for Polio-free World amid COVID-19

Meeting virtually recently at the 74th World Health Assembly (WHA), global health leaders and ministers of health noted the new Global Polio Eradication Initiative Strategic Plan 2022-2026 and highlighted the importance of collective action to achieve success.

Member States emphasised the urgency of implementation of the strategic plan and urged the WHO Secretariat and Member States to build on recent advances to keep surveillance high, ensure sustained, improved coverage in campaigns and respond rapidly to outbreaks. Several Members States welcomed the establishment of a new EMRO Ministerial Regional Subcommittee on Polio Eradication and Outbreaks, and roll-out of the novel oral polio vaccine type 2 (nOPV2) to more effectively and sustainably address outbreaks of circulating vaccine-derived polioviruses (cVDPVs).

Member States noted support for local community, progress on closing outbreaks and welcomed efforts to unite with other initiatives to close gaps in immunization. The WHA paid tribute to female frontline workers and highlighted their role in building community relationships. Amid the new COVID-19 reality, the WHA also expressed deep appreciation for the GPEI's ongoing support to COVID-19 response. WHO's Deputy Director-General, Dr Zsuzsanna Jakab, highlighted the value of the polio infrastructure in addressing The Executive Board Room at WHO Headquarters during the 74th World Health Assembly. © WHOpublic health emergences, noting that the polio network has been the first in line of defence for COVID-19 response in many countries, and now providing valuable support to the rollout of Covid-19 vaccines. "It is our chance to retain the polio knowledge and expertise to build back stronger and more robust health systems. If we don't act now, we will lose this enormous opportunity," said Dr Jakab.

Rotary International welcomed the new strategy and its priority on integration and extended collaboration with partners, as well as its focus on gender equality. Gavi, the Vaccine Alliance, highlighted the new strategy's alignment with the Immunization Agenda 2030 and Gavi's new 5-year strategy, and shared importance of reaching 0-dose children and missed communities with comprehensive and equitable immunization services.

Aidan O'Leary, WHO Director for Polio Eradication, addressed delegates, saying: "Wild poliovirus transmission is restricted to Afghanistan and Pakistan, and while we have seen a sharp decrease in incidence this year, this is no time for complacency. Gaining and sustaining access to all children in Afghanistan and increasing coverage of missed children in core reservoir areas of Pakistan remain the key challenges, and we must all work together to overcome these to achieve and sustain zero cases.

The new strategy – Delivering on a Promise – will be officially launched at a virtual event on 10 June 2021.
---

The NEWEST Club in the District is
Taking Vincennes by STORM

by Laura Carie,Zone 30 Innovative New Club Advocate, PDG, Vincennes Rotary Club
The Rotary Young Leaders of Vincennes has taken Vincennes by storm with their can do attitude. The club was chartered on June 3, 2021 with 47 members. This club is comprised of young professionals from the ages of 21 to 35 and many of them grew up in Knox County. This unconventional club meets two times a month in the evening with their focus being on service, professional development and networking. They meet in different business around the community to show off what Vincennes has to offer.

In their very short time as a club they have had a very successful fundraiser at Rainbow Beach to benefit the Isaiah 117 house. The purpose of the fundraiser was to help stock their storage room with much needed items for displaced children of all ages. The fundraiser was a great success and they were able to donate totes of toys, children's cloths, gift cards and even monetary donations.

They also participated in the Vincennes City wide clean up day. The group came out in full force in their Rotary t-shirts.

They are going to make such a great impact in the Vincennes community.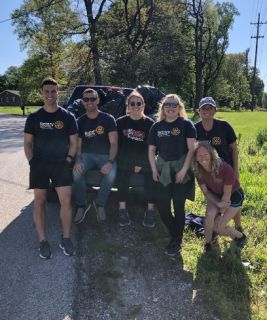 ---
'This is what they do, this is who they are'
Civic Award from the Rotary Club of Evansville
has a Rich History

by Randy Wheeler, District Secretary, Evansville Rotary Club

The year that it happened was 1937. But some blamed super-effective prayer in 1936 that may have been at least partly to blame for the disaster of '37: A dramatic end to a record drought that had left the usually fertile Ohio River Valley a virtual dust-bowl, devoid of crops, food for the masses and agricultural income. Whether caused by prayer or not, the sky delivered record rainfall that January, triggering unsurpassed flooding that backed-up in cities and towns from Point Pleasant West Virginia to Cairo, Illinois. The flooding left some 350 dead and almost one million people homeless.

Evansville was not spared. Thousands of homes and businesses were filled with dank sewage-laden water from the Ohio River and Pigeon Creek. Thousands of local residents and the National Guard came to their rescue, providing shelter and food. Those heroes became the first group ever to win the Rotary Club of Evansville Civic Award.

Another disaster gripped "The Pocket City" less than a decade later. Thousands of local men and a lesser number of women deployed to save our nation and the world from despots in other parts of the world, thousands of local families without bread-winners to fend for themselves. Again, simple human beings performed super-human work to feed the hungry and house the newly poor. "The Evansville Red Cross Canteen Workers" became the second group to be awarded the Rotary Club of Evansville's Civic Award.

Fast forward 76 years to still another disaster, the COVID-19 pandemic. Millions are dead worldwide. Hundreds have died in the Evansville region. Tens of thousands became seriously ill in our area. Many still are. And the war against the virus is not over. For only the third time in 93 years, the Rotary Club of Evansville presented its highest recognition, the Civic Award, to a group of heroes: the Covid-19 Crisis Response Fund of the Greater Evansville Area.

Together, and with support from thousands of area residents, businesses and philanthropic organizations, they raised almost $7 million to help organizations that feed the hungry, and provide decent housing for needy families and individuals. The Rotary Club of Evansville is proud that its current president, Amy Canterbury, is on the executive committee of the response fund, serving in her capacity of Executive Director of the United Way of Southwestern Indiana. That United Way serves as the coordinator and treasury of the massive fund-raising effort. Canterbury led the members of the Evansville Rotary to support the challenging work of the response fund committee with individual and corporate gifts.

In a video presented at the June 1 awards luncheon, Evansville Mayor Lloyd Winnecke said the organization grew out of the realization that non-profits are responsible for doing the day-to-day work to help people in the area during tough times. And it was clear that the non-profits needed major economic help during the COVID-19 crisis. He said the committee stepped-up to perform the difficult work of raising a major amount of funds. In the video, Ron Ryan of the Boys and Girls Club of Evansville said that making-up the relief fund organization were not new to the task. He said "the people on this list have been doing this kind of work since they've been in this community…this is what they do, this is who they are."

The Rotary Club of Evansville has presented the Civic Award annually to an individual, persons or groups for since 1927. The Rotary Civic Award is widely recognized as one of the most prestigious recognitions in the greater Evansville area.
---


Take Your Rotary Leadership Skills to the Next Level
with RLI!
by Shanon O'Toole, District 6580 RLI Coordinator, DGN
District 6580 Rotarians take your Rotary Leadership Skills to the next level with RLI! Discover the values, vision and passion that will help you and your club thrive in Rotary!

We have been invited to join District 6740 for virtual RLI in two 3-course sessions on August 14 and 21, 2021.

Part I, Part II and Part III will be offered simultaneously in this RLI. The RLI will be held on Zoom on consecutive Saturday mornings, August 14 and August 21, 2021 from 8:00 AM to 11:30 AM EST with check in at 7:45 AM. Each session will have three courses of each of the Parts.

Online registration for Part I, Part II and Part III is now open at http://www.hoa-rli.org/rli/rli-by-district . Participants can "Register" here for each Part. "Details" of each Part are also available here. The registration fee for each of the Parts will be $20. This will cover both of the sessions of each Part.
If you have any questions, please contact (mrjackmac@twc.com) or Judy Worth (jkworth@icloud.com). You can also contact Shanon O'Toole (shanonotoole@orginalcompany.com) or Bettye Dunham (bdunham@rauchinc.org) from District 6580 if you need help in registering.

Additional opportunities for RLI are being planned for later in the year and will be announced shortly. Stay tuned.
---
What's Coming up on the 21-22 District Calendar????

July
August
14th and 21st: Rotary Leadership Institute I, II, and III (hosted by District 6740) via ZOOM, 8:00 to 11:30 with check in at 7:45.
September
October
9th: District Assembly (may be virtual)
30th: Fall Leadership Meeting
30th: RYLA
November
9th: Global Grants Training
18th: District Grant Training (tentative at this time)
19th: Foundation event

December
January
20th: District Grant Training (tentative at this time)
February
25th: Foundation event (tentative; virtual or in person)
March
18-20th: PETS: President Elect Training Seminar
District Speech Contest
31st: District grant reports (21-22) due
April
9th: District Conference
May
1st: District Grants Due
June
Changeover
---