District Leaders
L. Kirk Bouchie
District Governor
Mandy Jo Lohrum
Assistant Governor, PHF Society Chair
Lance Eberle
District Governor Elect
Laura J. Carie
Vice Governor
Kim Ingalsbe
Assistant Governor
Sara G. Laughlin
Assistant Governor
Charles Miller
Assistant Governor
Pepper PR Mulherin
Assistant Governor
Scott Peyton
Assistant Governor
Lacretia Ulery
Assistant Governor
Randall D. Wheeler
District Secretary
Shanon Kae O'Toole
DGN
October is Economic and Community Development Month
in the Rotary World!!!

Featured in the October 2021 Newsletter:

*Governor Kirk's October message
*SCENES from the Governor Kirk's Club Visits
*Friends of the Foundation Event, November 19th
*Terre Haute North Interact Club, Increases Membership, Organizes
Volunteer Events, and Visits the Terre Haute North Rotary Club
*District 6580 Speech Contest 21-22 Offers Two Options for
Participation
*Ninth Annual Jasper Rotary Event Recognizes and Celebrates
Women Leaders
*District 6580 Global Scholar, Clarice Cross, Receives Master's
Degree
*Bedford Rotary Club has FUN with the Annual Spirit Award
*WE HOPE YOU WILL JOIN US for the VIRTUAL District Assembly,
October 9th at 10:00 am EST
*Sullivan Rotary Club puts on ANOTHER Successful Corn Festival
*Polio Pioneers Made a New Reality for ALL of Us
*Brown County Rotary Club Presents the 6th Annual Taste of Art
*Law Students from Shepard Leadership and Law Academy attend
Evansville Rotary Club Meeting
*District History: Did you know??Col. Harland D. Sanders
Organizes the Jeffersonville Rotary Club in 1920
*How Rotary can Help Afghan Refugees Locally
*RYLA Update
*What's Coming Up on the District Calendar?????
Do you know of Stories of Rotary's work in your community to share in this newsletter? Please contact Bettye Dunham, bdunham@rauchinc.org.
---
Governor Kirk's October Message:



RESILIENCE: the capacity to recover quickly from difficulties; toughness.
Greetings Southern Indiana Rotarians! Welcome to fall 2021 in our most beautiful part of the world. As we all turn our attention to cooler weather, raking leaves and fall sports like football, volleyball and soccer, I want to thank the 19 Rotary Clubs I have visited thus far. It is hard to believe that the first quarter of our Rotary year is over. I look forward to visiting the remaining 15 clubs in the second quarter. I have learned so much from you all. It is difficult to put into words what I have witnessed during these visits. The one word that keeps coming back in my mind is RESILIENCE. All of us in our families, work places, churches and relationships have been greatly challenged since March 2020 with the effects of the worst pandemic in over 100 years.
Our Rotary clubs are resilient! Where to meet and what to eat? Can we safely meet in person? Should we require masks? Full virtual via Zoom or hybrid? These are common questions throughout our district. A huge thank you goes out to our club presidents! Some are serving multiple terms during these difficult times. All are doing their very best to keep us informed, organized and moving forward. I ask all Rotarians to simply ask your president, what can we do to help? I am so impressed with the overall level of our club's engagement in our communities. Many traditional fall Rotary events are carefully happening as usual.
We have 16 clubs executing their district grant projects this year that will create over $100,000 in good work in our areas. It certainly has not been easy and we are not over the issue. We all need to work hard reengaging those members that may have drifted away from Rotary these past two years. One very bright note is that through two months our district is up eight members! We are growing in our support of our Rotary Foundation as well! We are a big tent and I know we can grow Rotary in membership and impact regardless of our current challenges.

Resilience is the ability to withstand adversity and bounce back from difficult life events. Being resilient does not mean that we don't experience stress, emotional upheaval, and suffering. Resilience gives us the strength needed to process and overcome hardship. I am optimistic that our clubs and our members will remain strong through this Rotary year. Please call upon the wealth of helpful resources within Rotary and our district to help you get through these times. This newsletter and our district website are very helpful sources of information and district events. Thanks for all you do for your community and the world as a ROTARIAN, serving to change lives.

Be safe, stay healthy, and remain resilient,
L. Kirk Bouchie
Rotary International
District 6580 Governor 2021-2022
PO Box 749
Vincennes, IN 47591
812-887-7681
kbouchie@vinutilities.com
---
SCENES from the Governor Kirk's Club Visits
THANK YOU to the clubs that hosted Governor Kirk in September!!
Bedford, Jasper, Jeffersonville, Washington, North Vernon
Evansville Morning, and Columbus
(sorry, no pictures from North Vernon)
Bedford
Bedford Rotarians: Left to right- front row- John Bush, Kirk Bouchie, President Rowena Cross-Najafi
Left to right- back row- Susan Johnson, Julia Johnson, Euretta Griggs, Donna Brumbaugh, Pat Hutchinson, Troi Stith, Dick Hahn, Tracy Bailey, Jim Cessna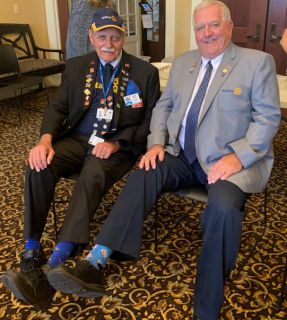 Governor Kirk and John Bush show off their Rotary socks!!

Jasper
Governor Kirk recognizes Jasper leaders: President Manda Combs, AG Shanon O'Toole,
Past President Christian Blome and Past AG Terry Tanner
Membership Chair, Michael Olinger welcomes new members Deidra Church and Jesse Underwood

Jeffersonville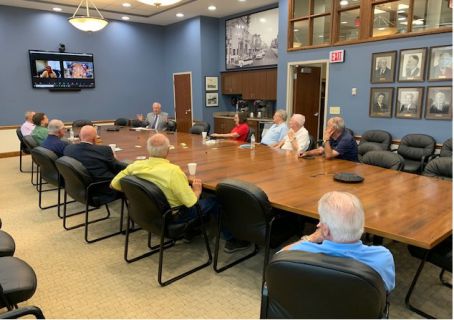 Governor Kirk addresses the Jeffersonville Club at City Hall.
Washington
Governor Kirk receives birthday wishes from President, AJ Miles
Governor Kirk thanks Past President, Eric Lane for his service.
North Vernon
Evansville Morning
From left to right: Scott Derr,guest; Walter Valiant, Treasurer,;Travis Johnson, Membership Chair;
Bruce Bryant, President; Jim Elsnet, Chartier Member; DG Kirk Bouchie' Ken Horn, Sgt At Arms and Charter Member, Dave Meyers Charter Member. Not shown, Chaze Patrick Publicly Chair photographer


Columbus
Columbus Rotary Club has been meeting at Donner Center Shelter House due to Covid.
Rotarians l to r: Keith Weekman, Govenor Kirk, President Ben Wagner, Brian Walsh
---
Terre Haute North Interact Club
Increases Membership, Organizes Volunteer Events, and
Visits the Terre Haute North Rotary Club

Pictured from left to right: Kate Pfaff (Interact School Service Officer), Ellie Goodwin (Interact President), Caroline Effner (Four year Interact member), Olivia Effner (Interact Secretary), Ezra Gatrell (Not a member).
A beautiful day for Terre Haute's 2021 Blueberry Festival!
A great way to start our service year!
by Libby Shearer, THN Rotary Liaison
Terre Haute North Interact Club was founded decades ago, followed by generations of women participating in service and leadership. After 18 months of volunteer opportunities and routine meetings being halted, the club is happy to announce that Interact Club is now co-ed! Membership interviews were conducted four weeks after the 2021-2022 school year began and the member list was posted soon after with seventy-three members, nine of them being boys. There are also nine Interact officers including the president, Ellie Goodwin.

So far this year, we have had two volunteer events. The first event was the Blueberry Festival on July 12 at Twelve Points. Interact members also worked a 9/11 Memorial Run hosted by the Wabash Valley Road Runners. Our next event is going to be on September 29, which will include volunteers passing out fruit to North's fall athletes at their practices after school. As the list of events grows, members will also be visiting Rotarians at weekly luncheons. Our new members, as well as returning, are excited to experience this amazing opportunity to learn more about Rotary and service!
For the 9/11 Memorial Run, members were tasked with handing out medals to the participants after crossing the finish line.
After a long, early morning, our volunteers stand in front of the finish line to take a victory photo.
Pictured from left to right: Allie Kirkham (Three year Interact member), Libby Shearer (Interact Rotary Liaison), Bailey Truxal (Interact Community Service), Abbie Staggs (Interact Treasurer).
---
District 6580 Speech Contest 21-22
Offers Two Options for Participation

by Bettye Dunham, Administrative Assistant
Reasons why a club might consider hosting a speech contest:
Many vocations require skills in good communication, the ability to research and deliver information and ideas confidently. Understanding the importance of values enables the presenter to provide a balanced view which has considered ethical standards and the potential impact on self and others. The Rotary Four-Way Test Speech Contest provides a platform to build those skills aligned with the moral compass of Rotary's Four-Way Test.

The aims of the contest are to:
I. Promote the values of Rotary that emphasize ethics and values in life.
II. Develop the confidence and self-esteem in students.
III. Develop relationships between Rotary and secondary schools.
IV. Provide an opportunity for students to test their skills before an audience.
V. Encourage and foster excellence in the art of public speaking.

This year due to the continued COVID situations in our communities we are offering two options for clubs to participate in the speech contest:
Option 1:

If a club chooses to hold a speech contest but doesn't choose to participate in the District Contest (see below) the District will do the following:
-Clubs can select the theme/topic of the speech and can alter the speech contest rules as they see fit. We hope the club will either choose the Four Way Test or the Rotary theme for 21-22: Service to Change Lives however this is the club's choice.
-Once the club (or a panel of their choosing) have selected the winner the District will send the club $100 to be included as part of the prize money.
Option 2:

If a club chooses to participate in the district speech contest, the following is the process to do so:
-The District contest rules must be followed, including the theme/title of the speech.
-Once the club has determined the winner of their club contest, they will video record the winner's speech and send this to the district Administrative Assistant (following the rules stated) at bdunham@rauchinc.org. Video recordings must be received by March lst.
-A panel of judges from different clubs around the district will review the speeches and, based on the scorecard (on Rules page), will rate the speeches. The District Speech coordinator will tally the scores and determine the lst, 2nd and 3rd place winners. All participants will be notified by March 15th of the winning speeches.
-The winner will be invited to speak at the District Conference lunch on April 9th to be held at the IU Memorial Union in Bloomington.
-Those selected as the winners will receive the following: lst place: $1000, 2nd place $500, 3rd place $250. (Note: If a club participates in the district, contest they do not receive the $100.)
The District Speech Contest Coordinator is Susan Adams (Area 8), a retired teacher and member of the New Albany Rotary Club. Judges for viewing the videos and choosing the winners are: Mike Collins, Terre Haute Club (Area 1), Bea Northcutt, Franklin Rotary Club (Area 2), Judi Brown, Jasper Rotary Club (Area 3), Joy Harter, Bloomington Rotary Club (Area 4), Beverly Teach, Brown County Rotary Club (Area 5), Tami Wenning, Greensburg Rotary Club (Area 6), and Travis Johnson, Evanville Morning Rotary Club (Area 7).

If you have questions please contact me, Bettye Dunham, Administrative Assistant, at bdunham@rauchinc.org or 502 609 1923.
---
Ninth Annual Jasper Rotary Athena Awards
Recognizes and Celebrates Women Leaders
by Julie Dutchess, Jasper Rotary Club
President Manda Combs presenting the 2021 ATHENA Leadership Award sculpture to Kelly Klauss
"What is honored in a country will be cultivated there." - Plato

The Rotary Club of Jasper Indiana is in its 9th year of honoring local leaders for their contributions in leadership, community service and mentoring women to reach their potential. We partnered with ATHENA International because of their goal to 'create a balance in leadership worldwide'. Martha Mertz, an entrepreneur, in 1982 created the ATHENA Leadership Award program to lift awareness in her community about leaders, who happen to be women. Dan Collignon, Rotary Club of Jasper member and father of two daughters believed this program was important in our community as well. He organized and chaired the 1st Rotary Club of Jasper/ATHENA International event in 2012. This event's nominations are open to those who live or work in Dubois County.

The 2021 ATHENA Leadership Award event was held August 19, 2021 at the Huntingburg Event Center. Club President, Manda Combs was the emcee. She led us through an evening of recognition, celebration, and information. As with every Rotary meeting, we started with the ringing of the bell. A guest female pastor and female veteran lead the opening prayer and pledge of allegiance. President-elect Joyce Fleck then provided general information about Rotary and ATHENA. Manda read each finalists biography and presented them with a finalist's award sponsored by our Club. The bios showcase the diversity in paths of leadership. We believe sharing our finalists' bios will mentor upcoming leaders or current managers to support growth and development. The bios are also sent to local media and published in advance of the event. This year's finalists were, Kelly Clauss, Becky Hickman, Norma Kress, Sarah Leonard, Somula Schwoeppe, and Martha Shepherd.

Our keynote speaker was Kristie Juster, CEO of Kimball International. She held the room quiet as she told her 'path of leadership' which began at home learning business from a father who was an entrepreneur. She became the first female CEO in the company's 70+ year history, in 2018. She would be a great keynote for any event.

The 2021 ATHENA Leadership award recipient was Kelly Clauss, Vice-President Medical Practice Management & Support Services for Memorial Hospital and Health Care Center in Jasper. Her acceptance speech began by recognizing her parents and pointing out her father's influence and persistence in practice, practice, practice, which eventually led to Kelly being inducted into the Indiana Basketball Hall of Fame in 2015. And, yes Vincennes Rotary…..she played basketball for Vincennes Rivet and Vincennes University. And, that's only the beginning of her leadership story.

Our event would not be possible without the financial and in-kind support of our sponsors.
We request various levels of sponsorships starting with Platinum Sponsors. These sponsors have been our steady providers since 2012 and are some of the largest employers in our area. We also ask for Gold, Silver, Bronze sponsors and Individual ticket sales. This year we had a total sponsorship of 37 local businesses, over 275 reserved seats at the banquet and 20 Rotarians working or attending the event.

Next year will be our 10th annual ATHENA Leadership Award event. We invite other area Rotarians to join us at this very special event.

The net funds are disbursed as follows; 15% goes to Rotary International, a portion of the event's proceeds go to a charity selected by the ATHENA recipient. The Sisters of St. Benedict was the local charity selected by Kelly Clauss. $2000 will be donated on her behalf. The remaining proceeds support our grant programs which help local organizations achieve strategic goals, implement new programming, or make critical updates to their facilities or equipment.
Left to Right: Athena finalist: Kelly Clauss, Marsha Shepherd, Norma Kress, Sarah Leonard, Becky Hickman, Somula Schwoeppe.
---
District 6580 Global Scholar, Clarice Cross,
Receives Master's Degree

by Clarice Cross, District 6580 Global Scholar
On Saturday, September 18th I received my M.A. in International Relations from Waseda University in Tokyo with a specialization in International Development/Policy Studies.

Never would I have imagined the past 2 years to be how they were when I first got to Japan, but I am so thankful for all my colleagues, professors, scholarship mentors and of course my friends & family.

My masters thesis was based around the role drones play and have the potential to play in natural disaster response and management. Japan in particular is prone to natural disasters because of its geographical location (and a few other factors).

With its history of large calamities, it's important to find ways to mitigate the effects of natural disaster more efficiently and save more lives in the future.
In order to build more resilient communities, it's also important to utilize new technologies while still meeting ethical standards of practice. I could go on for ages about my research but will leave it at that. Excited for what's to come next.

from Jim Bright, Global Grant Scholar Co-Chair:
Clarice is our third Global Grant Scholar to receive a master's degree. Previous recipients are Aubrey Seader (2018-19, King's College of London) and Alexandra Starry (2019-20, Hertie School of Governance, Berlin). Cameron Davidson has just begun his master's level classes at the University of Salamanca in Spain.

from Bob Morrison, Global Grant Scholar Co-Chair:
Jim (Bright), you, sir, should take great pride in knowing your efforts and work have helped 4 intelligent young leaders accomplish important educational milestones in their lives. I am honored to serve with you!
---
Bedford Rotary Club has FUN with the Annual Spirit Award

Spirit Award Winner, John Bush and runner up, Ray Briggs (both Past Presidents)
by Karen Dubois, Bedford Rotary Club
The "Spirit Award" for the Bedford Rotary Club is simply an award for the member adorned with the most Rotary-themed apparel, pins, headwear, jewelry, and spirit.

This year's winner was John Bush, past president. He had the most Rotary pins and apparel, including his necktie which he bought (donation to Foundation) for over $3000 in his suit pocket (suit pocket décor).

It was fun to see the club dressed in Rotary apparel and host this competition.
---
WE HOPE YOU WILL JOIN US for the VIRTUAL District Assembly



ARE YOU A CLUB OFFICER?


President --Membership Chair--Foundation Chair--President Elect – Secretary--Treasurer --Board Member--Club Member

Do You Want (Need) to Get Ideas on How to
GROW AND STRENGTHEN YOUR CLUB?
VIRTUAL District Leadership Assembly
Saturday, October 9th, 2021
10:00 am to Noon EST

LEARN ABOUT........
How Clubs Can Empower Girls through our RI Initiative
Foundation News and Events and the Next Matching Campaign
Attracting and Engaging Members in Uncertain Times
How to Improve your Club's Image
District Updates and Message from Governor Kirk

For additional information or help in registering please contact Bettye Dunham, bdunham@rauchinc.org or 502 609 1923.
---
Sullivan Rotary Club puts on ANOTHER Successful Corn Festival

from Sullivan website:
The Sullivan Rotary Corn Festival is an annual event held each year in September on the Downtown Square in Sullivan, Indiana. The festival included: carnival rides, delicious fair food and multiple vendors covering the square lawn promoting a family friendly atmosphere for people of all ages. In addition, they have nightly music on the lawn of the Central Plaza for a small fee. The Corn Eating Contest, Free Rotary Corn Feed, Parade and Turtle Derby take place on the Saturday of the festival as part of the celebration on the Square.
The Sullivan Rotary Club members organize all aspects of the festival for the betterment of the community.

Events included in the festival:

Carnival Rides: Rides included were: giant Ferris wheel, the Wiggle Worm ride and other attractions to entertain all members of the family. They will brought all your favorite fair foods including elephant ears, funnel cakes, lemonade, corn dogs, cotton candy and so much more.
Free Rotary Corn Feed: The Sullivan Rotary Club's annual tradition of the Corn Feed took place on Saturday. All were invited for free ears of corn with the fixings. Over 1,000 ears of corn were given out to festival goers to guarantee that no one was left empty-handed.
Elementary Student Chalk Drawings: Every year during the Corn Festival, the Sullivan Downtown Square is decorated by students from Sullivan Elementary School and The Master's Class. During the festival everyone was able to view these amazing chalk drawings!
Parade: The 65th Sullivan Rotary Corn Festival parade was held on Saturday.
Tents & Stands:The Sullivan Rotary Club welcomed non-profits and businesses to be part of the festivities at the Sullivan Rotary Corn Festival by having a tent or stand.
Tim Olson Futurity Turtle Derby: Entries in the Tim Olson Futurity Turtle Derby, named after the longtime Sullivan Jaycee whose appearance in local businesses every September hawking turtle Derby entries heralded the impending festival, were whistled to the starting gate on Section Street at the Parade Reviewing Stand. The turtles compete in heats of five to six each.
CONGRATULATIONS TO THE SULLIVAN ROTARY CLUB
for the success of this amazing event!
Great Job, President Patrice Dyer-Hand!!
---
Polio Pioneers Made a New Reality for ALL of Us

from Rotary International
In 1954 polio was a terrifying reality. The vaccine began as a large clinical trial of 1.3 million kids around the country. They called themselves Polio Pioneers, the first to try a new vaccine in the hopes of ending a grave threat.

Nine months after the trial ended, the vaccine was declared safe and effective. In 1955, mass inoculations against poilio began. 25 years later, domestic polio transmission had all but vanished.

Polio is now a mandated vacination in all 50 states. The kids you see pictured made this a reality for all of us.
Get ready for World Polio Day , 24 October
As World Polio Day on 24 October approaches, we need everyone's help to raise awareness about Rotary's efforts to eradicate polio for good. Download the World Polio Day Toolkit for resources and tips that will help you plan activities and promote a polio-free world on social media. Follow us @EndPolioNow to learn more about protecting children around the world from this paralyzing disease.
---
Law Students from Shepard Leadership and Law Academy attend
Evansville Rotary Club Meeting

Randall T. Shepard Leadership and Law Academy students are pictured here with Mayor Lloyd Winnecke, Rotary President Rick Moore, Shepard Academy administrator, Jill Hahn, EVSC Superintendent Dr. David Smith and Indiana Chief Justice -Retired Randall T. Shepard.
sent in by Julie Spratt, Rotary Club of Evansville
Rotarians who are members of the Evansville Bar Association made it possible for the 18 students and administrator, Jill Hahn, from Shepard Academy, to attend the Rotary Club of Evansville's noon luncheon on September 14th. Randall T. Shepard Leadership and Law Academy presents a four year integrated studies program in law and social justice for high school students.
The students were thrilled to have the opportunity to speak with keynote speaker, Randall T. Shepard after the program. Randall T. Shepard, Indiana's longest-serving Supreme Court Chief Justice, recently addressed Evansville Rotarians. The now-retired chief justice has had an extensive career that encompasses titles such as legal author, law professor, historic preservationist, and arts supporter.
---
District History: Did you know??
Jeffersonville Rotary Club, 1921. The Colonel is back row far right. back row.
Col. Harland D. Sanders
Organizes the Jeffersonville Rotary Club in 1920
by Carl and Mary Kagin Kramer, Rotary Club of Jeffersonville
The Rotary Club of Jeffersonville received its charter on January 1, 1920. Among its 30 charter members was Harland D. Sanders, a 29-year-old insurance agent and president of the Young Business Men's Club (YBMC). Born September 9, 1890, near Henryville in Clark County, Indiana, Sanders was already an energetic promotor. He had organized the club in March 1919, and during the following year the YBMC promoted construction of a new Ohio River bridge, streamlining of local rail schedules, expansion of ferry and gas services, improvement of the housing supply, and extension of the Boy Scout program.

When the New Albany Rotary Club began organizing the Jeffersonville club in the fall of 1919, Sanders naturally became a charter member. Once chartered, the club threw its support behind many of the goals envisioned by Sanders and the YBMC.

Meanwhile, the YBMC merged with the Jeffersonville Chamber of Commerce, and Sanders was appointed its executive secretary. He remained in the job only a few months before leaving Jeffersonville in 1921 to take a new position. During the following decades, he held a variety of jobs before opening Sanders Court in Corbin, Kentucky, during the 1930s. There he developed the secret recipe and frying process for what became Kentucky Fried Chicken. In 1934 Governor Ruby Laffoon appointed him a Kentucky Colonel, thus the source of his title.

Throughout his sojourns, he remained a Rotarian, holding membership at various times in clubs in Lancaster, Georgetown, and Corbin, Kentucky, and Asheville, North Carolina. In 1950 Colonel Sanders spoke at the Jeffersonville club's 30th anniversary and was an honored guest at the Golden Anniversary celebration on May 22, 1970. His death on December 16, 1980, marked the passing of the last of the club's charter members.
Grave site of Col. Harland D. Sanders and his wife, Claudia, at Cave Hill Cemetery in Louisville.
---
How Rotary can Help Afghan Refugees Locally

by Ross Stackhouse, Greenwood White River Rotary Club
In the last several weeks, 6600 refugees from Afghanistan came to Camp Atterbury in Edinburgh with the clothes on their backs. Many are minors and children, with 47 percent of refugees age 18 and younger (according to Camp Atterbury social media). Personnel at Atterbury, along with the Department of Homeland Security, the American Red Cross and Team Rubicon have been working around the clock to coordinate operations to respond to the diverse needs of our new Afghan neighbors. This effort is still evolving by the hour.

Thankfully, donations have started pouring in from all over. Team Rubicon is working tirelessly to sort and organize those donations so that they can be efficiently distributed. Donations are still needed.

A few churches and organizations have been working for the last few weeks to streamline local donation efforts and to coordinate the evolving volunteer needs at Camp Atterbury. A few of those organizations are: Mount Pleasant Christian Church, Grace United Methodist Church, The Refuge, and HeavenEarth Church. Community leaders from those organizations are "on the ground" and in regular communication with organizers and officials involved in the operation.

Rotary clubs can make an impact by collecting donations. An up-to-date donations list as well as dropoff locations can be found on Camp Atterbury's Facebook page. As the volunteer needs and opportunities materialize, Rotarians may also have an opportunity to help sort and/or distribute items to refugees.

For any questions related to the operation and how to help, email Ross Stackhouse, member of the Greenwood/White River Club and pastor of HeavenEarth Church.

Ross Stackhouse
Pastor | HeavenEarth Church
ross@heavenearthchurch.org
(260) 415-7718
heavenearthchurch.org
---
RYLA Update
by Loren Snyder, RYLA Chair
We've made some tough decisions. In collaboration with District Leadership, we decided to not move forward with an in person RYLA for 2021…hard decision but felt it was the most prudent decision (health, potential financial ramifications, etc.). After we made this decision, we pursued doing another Virtual RYLA for 2021. Unfortunately, Bradford Woods is unable to provide such an experience again in 2021 (I believe they've experienced some staffing and leadership turnover).

So, Joy Harter and I are currently aggregating as many past RYLA students email addresses as possible to see if there would be interest in hosting some sort of "RYLA Reunion" via Zoom. Maybe an hour call where students can highlight what they've been doing since RYLA…how have they impacted their HS, community, college, etc.?

If I only get a response from a few interested students, we likely won't pursue it any further. If we do get a sizable response (I'm thinking 25+) then I'll communicate such an event's details with the clubs in the district and move forward.

This is less than ideal but doing our best to navigate these unique times knowing our decisions won't please everyone. Thank you!

Loren A. Snyder, CFP®
(o) 812-332-6333 | 800-798-6333 | (m) 317-407-1837
LASnyder@rwbaird.com
---
What's Coming up on the 21-22 District Calendar????
October
9th: Virtual District Assembly: 10am - Noon EST
30th: Fall Leadership Meeting
November
9th: Global Grants Training (tentative at this time)
18th: District Grant Training (tentative at this time)
19th: Foundation event: In-Person in Bloomington. Details in article above.
December
January
20th: District Grant Training (tentative at this time)
February
25th: Foundation event (tentative; virtual or in person)
March
lst: District Speech Contest: Video Recordings due (see above article)
18-20th: PETS: President Elect Training Seminar
31st: District grant reports (21-22) due
April
9th: District Conference in Bloomington at the IU Memorial Union
May
1st: District Grants 22-23 Due
June
Changeover (to be announced)
---