District Leaders
L. Kirk Bouchie
District Governor
Mandy Jo Lohrum
Assistant Governor, PHF Society Chair
Lance Eberle
District Governor Elect
Laura J. Carie
Vice Governor
Kim Ingalsbe
Assistant Governor
Sara G. Laughlin
Assistant Governor
Charles Miller
Assistant Governor
Pepper Mulherin
Assistant Governor
Scott Peyton
Assistant Governor
Lacretia Ulery
Assistant Governor
Randall D. Wheeler
District Secretary
Shanon Kae O'Toole
DGN
December is Disease Prevention and Treatment Month
in the Rotary World!!!


Featured in the December 2021 Newsletter:
*Governor Kirk's December message
*SCENES from the Governor Kirk's November Club Visits
*Rotary Foundation Matching Points Campaign:NOW through end of December!
*November 19th Friends of the Foundation Event was a SUCCESS!!
*The Lives of Girls in Peru Improved due to Rotary Club of Martinsville District Grant Project
*'We're doing so much more than eradicating polio' :PolioPlus Program brings Added Benefits
*Two Rotary Clubs hold Annual Rotary Toast to Honor Community Leaders and Raise Funds for Charities
*Deadline nears for $40,000 Global Scholarship applications
*District 6580 Speech Contest 21-22 Offers Two Options for Participation
*20 under 40: Honorees recognized at Evansville Rotary Luncheon


*ShelterBox: Current Work


*The Washington Rotary Club has FUN at Halloween!!
*Applications for 2024-2025 District Governor due by December 31st
*DEADLINE NEARS for Registration Discount for RI Convention in Houston
*What's Coming up on the 21-22 District Calendar????
Do you know of Stories of Rotary's work in your community to share in this newsletter? Please contact Bettye Dunham, bdunham@rauchinc.org.
---
Governor Kirk's December message:
Greetings! Welcome to December 2021 fellow D6580 Rotarians. As I speak with our clubs I always talk about making Rotary "A" priority in our lives, not "THE" priority. This coming month will certainly challenge all of us to keep that delicate balance of family, faith, livelihood, health and Rotary in check. I am very confident our 1500 Rotarians are up to the challenge. As we reflect on this past calendar year we have much to celebrate. We have new clubs, new members, increased generosity to our foundation, many service projects and for the most part we are back meeting safely within our clubs and district events. Thanks to all of our club presidents and district leaders that have made 2021 a great year for southern Indiana Rotary! Let's all take a very deep breath and enjoy this holiday season in whatever way you choose to relax and celebrate.

December is also Disease Prevention and Treatment Month in Rotary. I encourage each of you to read President Shekhar's message in the December issue of our Rotary magazine. I can't say it better than he has in his message. We can all be very proud of the work we are doing around the world to prevent disease and provide health services to so many in need. As he states, "our effort to eradicate polio is by far the best story in civil-society health care". On a more local level, please take time this month to thank your local health care providers for their untiring efforts to keep all of us safe during the COVID-19 pandemic. I know many of our clubs have partnered with their local health care providers to extend moral and financial assistance in so many ways.

Please review all the important information in this newsletter. As you gather with friends and family keep a watchful eye out for folks that need to be Rotarians. Remember, "each one bring one". The gift of Rotary could be the a great gift to the right person. If your Christmas gift you were planning for a loved one is stuck somewhere in the supply chain or on a boat in Long Beach Harbor, consider giving a Paul Harris Fellowship as a gift. ?? . Our District RI Foundation committee just announced how you can do this for as little as $500. If interested please contact PDG Jessika Hane for more details. I also encourage all to shop local and support the folks that support our Rotary clubs and our communities.

In closing I want to extend Becky and my's warmest wishes to you and your family for a safe and joy filled holiday season. We are honored to be your district governor family and look forward to a great start to the new year 2022 as we all continue serving to change lives.

MERRY CHRISTMAS!


Serving to change lives,

L. Kirk Bouchie
Rotary International
District 6580 Governor 2021-2022
PO Box 749
Vincennes, IN 47591
812-887-7681
kbouchie@vinutilities.com
---
SCENES from the Governor Kirk's November Club Visits
THANK YOU to the clubs that hosted Governor Kirk in November!!Greenwood, Martinsville, Bloomington North, Corydon, Terre Haute, and Warrick County
(sorry, no pictures from Greenwood, Bloomington North or Warrick County )
Martinsville
Governor Kirk presenting to the Martinsville Rotary Club
Govern Kirk with President, Jonathan Presley and iPP, Sara Dungan
Corydon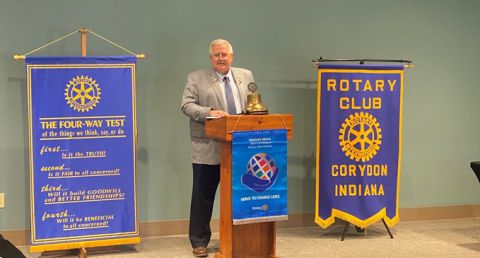 Govenor Kirk speaking at the Corydon Rotary Club at the Discovery Center.
Terre Haute
Left to right: Governor Kirk, Jane Nichols, President; Bryan Horsman, President-Nominee & Programs Chair;
and Thom Foster, President-Elect
Governor Kirk presents President, Jane Nichols with certificate
for contribution to End Polio Now.
---
Rotary Foundation Matching Points Campaign:
NOW through end of December!


District Leadership Team
by Jessika Hane, District Foundation Chair
Tis the Season of Giving !! From now through December 31, 2021 your personal contribution of $100-$1000 to the Rotary Foundation (Annual Fund and/or Polio Plus Fund) will be matched with Foundation Recognition Points.

Foundation Recognition Points can be used for your own Paul Harris Fellow Recognition (at the first level or as a multiple PHF) or to honor someone else with a Paul Harris Fellow.
For example: if you give $500 to the Rotary Foundation- we will match your gift with 500 recognition points, making you a Paul Harris Fellow. If you give $100- we will match with 100 points. If you give $250- we will match with 250 points. It's easy!

How to participate:
Give to the Rotary Foundation during the campaign. Visit myrotary.org/donate or speak to your club's Foundation Chair. Reach out to District Foundation Chair, Jessika Hane (jessika@hane.com) to tell her about your gift so that she can make the match. You can also email Jessika with any questions about the campaign.
A limited amount of points are available, don't delay-give today!
---
November 19th Friends of the Foundation Event
was a SUCCESS!!

MATCHING POINTS AVAILABLE FOR ALL DONATIONS to THE ROTARY FOUNDATION
(over $100) UNTIL December 31!!
By Bettye Dunham, District Administrative Assistant, PDG, Rotary Club of New Albany
The November 19th Friday night Foundation Event was AWESOME! Thank you, so very much, if you were able to join us for District 6580's IN PERSON Friends of the Foundation celebration. We were so honored to have RI Director for Zone 30, Elizabeth Usovicz and Regional Foundation Coordinator, Dan Ryan join us as well as Santhana Naidu, Zone 30 Assistant Rotary Foundation Coordinator and Laura Carie, Zone 30 Public Image Coordinator.
l to r: Regional Foundation Coordinator, Dan Ryan, District 6580 Foundation Chair, Jessika Hane,
and Zone 30 RI Dirctor Elizabeth Usovicz
There were many highlights of the evening AND many THANK YOU's to all of those there (and not able to be there) that support 'our' Foundation!



THANK YOU:

The top three giving clubs for 20-21 were recognized as part of this celebration:
#3- Bloomington Sunrise- Per Capita Giving to the Annual Fund-$318.31
#2- Bloomington North-Per Capita Giving to the Annual Fund-$326.58
#1-Greensburg-Per Capita Giving to the Annual Fund-$365.27
THANK YOU: Melissa Fairbanks from Columbus Sunrise, Jean Dayton from Bloomington North, and DG Kirk for sharing stories about the good being done in our communities and our world.

THANK YOU: Santhana Naidu honored our newest Major Donors and Bequest Society members:
Bob and Jeannie Browning, Major Donors Level 2 (Greenwood WR Rotary Club)
Ginger McClellan, Bequest Society Level 2 (Columbus Sunrise Club)
Jessika and Bryan Hane, Bequest Society Level 4 (Bloomington Sunrise and Bloomington North Rotary Clubs)

THANK YOU: To Mike Crumbo for sharing is Foundation story and to several Rotary members in the district for sharing their 'points' for a MATCHING POINTS campaign to run through December 31st.
And finally…..THANK YOU to those that supported the Foundation through their gifts during the auction; Jim Gislason, Scott Peyton, Shanon O'Toole, Jim Bright and Jessika Hane and THANK YOU to Lance for being our Auctioneer.

Special THANKS to Jim Bright for all his work in helping organize this event and THANKS to DG Kirk for his words of inspiration and encouragement.

Again,

thank you ALL

for your love of Rotary and hope you will join us for another Friends of the Foundation celebration in the second half of 21-22 but remember…any time is a good time to support our Foundation.
We are including the important links shared at the Foundation event and we hope Rotarian's in our District will take a moment to set a goal, take action and consider making a gift to the Rotary Foundation.
To make a donation to the Rotary Foundation. Log into your account at:
https://my.rotary.org/en/donate
Or contact your club's Foundation Chair or President
To join Paul Harris Society members in a lasting commitment to the Rotary Foundation:
https://www.rotary.org/en/about-rotary/history/paul-harris-society
To make giving to the Foundation EVEN EASIER- sign up for automatic contributions through Rotary Direct.
https://my.rotary.org/en/rotary-direct
If you have ANY questions about how to make your giving fit what is best for you and your family please contact me and I will make sure to direct you to those that can help you.
Attendees Celebrate the Joy of Giving
---
The Lives of Girls in Peru Improved due to
Rotary Club of Martinsville District Grant Project

Artist drawing
by Mark Uebel, Rotary Club of Martinsville
The Rotary Club of Martinsville is excited to see the completion of the dormitory expansion at the Sacred Valley Project (SVP) in Calca, Peru. This project happened because of the support of a Rotary International Foundation District Grant. The grant makes improvements in the lives of 40 high school girls in Calca, Peru. Rotary is partnering with the Sacred Valley Project (SVP) in Calca and Ollantaytambo, Peru which are both small villages in the Andes Mountains.

Specifically, the grant built additional restroom, laundry and shower facilities in the SVP school and dormitory in Calca which has increased the capacity for additional students.

SVP saw the need for girls in remote villages to continue their education past the age of 14. Because many girls live in remote farms and villages, they would need to walk for up to four hours twice a day to attend the nearest high school. SVP built a boarding school in both Calca and Ollantaytambo so the girls could attend school during the week and return home over the weekends. Because of the need SVP has expanded their dorm in Calca, but need the additional restroom, laundry, and bathing facilities.

The Rotary Club of Martinsville received a matching grant from the Rotary International Foundation District 6580 in which the Foundation and the local club contributed $1,500 each to the project. The SVP then contracted with builders in Calca to complete the work. The Martinsville Rotary Club has also partnered with the Rotary Club of Cusco, Peru, which is about a two-hour drive from Calca. The project not only benefits the girls in the school, but also local workers and suppliers.

The SVP provides housing, nutrition, school fees and uniforms, school supplies, tutoring and extra-curricular activities. In turn, the girls have a safe and nurturing place to learn and compete their secondary education. Many of the girls are learning Spanish as their second language since the native Quechua language is more common in their villages. The dorm and staff provide the girls with opportunity to complete high school and seek personal and economic opportunities. Many go on to trade schools or community colleges or to work outside of their villages.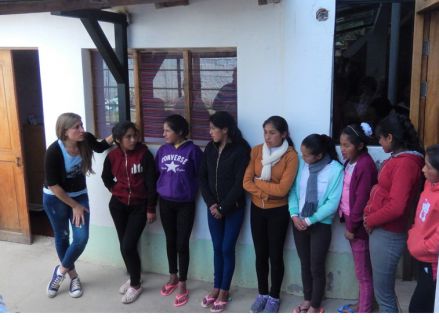 Gabriela Scarafioca, Program Director in Peru and Girls!
The Sacred Valley Project is a federal tax-exempt organization under section 501(c)(3) of the federal tax code. It was founded in 2010 by several individuals who saw the opportunity for a U.S. not-for-profit corporation to work with leaders in Peru to create these learning opportunities. The project is self-sustainable and locally administered.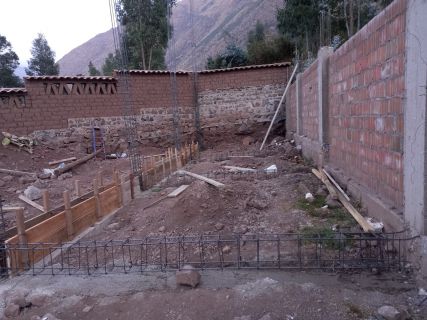 Note: District Grants are possible due to funds raised for The Rotary Foundation in the district 3 years ago with half of this coming back to the district to direct 'to do good in the world' and half of this being earmarked specifically for local district and international grant projects applied for and awarded to clubs.
---
'We're doing so much more than eradicating polio'
PolioPlus Program brings Added Benefits
The 'Plus' in Polio

from RI email:
Musa Muhammed Ali, a farmer in Borno state, Nigeria, has had to deal with the many ways polio has affected his life. For instance, he used to have to pay for transportation when he needed to buy feed for his animals. But after receiving a hand-operated tricycle funded through Rotary's PolioPlus grants, Ali (pictured above) can now spend that money on other necessities. His life was changed by the "plus" in PolioPlus.

When we talk about PolioPlus, we know we are eradicating polio, but do we realize how many added benefits the program brings? The "plus" is something else that is provided as a part of the polio eradication campaign. It might be a hand-operated tricycle or access to water. It might be additional medical treatment, bed nets, or soap. A 2010 study estimates that vitamin A drops given to children at the same time as the polio vaccine have prevented 1.25 million deaths by decreasing susceptibility to infectious diseases.
---
Two Rotary Clubs hold Annual Rotary Toast
to Honor Community Leaders and
Raise Funds for Charities
Dr. Dan Eichenberger Honored at 27th Annual
New Albany Rotary Toast


Dr. Dan Eichenberger
About 340 guests attended New Albany Rotary Club's 27th Annual Rotary Toast and Benefit Banquet on Friday, November 5. As with so many recent events, the 2021 edition was delayed a year by Covid-19. The original honoree, Dr. Dan Eichenberger, maintained his commitment to the event through the delay, and he was "toasted" by colleagues, friends and family during the evening's program.

Held every "first Friday" in November at Huber's Orchard & Winery's Plantation Hall in Starlight, the Toast honors a community leader who exemplifies Rotary's motto: Service above Self. Eichenberger, a New Albany native, physician and past-CEO of Baptist Health Floyd, was bestowed as a Paul Harris Fellow and was awarded as a Distinguished Hoosier by Indiana Governor Eric Holcomb. Proceeds from the event are split between the New Albany Rotary Club Foundation and a charitable organization chosen by the honoree.
Charlotte Zietlow Honored at 7th Annual Bloomington
Rotary Toast
Charlotte (right) with her daughter, Rebecca, a professor at the University of Toledo Law School.
On Friday, Nov. 5 300 Rotarians and other friends of Charlotte Zietlow gathered at Shreve Hall on the Ivy Tech Community College campus to honor Charlotte and to raise money for Habitat for Humanity of Monroe County. Dozens of others watched the program on livestream.

To watch a recording of the event, go to: https://youtu.be/ow4QfMeDN1s.

Exchange Student Sends Love from Australia to Charlotte:
As a 17 year old in 1976, Raeleigh Lambert of Brisbane, Australia was Rotary's first exchange student to Bloomington. Charlotte and her late husband, Paul, and their family welcomed her into their Bloomington home. Raeleigh has never forgotten their kindness.

In a Nov. 5 letter to Charlotte, Raeleigh wrote: "I send my love and regrets that I could not be in Bloomington with you tonight and to all the members of Rotary I would like to say a heartfelt thank you for my extraordinary year in the United States, made possible by your generosity and belief in the programme that received me as the first Rotary Youth Exchange Student to Bloomington, 45 years ago. "A vivid memory I have of arriving in Bloomington late on the evening of January 18, 1976 is of looking out the window of the aircraft as it taxied toward the terminal building and seeing two people standing outside, huddled together in the snow. It was my first glimpse of Paul and Charlotte."

Raeleigh and her family celebrated Charlotte and the Toast with a champagne brunch as they watched the livestream of the Toast from their home in Brisbane, Australia. In Charlotte's honor, they also raised a U.S. flag on their 15-acre property.
---

Deadline nears for $40,000
Global Scholarship applications
by Jim Bright, Global Scholar Chair
The deadline to apply for the 2022-23 Rotary District Global Grant Scholarship is Friday, Dec. 17th. The $40,000 award will enable a southern Indiana scholar to study one to four years in a graduate program at any qualified university outside the U.S.

The program is open to students who attend a four-year college in southern Indiana (or who maintain a legal residence in the district) and who plan to pursue graduate-level studies at an overseas university. The program supports exceptional scholars dedicated to pursuing a career in an area of great humanitarian need and who demonstrate a long-term commitment to measurable, sustainable change. Scholars must present a plan of study and a career commitment that align with one of Rotary's seven areas of focus.

For more information and for an application, go to:
http://www.rotary6580.org/global-grant-scholarship.php where you will find an overview, timetable, club endorsement form, application and other information.
Previous recipients are:
· Aubrey Seader (2018-19) of Bloomington who earned a master's degree in Arts and Cultural Management at King's College London. She uses storytelling in theater and in other communication channels to build peace and understanding among people of different cultures.
· Alexandra Starry (2019-20) of Bloomington who earned a master's degree in Public Policy at Hertie School of Governance in Berlin, A former Peace Corps volunteer in Lesotho, Starry plans to continue to work on community projects in developing countries and with foreign governments on policy issues that will improve the lives of citizens no matter how small or poor the country may be.
· Clarice Cross (2020-21) of Brownsburg who earned a master's degree in International Development at Waseda University in Tokyo.
· Cameron Davidson (2021-22) of Salem who is seeking a degree in Global and International Studies from the University of Salamanca in Spain.

Rotary International has 1.2 million members in 35,000 clubs and in more than 200 countries. There are 34 Rotary clubs with more than 1,400 members in southern Indiana.
Questions? Contact Scholarship Committee Co-Chair Jim Bright at jbright48167@yahoo.com or (812) 219-0228.
---
District 6580 Speech Contest 21-22 Offers Two Options for Participation




by Bettye Dunham, Administrative Assistant



The aims of the District Speech Contest are to:
I. Promote the values of Rotary that emphasize ethics and values in life.
II. Develop the confidence and self-esteem in students.
III. Develop relationships between Rotary and secondary schools.
IV. Provide an opportunity for students to test their skills before an audience.
V. Encourage and foster excellence in the art of public speaking.

This year due to the continued COVID situations in our communities we are offering two options for clubs to participate in the speech contest:

Option 1: If a club chooses to hold a speech contest but doesn't choose to participate in the District Contest (see below) the District will do the following:
-Clubs can select the theme/topic of the speech and can alter the speech contest rules as they see fit. We hope the club will either choose the Four Way Test or the Rotary theme for 21-22: Service to Change Lives however this is the club's choice.
-Once the club (or a panel of their choosing) have selected the winner the District will send the club $100 to be included as part of the prize money.

Option 2: If a club chooses to participate in the district speech contest, the following is the process to do so:
-The District contest rules must be followed, including the theme/title of the speech.
-Once the club has determined the winner of their club contest, they will video record the winner's speech and send this to the district Administrative Assistant (following the rules stated) at bdunham@rauchinc.org. Video recordings must be received by March lst.
-A panel of judges from different clubs around the district will review the speeches and, based on the scorecard (on Rules page), will rate the speeches. The District Speech coordinator will tally the scores and determine the lst, 2nd and 3rd place winners. All participants will be notified by March 15th of the winning speeches.
-The winner will be invited to speak at the District Conference lunch on April 9th to be held at the IU Memorial Union in Bloomington.
-Those selected as the winners will receive the following: lst place: $1000, 2nd place $500, 3rd place $250. (Note: If a club participates in the district, contest they do not receive the $100.)

The District Speech Contest Coordinator is Susan Adams (Area 8), a retired teacher and member of the New Albany Rotary Club. Judges for viewing the videos and choosing the winners are: Mike Collins, Terre Haute Club (Area 1), Bea Northcutt, Franklin Rotary Club (Area 2), Judi Brown, Jasper Rotary Club (Area 3), Joy Harter, Bloomington Rotary Club (Area 4), Beverly Teach, Brown County Rotary Club (Area 5), Tami Wenning, Greensburg Rotary Club (Area 6), and Travis Johnson, Evanville Morning Rotary Club (Area 7).

If you have questions please contact me, Bettye Dunham, Administrative Assistant, at bdunham@rauchinc.org or 502 609 1923.
---

Honorees recognized at Evansville Rotary luncheon

The Rotary Club of Evansville recognized the most recent class of 20 Under 40 Honorees at a luncheon they hosted on Tuesday, September 28. Mayor Lloyd Winnecke was the featured speaker. He spoke on leadership at the Executive Conference Center at Tropicana Evansville.

The 20 Under 40 program recognizes people younger than 40 years old who have exhibited extraordinary leadership skills and made an impact on their communities. The Class of 2021 included leaders of diverse backgrounds and professions in the region. "It is our purpose to honor these individuals in a special way. The 20 Under 40 program is a perfect vehicle for identifying these leaders and sharing their continued contributions in our region," said Rick Moore, Rotary Club of Evansville President.
The 20 Under 40 Class of 2021 is listed below, along with their professional affiliation/employer.

Julie Burczyk Tools 4 Teaching
Audrie Burkett Evansville Regional Economic Partnership
Tamara Carr German Township Volunteer Fire Department
Candace Chapman Downtown Evansville Development Corporation
Dr. Xavia Harrington University of Southern Indiana
MacKensey Mayer Evansville Teachers Federal Credit Union
Matthew Nix Nix Companies
Josey Roth Old National Bank
Andrew Schenk Deaconess Clinic
Brad Scheu Deaconess
Hunter Slade ProMark
Emily Slade Manzo Slade Print
Dr. Srishti Srivastava University of Southern Indiana
Tyler Stock Junior Achievement
Dr. D'Angelo Taylor University of Southern Indiana
Crystal Wildeman Dinsmore & Shohl, LLP
Jessica Wood Forefront Therapy
Megan Wright Evansville Vanderburgh School Corporation
Brandon Zimmer Three I Design
Seth Zirkle Jackson Kelly PLLC
---



Haiti - Earthquake. All aid has been distributed. We sheltered nearly 10,000 people!



Mozambique

- Conflict. We are responding to displacement caused by violent insurgency in the northern region of Mozambique. Aid has arrived to the port and is currently awaiting release from customs. We aim to support 3,000 families.

Yemen - Conflict. We aim to support 1,700 families who are internally displaced and sheltering in unsafe structures.

Burkina Faso - Conflict. We are working with local partner, HELP. We have completed our 3rd distribution in the Sahel region. We are now working on plans for a 4th distribution.

Ethiopia - Conflict. We continue to serve families in Ethiopia impacted by the devastating conflict there. We have completed another round of distributions and have supported 3,600 families.

Nigeria - Conflict. We continue to serve the families impacted by conflict in Nigeria. We are working on our next distribution.



Cameroon

- Conflict. Distributions continue in the Minawao camp. We have completed another round of distributions and have supported over 5,200 families.

Syria - Conflict. We continue to serve Syrian families. 2021 marks 10 years of the civil unrest. Since 2012, we've sheltered over 80,000 families (400,000 people) who have been impacted by devastating conflict. Winterized distributions will begin this month that will include mattresses, household items, tarps, and winter clothing items.

For more information, visit here: www.ShelterBoxUSA.org/NEWS

Also, be sure to watch the ShelterBox Facebook Live Updates on Tuesdays. ShelterBox goes live at 6:30am PT / 7:30am MT / 8:30am CT / 9:30am ET. If you're not able to catch the live feed, the videos are available to watch later. These 10 minute videos are a great way to hear a real-time update of our work.
---
The Washington Rotary Club has FUN at Halloween!!
(Number 5 on the 4-Way Test: Is it Fun??)

Bob Knight (President AJ Miles)
Queen of Hearts ( Jessica Richardson)
Cow (Brenda Sobecki)

Brenda Sobecki and Bob Barron
---
Applications for 2024-2025 District Governor
due by December 31st

If you've ever thought about applying to be a District Governor- now is the time. The nominating committee (a group of past District Governors and the current Governor-line) would be happy to answer any questions that you might have about the duties and responsibilities. Qualified, interested candidates should submit their name to the Nominating Committee Chair- Jessika Hane via email no later than Dec 31, 2021. Interviews are planned for February 2022. Candidates will be notified of the interview details in January.

Rotary International Bylaws outline the following qualifications for a District Governor:
Qualifications of a Governor-nominee:
(a) be a member in good standing of a functioning club in the district
(b) have served as club president for a full term or as charter president for at least six months
(c) demonstrate willingness, commitment, and ability to fulfill the duties and responsibilities of a governor (see RI Bylaws for full details)
(d) demonstrate knowledge of the qualifications, duties, and responsibilities of governor as prescribed in the bylaws
(e) submit to RI a statement that the Rotarian understands those qualifications, duties, and responsibilities, is qualified for the office of governor, and is willing and able to assume and faithfully perform those duties and responsibilities

Qualifications of a Governor: must have attended the International Assembly for its full duration, have been a Rotarian for at least seven years, and continue to possess the qualifications in section 16.010 of RI bylaws.
---
DEADLINE NEARS for Registration Discount for RI Convention in Houston



ROTARY INTERNATIONAL CONVENTION 2022 NEWS!!
We look forward to gathering in Houston, Texas, USA, 4-8 June.

Invite a friend or fellow member
Don't forget that 15 December is the last day to get the early registration discount. Invite a relative or friend (nonmembers are welcome!) or remind members from your club to register soon so that they can Discover New Horizons with you in Houston.

Register here: https://convention.rotary.org/en/houston

It's time to sign up for local events
The Host Organization Committee is planning unforgettable experiences for us in Houston, including sporting events, music, magic, shopping, visits to world-class museums, a tour of the famed Space Center Houston, and more. Visit the committee's site to learn about the many events that are planned and to purchase tickets.

Join us for a preconvention
The Rotaract Preconvention, 3-4 June, offers you an exciting opportunity to learn more about Rotaract, get useful tips and share your own best ideas, and network with Rotaractors and Rotarians from around the world.

The Rotary Presidential Conference Houston: Serve to Bring Peace, also 3-4 June, will showcase how each of Rotary's areas of focus contributes to and supports a more peaceful world. This will be the capstone to the six other presidential conferences hosted around the world this Rotary year. You'll find inspirational speakers, practical breakout sessions, and valuable networking opportunities and get a better sense of everything that Rotary does to build peace.

Remember that you can always find the latest news at convention.rotary.org or on the official 2022 Rotary International Convention Facebook event page.
---
What's Coming up on the 21-22 District Calendar????


December

January
20th: District Grant Training (Session 2)

February
19th: District Leadership Meeting in Mitchell
25th: Foundation event (tentative)
Global Grants Training (TBD: specifics to be announced)

March lst: District Speech Contest: Video Recordings due (see above article)
18-20th: PETS: President Elect Training Seminar
31st: District grant reports (21-22) due

April
9th: District Conference in Bloomington at the IU Memorial Union

May
1st: District Grants 22-23 Due

June
Changeover (to be announced)
---