District Leaders
L. Kirk Bouchie
District Governor
Mandy Jo Lohrum
Assistant Governor, PHF Society Chair
Lance Eberle
District Governor Elect
Laura J. Carie
Vice Governor
Kim Ingalsbe
Assistant Governor
Sara G. Laughlin
Assistant Governor
Charles Miller
Assistant Governor
Pepper Mulherin
Assistant Governor
Scott Peyton
Assistant Governor
Lacretia Ulery
Assistant Governor
Randall D. Wheeler
District Secretary
Shanon Kae O'Toole
DGN
January is Vocational Services Month
in the Rotary World!!!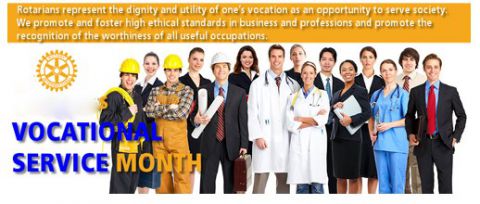 Featured in the January 2022 Newsletter:
*Governor Kirk's January's message
*SCENES from the Governor Kirk's December Club Visits
*Terre Haute South Rotary Club Partners with others on Two projects to
Help their Community during Christmas
*Jasper Rotary Club Names Local Firefighter a Paul Harris Fellow
for His Bravery
*Rotarians in Vincennes and New Albany partner with others to honor
'Those that Gave Their Lives so that we can live in Freedom'
by Laying Wreaths on Veterans Gravesites
*Second, and FINAL, District Grant Training for 21-22 to take place
Virtually on January 20th
*Rotaract Club of Evansville Makes Impact on Community
*SAVE the DATE: Friends of the Foundation Event: February 25th
*Rotary Club of Greenwood White River is NOW Rotary Club of Center Grove
*Floyd Central High School's Interact Club Raises $521 for Polio Vaccines
*Access to Safe Drinking Water is an Important Aspect
of Ending Polio Campaign
*Bloomington Rotary Club announces Diversity, Equity, and Inclusion Plan
*New Peace Center in Uganda Heralds a New Era for Rotary
*Rotarian Erik Bare, Greenwood Rotary Club, named the
2021 'Ernie Mishler Distinquished Service Award' Recipient
*The District and Clubs in 6580 Continuing to Help with Tornado Relief
*What's Coming up on the 21-22 District Calendar????
Do you know any stories of Rotary's work in your community to share in this newsletter? Please contact Bettye Dunham, bdunham@rauchinc.org.
---



Landon, Graham, Damon, Bennett and Cora
Governor Kirk's January message
Greetings Rotarians, HAPPY NEW YEAR! As we close the year 2021 we can be very proud of what our 37 Southern Indiana Rotary clubs and 1500 members accomplished this year. Thanks to all of you for your extraordinary efforts in so many ways. You all are the best! Now we turn our attention to the new year 2022. This small step in turning over the calendar can mean so much for a very bright and optimistic future for all of you. Everyone has different thoughts of what the future might hold for us within our personal families and our greater Rotary family. When I think about the future, my first thoughts go to my five grandchildren pictured above; Landon, Graham, Damon, Bennett and Cora. What will their futures entail? What opportunities will they enjoy? What will the world be like when they go to college, get a job, buy a house, start a family, retire? Of course, my hope is they all become successful, healthy contributors to our society AND become Rotarians. Today's Rotarians, all of us, have such a responsibility to ensure the future is bright for all of our youngsters here at home and around the world. This responsibility is played out in our actions regarding polio eradication, literacy, empowerment of young people, scholarships, etc.…the list goes on and on. You are all making a difference for my five grandchildren and all children around the world. That is the result of our 'service above self'.

January is Vocational Service Month in Rotary. Vocational Service calls on us to empower others by using our unique skills and expertise to address community needs and help others discover new professional opportunities and interests. January is a great time to leverage vocational service in your club projects and activities. Here are five ways you can incorporate vocational service in your club activities:
1.) Host a club meeting at your work place and share about your profession while taking time to learn about other member's occupations.
2.) Use your skills and expertise to serve in a community project.
3.) Practice your profession with integrity, and inspire others to behave ethically through words and actions.
4.) Work with local businesses to create mentorship and internship opportunities to help young people achieve their career goals.
5.) Guide and encourage others in their professional development.
I would be remiss not to mention all the vocations that have contributed so much to our communities during this pandemic. Thanks to all for your service.

Lastly, I encourage all of you to remember Rotary is about membership, stewardship and service. I ask all Rotarians to consider "each one bring one" this year. Please make a gift to our Rotary Foundation this year. Take action by creating a day of service in your community, maybe to empower young girls. Let's have a great January 2022 to set the tone for the second half of our Rotary year. We are Rotary and we are PEOPLE OF ACTION as we serve to change lives!

Serving to change lives,

L. Kirk Bouchie
Rotary International
District 6580 Governor 2021-2022
PO Box 749
Vincennes, IN 47591
812-887-7681
kbouchie@vinutilities.com
---
SCENES from the Governor Kirk's December Club Visits
THANK YOU to the clubs that hosted Governor Kirk in December!!
Brazil, Columbus Sunrise and Bloomfield
(sorry, no pictures from Bloomfield )
Brazil
President Andrew Bowman welcomes DG Kirk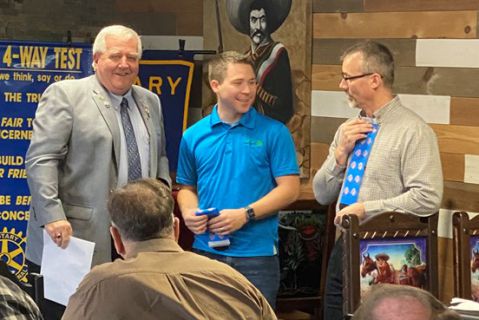 DG Kirk thanks President Andrew Bowman and iPP Rob Dispennett for their leadership.
Brazil Rotary Club board meeting with Governor Kirk
Columbus Sunrise
President Todd Boilanger was presented with PHF by Columbus Sunrise Rotary Foundation Chair, Lyn Morgan
President Todd Boilanger, DG Bouchie and Assistant Governor, Lacreta Ulery were thanked for their
leadership and presented with Rotary Sox by DG.
---
Terre Haute South Rotary Club partners with others on Two projects to Help their Community during Christmas
by President Kennth Menefee, Terre Haute South Rotary Club

Terre Haute South works with Chances for Services for Youth and
Bikes for Tykes to provide Bikes to Children in Need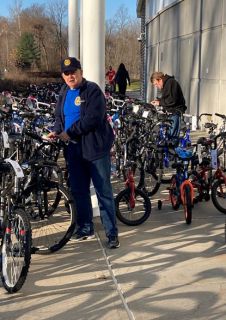 Rotarian Bill Allen, background, and Rotarian and past club president Terry Tevlin placing "Merry Christmas" tags
on each of the bikes and preparing them for grouping by school.
Terre Haute South Rotary Club has been involved with Chances and Services for Youth (CASY) and their Bikes for Tykes program for many years. On Saturday, December 4, Terre Haute South Volunteers partnered with students from Rose Hulman Institute for Technology who assembled the bikes. TH South Rotary volunteers sorted and grouped the bikes for distribution. Working with area schools and other local community groups, CASY identified children in need and working with TH South Rotary Club distributed 242 bikes to help make this Christmas a little brighter.
Rotarian and Chief Operating Officer, Brandon Halleck, of CASY talks with local TV media.
Terre Haute South helps distribute over 800 Food Baskets on Christmas

.

A few of the Rotarians from the Terre Haute South Rotary Club along with family and friends gathered on Christmas Eve morning to deliver food baskets to families in need. More THS Rotarians were at other gathering locations around the city. Rotarians along with other volunteers delivered 800 baskets on Christmas Eve morning.
---
Jasper Rotary Club Names Local Firefighter a
Paul Harris Fellow for His Bravery

Josh Dooley recognized as PHF by Rotarians, Dr. Ann Patterson and Darren Patterson
from WJTS: Posted by Logan Troesch
A local firefighter has been named a Rotary International Paul Harris fellow for his bravery and courage during a natural gas incident back in August.

Josh Dooley with the Jasper Volunteer Fire Department was named a Paul Harris fellow in a special presentation last night after being nominated by Rotarians, Dr. Ann Patterson and her husband Darren.

Back on August 30th of this year, Dr. Patterson of Jasper was alone in her home and had called the local non-emergency number after she felt something was wrong but was unable to detect the smell of the natural gas that was leaking inside her home. Dr. Patterson had at the time lost her taste and smell from a recent battle with covid-19.

Dooley was the 1st responder to arrive on the scene and reportedly could smell the odor of natural gas from the Patterson driveway. After removing dr. Patterson from the home, who at this time had become severely disoriented, Dooley alerted responding emergency personnel to keep their distance. Firefighters reported that the levels of natural gas in the home were 'unlivable.'

Dooley's quick actions not only saved the Patterson's home but Dr. Patterson's life.

Jasper mayor Dean Vonderhide was in attendance during the surprise presentation last night but he himself was not surprised by Dooley's actions on that fateful day in August.

The Patterson's and the Jasper volunteer firefighters want to remind the public that smoke detectors and carbon monoxide detectors cannot detect the presence of natural gas.
---
Rotarians in Vincennes and New Albany Partner with others to Honor 'Those that Gave Their Lives so that we can live in Freedom'
by Laying Wreaths on Veterans Gravesites
Vincennes Rotarians participate in the National 'Wreaths Across America' program with Kiwanians, Interact Club, and Key Club.



Note: This story was written by DG Kirk Bouchie with contributions from Jenny McNeece of the Vincennes Sun Commercial.
On Saturday December 18th Vincennes Rotarians along with several other local people gathered at the Vincennes City Cemeteries as part of the fifth annual Wreaths Across America (WAA) program in Vincennes. The project is part of the national WAA program that occurs every year at 11am on the third Saturday morning in December. The local project is a joint effort between the Vincennes Rotary and Kiwanis Clubs. Besides the two clubs members, also members of the Vincennes Lincoln, Rivet and South Knox Interact Clubs as well as the local Kiwanis Key Club all participated in laying wreaths on veterans gravesites. Each year a local steering committee made up of Rotarians and Kiwanians work year round raising the necessary funds to buy the wreaths at $15 each. This year about 2100 wreaths were purchased. The goal remains to be able to place a wreath on every one of the 3500 veterans graves in the Vincennes city cemeteries. Those cemeteries hold the particular distinction of having graves that include veterans from every US conflict ever, including the Revolutionary War to the present.
Members of the Vincennes Lincoln, Rivet and South Knox Interact Clubs as well as the local Kiwanis Key Club
all participated in laying wreaths.
Immediate Past Rotary President Gary Hackney served as master of ceremony for the brief ceremony. In kicking it off, he reminded those gathered on the cold, rainy morning that the freedoms we enjoy today "did not come without a price". "Lying before us in cemeteries throughout the nation and world are men and women that gave their lives so that we can live in freedom and with out fear with the right to succeed and fail in whatever endeavor we wish to pursue." US ARMY Colonel Mike Grundman, a Vincennes native now serving as commander of Camp Atterbury in District 6580, also spoke to the crowd, speaking of his pride in that Hoosiers were expected to lay tens of thousands of wreaths on veterans graves throughout our state. Grundman quoted poet, Linda Ellis, author of a poem called "The Dash". When people walk through cemeteries, seeing names alongside birth and death dates, "what matters most of all is the dash between those years". "That dash represents all the time they spent alive on earth. Our patriots spent some of their dash training and fighting for this great country", Grundman told the crowd.
Local Vincennes area Vets in their dress uniforms. One from each branch of the service lay a wreath at the base of the flag pole of that branch during the ceremony.
Col. Mark Grundman, Vincennes native, with the Army National Guard,speaks at the ceremony.
WAA began 26 years ago in Maine when wreathmaker Morril Worchester, found himself with 5000 extra wreaths. Rather than waste them he took them to Arlington National Cemetery. This year over 245,000 wreaths were laid by 44,000 volunteers at Arlington. On Saturday, December 18, over 1.2 million wreaths were laid in over 1200 cemeteries, including Vincennes, Indiana
New Albany Rotary Club Serves with Hazelwood 5th Grade Classes to lay
Wreaths on Veteran's Gravesites
by Tom Jones, New Albany Rotarian
For many years, students and staff at Hazelwood Middle School in New Albany have organized a Wreath Laying Ceremony at the neighboring New Albany National Cemetery. Through the fundraising efforts of Hazelwood's 5th grade classes 1,065 wreaths were purchased for this year's event! At a short program at the school before walking over to the cemetery, an invocation was given by Wesley Chapel UMC Pastor Tony Alstott, followed by a keynote address from City of New Albany Deputy Fire Chief Tim Kron, and the introduction of this year's Honored Family…that of Veteran Danny Kron. In the remarks of Deputy Chief Kron, it was interesting to learn some of the history of the New Albany National Cemetery. Specifically, that on July 17, 1862, in the midst of the Civil War, President Lincoln's signature enacted the law authorizing the establishment of national cemeteries and that New Albany's was one of the 14 original such cemeteries opened pursuant to this legislation. At the conclusion of the school's program, the gathered crowd joined others assembled at the cemetery for a 21-gun salute by the VFW Post 1693 Honor Guard and the playing of TAPS.
This solemn yet heartwarming event then culminated with the laying of the wreaths by the many Hazelwood students and staff, community volunteers – including a number of New Albany Rotarians – and family members of those interred. Among those interred are several family members of New Albany Rotarian Tom Jones and his wife, Lodie. Namely Tom's father, Thomas M. Jones, an Army Veteran of Vietnam; his uncle, Curtis F. Hollon, an Army Veteran of World War II; and Lodie's grandfather and grandmother, Raymond H. Christiansen, Sr., a Navy Veteran of World War II, and Virginia L. Christiansen.


Greensburg Rotary Club: The Greensburg Rotary Club also participates in this area of service by helping with the removal of wreaths after Christmas.
---


Second and FINAL District Grant Training to take place
Virtually on January 20th
by Bettye Dunham, Administrative Assistant
If your club is interested in applying for a district grant in May 2022, at least two members of your club must participate in a virtual district grant training. The first session was held in November and the second session of the district grant training will be a virtual (zoom) training session on January 20th. (Note: Both sessions are identical.) These sessions walk you through the application process and forms as well as information on how projects are rated.

The link to register is: https://www.dacdb.com/index.cfm?EventID=77567314

For any questions or help with registering, please contact Bettye Dunham at bdunham@rauchinc.org or 501 609 1923.
---
Rotaract Club of Evansville Makes Impact on Community
by Bradley Colvert, President
The Rotaract Club of Evansville was charted in May 2001, sponsored by the Rotary Club of Evansville. As an organization of young professionals in the Evansville community, Rotaract members are involved in many other community organizations and have a variety of careers. Rotaract strives to assist its members in professional development and leadership. Service to both the local and international community is a priority to Rotaract. The Rotaract club of Evansville focuses its service activities on social issues and supports several related projects each year. Lunch meetings are held the last Tuesday of every month at 11:30 a.m. at the Old National Bank's Blue and Gold room located at One Main Street in downtown Evansville.

The Rotaract Club of Evansville 2021 Signature Project, "Sleep in Heavenly Peace, No Kid Sleeps on the Floor in Our Town!" was recently completed. Rotaract members volunteered their efforts in July to build over 40 beds. With Rotaract's $5,000 grant and matching funds from another group in Evansville, Rotaract was able to deliver those 40+ beds THAT day to kids who were sleeping on the floor the night before. These beds included complete frames, mattresses, sheets, pillows, and blankets.
Rotaract was excited to host their Fiesta Night this year as last year's had to be postponed due to the Pandemic. In September, Rotaract hosted their annual Fiesta Night at the Evansville Athletic Club where members, sponsors, and the grant recipient gathered to celebrate and help raise funds for Rotaract's Grant. The night consisted of a complete dinner, DJ, and a silent auction. All proceeds from Fiesta Night went towards Rotaract's grant recipient, Sleep in Heavenly Peace. With these funds, this organization may continue to help local non-profits in need.

Rotaract Signature projects are selected that enable Rotaract members to be hands-on and provide the ability to make a distinct impact on the organization. The 2020 project was the Tri-State Foodbank and the 2019 project was a complete interior overhaul of the YWCA Bosse House which houses after-school programming for Bosse High School students.

Rotaract will begin the process of planning for their 2022 Signature Project Day and Fiesta Night in the coming weeks. If you have any questions regarding Rotaract, how to volunteer, or how to become a sponsor for their 2022 Signature Project please contact Pat Thomas, the Evansville Rotary Liaison, or Rotaract President, Bradley Colvert at (812) 470-6330.
---
SAVE the DATE
Friends of the Foundation Event
Paul Harris Society Social
Friday, February 25th
5:30 – 7:30 pm EST
Location: Jasper Art Center
Jasper, Indiana

More Details to follow!!
---




Rotary Club of Greenwood White River is

NOW




Rotary Club of Center Grove
by David Maurer II, President, Rotary Club of Center Grove (formerly Greenwood/White River)
cen·ter grove (noun) | \ 'sen-tar' grov

1) The middle orchard located amidst other plantings of fruit of nut trees
2) unincorporated community located in White River Township, Johnson County, Indiana
3) An area or region that gained its name from the Center Grove Community School Corporation

OBJECTIVE: Over a handful of years, the Greenwood/White River Rotary Club wanted to change our name, to provide a more defined reference of our true geographical location, in Johnson County.

The pursuit of such a name change made sense on many levels:
• the passage of time of our Club's charter (April of 2003)
• our membership growth
• and the vision of and now the construction of I-69

IMPEDIMENT: Wanting to be respectful of the Rotary International's referencing the naming of Rotary Clubs, the pursuit of a name change, never played out in the past. Rotary International's Code of Policies for Club Names states:

The name of a Rotary club is to identify the club with its locality. The name should be one (or include some reference) that is easily identifiable on a map of the area, so that someone unfamiliar with the area can determine the general location of the club.

Try to find Center Grove on the map; you will not be able to do so.

PURSUIT: With the encouragement of our 6580 District Governor, Kirk Bouchie and the help of Bettye Dunham, our leadership team began the process of requesting a name change for our Club, to be renamed the ROTARY CLUB OF CENTER GROVE.

OUTCOME: Given our Club's Annual Meeting, the morning of December 1st of 2021, we voted unanimously to request the name change with Rotary International – by end of day, our Club Secretary, Scott Horvath, initiated the request. Within a week, December 6th, we received notice that our request had been approved by Rotary International, as of 12/01!

MOVING FORWARD: Since the approval has been provided, we have created a Re-Branding Committee to address all aspects of what needs to be done and to pursue those changes during Q3 and Q4, which remain this Rotary fiscal year.

We are grateful for those who made our request a reality; Kirk Bouchie, Bettye Dunham and Andrez Perez, of Rotary International. We thank Rotary International for their flexibility which we believe will help us with growth in our future.
---
Floyd Central High School's Interact Club
Raises $521 for Polio Vaccines
Two middle school attenders laugh and play while choosing which paints would best suit their idea for painting
their pumpkin on Friday, Oct. 29. Photo by Jorge Zarate.
from Floyd Central Interact Club newsletter:
On Friday, October 29, 2021, members of the Floyd Central High School Interact Club hosted Fright Night, a Halloween party, for Highland Hills Middle School to raise money for polio vaccines. The event was split into two parts: one party for 5th/6th grade students and one for 7th/8th grade students. The party featured food, Halloween-themed music, a costume contest, a photo booth, and games like four corners, musical chairs, cornhole, and spikeball. In addition, Loftus Farms donated pumpkins for pumpkin painting. Interact members also taught attendees dances like Cotton-Eye Joe, the Cupid Shuffle, and the Cha-Cha slide. Fright Night was a huge success and raised a total of $521 for polio.
Middle school students show off costumes at Fright Night on Friday, Oct. 29, 2021. Photo by Josie Hardesty
---
Access to Safe Drinking Water is an Important Aspect
of Ending Polio Campaign
from TRF email:

Access to safe drinking water is also an important aspect of the GPEI's endgame strategy, which encourages efforts that "ensure populations reached for polio campaigns are also able to access much-needed basic services, such as clean water, sanitation, and nutrition." The poliovirus spreads through human waste, so making sure people aren't drinking or bathing in contaminated water is critical to eradicating the disease. Bunmi Lagunju, the PolioPlus project coordinator in Nigeria, says that installing the boreholes has also helped prevent the spread of cholera and other diseases in the displaced persons camps.

Communities with a reliable source of clean water enjoy a reduced rate of disease and a better quality of life. "When we came [to the camp], there was no borehole. We had to go to the nearby block factory to get water, and this was difficult because the factory only gave us limited amounts of water," says Jumai Alhassan (pictured at bottom left bathing her baby). "We are thankful for people who provided us with the water."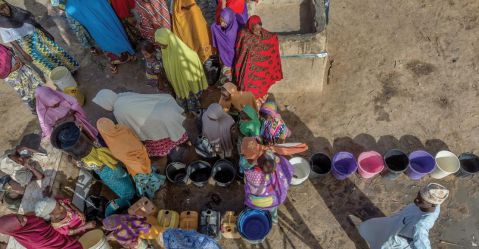 Addressing a critical long-term need such as access to clean water helps build relationships and trust with community members. Within camps for displaced people, vaccinators are sometimes met with frustration. "People say, 'We don't have water, and you're giving us polio drops,'" Tunji Funsho explains. Rotary and its partners responded by funding 31 solar-powered boreholes to provide clean water in northern Nigeria, and the effort is ongoing. At left, women and children collect water from a borehole in the Madinatu settlement, where about 5,000 displaced people live.

Supplying clean water to vulnerable communities is a priority of the PolioPlus program not only in Nigeria, but also in Afghanistan and Pakistan — the only other remaining polio-endemic nations, or countries where transmission of the virus has never been interrupted. "Giving water is noble work also," says Aziz Memon, chair of Rotary's Pakistan PolioPlus Committee.
---

Bloomington Rotary Club announces Diversity, Equity and Inclusion Plan
From a Bloomington Rotary Club Facebook post and President, Sally Gaskill
After months of work by an amazing committee, the Bloomington Rotary Club is pleased to announce its first Diversity, Equity, and Inclusion Plan that intentionally seeks out ways to celebrate the contributions of people of all backgrounds, regardless of their age, ethnicity, race, color, gender, religion, sexual orientation, marital status, immigration status, political ideology, or previous incarceration. "The club recognizes that individuals have historically experienced barriers to membership and participation in Rotary, and so we are committed, all the more vigorously, to advance diversity, equity, inclusion, and belonging in all aspects of Rotary. We therefore charge ourselves to oppose racism, sexism, human trafficking and exploitation, and to promote the needed resources, opportunities, networks, and encouragement necessary to allow us and our fellow human beings to thrive together."

The Vision Statement: As members of the Bloomington Rotary Club, we strive to accept and value all human beings as they are, appreciating our common humanity, and we believe our differences are our strength. Empowered by our commitment to Service Above Self, we want to build a community that champions Diversity, Equity, Inclusion, and Belonging. We understand this to mean, among other things, that this committee encourages and welcomes all people of good will into our company regardless of their backgrounds or experiences, allowing them to participate, connect, engage, and collaborate in building a just and equitable community. We are committed as part of our care for others to promote fair and humane treatment of all human beings; access to educational, business, artistic and leadership opportunities; and to a shared sense of belonging and mutual purpose.

Goals of the DEI Committee:1.Support efforts to recruit and maintain a more diverse membership. a. Work with the Membership Committee*to identify potential members whose backgrounds and experiences diverge from that of the majority members. b. Use a portion of the Club's Diversity Fund to provide financial assistance to offset membership costs when necessary. c. Encourage current members to fund the initial cost of membership for any newly recruited candidate judged to be capable of expanding the Club's diversity by race, gender, or status, through a contribution to the Bloomington Rotary Foundation. 2.Expand and encourage the Club's involvement with minoritized organizations in Bloomington and Monroe County. Be pro-active in building relationships with individuals from these organizations to strengthen community ties and strategize how Rotary might be more involved in supporting their work. Investigate the possibilities of semi-formal partnerships, along the lines of "sister city" arrangements. 3. Work with the Program Committee*to identify and invite speakers capable of addressing issues of diversity and inclusivity in American culture and history.4. Assess the impact of the committee's progress over time by establishing benchmark parameters, measured by candid responses to the Four Way Test: Truth –Have members learned new and truthful things about one another because the Club has become more diverse? Fairness –Does the Club treat all its members fairly and does that show in the appointment of committee chairs, board leadership,and training opportunities? Goodwill and Friendship –Do members have friends in the Club who are not like them in color, gender, or experiences, and are able to act on that friendship? Beneficial to all concerned –Can members identify specific benefits of having Rotary friends who are different from them in background, education, ethnicity, gender, or life experiences?

If your club is involved in or interested in working on DEI plan and goals please contact Sally Gaskill at gaskill@indiana.edu.

NOTE: To see an article in the Bloomington Herald Times on Rotary President Sally Gaskill please click on the link below.
https://www.heraldtimesonline.com/story/entertainment/2021/12/16/bloomington-arts-administrator-sally-gaskill-has-plenty-do/6489646001/
---
New Peace Center in Uganda Heralds a New Era for Rotary
The arrival of the first peace fellows at the new peace center in Kampala, Uganda,
heralds the beginning of a new era for Rotary and the continent.
from RI email: by Jeff Ruby Photography by Tobin Jones
In the last week of February, in Kampala, Uganda, 15 Rotary Peace Fellows gathered at Makerere University for the inaugural session of Rotary International's new peace center. Among them, the peace center's first cohort represented 11 countries and spoke, in addition to English, a dozen African languages, including Luganda, Swahili, and Zulu. "Coming from diverse backgrounds, and yet with a shared desire for peace in Africa, they are the epitome of unity in diversity," said Anne Nkutu, a member of the Rotary Club of Kampala Naalya and the host area coordinator for the Makerere University peace center.

With an average age of 40 when they were admitted to the program, the fellows are not novice peacemakers. These are established professionals with a minimum of five years of experience in peace and development. They arrived at Makerere University — home to an established program in peace and conflict studies — already working on an initiative, or with an idea for one, that promotes peace or social change within their workplace or community. "The fellows are more interested in the practical side of peacebuilding," said Helen Nambalirwa Nkabala, the director of the peace center. "They want to see how things are done, as opposed to our regular students, who are more interested in the theoretical aspects. So the fellows come off as, and indeed are, change agents."

Prior to arriving at Makerere, the peace fellows began their studies with a two-week online session, the first stage in Rotary's new yearlong certificate program in peacebuilding, conflict transformation, and development. (The peace center at Chulalongkorn University in Bangkok, which previously offered a three-month version of the certificate program, has also adopted this new model.) Following the 10-week session in Kampala, they will return home to begin implementing their social change initiatives, checking in periodically with their instructors and fellow students. They will return to Makerere in early 2022 to complete the program.

Earlier this year, as they prepared to depart for Kampala, Rotary magazine spoke with six of the peace fellows via Zoom and WhatsApp. The conversations were a crash course in African history and politics. They were also an inspiration, offering a glimpse of the possibilities that lie ahead for Africa once these peace fellows — and those to follow in the years ahead — complete their studies at Makerere and disperse across the continent to share what they have learned.
---
Rotarian Erik Bare named the 2021 'Ernie Mishler
Distinguished Service Award' Recipient

Mr. Lee Money awards Erik Bare with Ernie Mishler Distinquished Service Award
from Greenwood Rotary Club newsletter
Rotarian Erik Bare was named the 2021 "Ernie Mishler Distinguished Service Award" recipient at the December 20 Greenwood Rotary Club meeting. The award was presented to Mr. Bare by Mr. Lee Money, who chaired the selection committee. The award is given to a member of the Greenwood Rotary Club for "upholding and furthering the principles and ideals of the Rotary way of life as exemplified by former Rotarian and Greenwood community leader, Mr. Ernie Mishler." Mr. Bare is the 23rd annual Mishler award recipient and immediate past president of the Greenwood Rotary Club. He serves as Radiation Therapy Manager with Community Health Network. Mr. Bare is a graduate of Leadership Johnson County and has degrees at Washington State University (MBA), Indiana University (BA), and Ivy Tech (AS).
---
The District and Clubs in 6580 Continuing to Help with Tornado Relief
by DG Kirk
Last week in support of communities in Kentucky and Tennessee devastated by the tornadoes, District 6580 announced up to a $5000 match for any/all contributed funds or supplies reported to us toward the relief effort by Rotary Clubs or individual members in our district. To date more than $6,350 has been reported as being contributed in funds or supplies. We thank all of you as well as those that are considering assistance for your compassion and commitment to helping those going through disaster recovery.

If your club or individual Rotarians are helping the survivors of these tornadoes, please email Bettye Dunham, Administrative Assistant at bdunham@rauchinc.org and let her know of any/all contributions made.
---
What's Coming up on the 21-22 District Calendar????



January
20th: District Grant Training (Session 2)

February
19th: District Leadership Meeting in Mitchell
25th: Foundation event (more details to follow)
Global Grants Training (TBD: specifics to be announced)

March lst: District Speech Contest: Video Recordings due (see above article)
18-20th: PETS: President Elect Training Seminar
31st: District grant reports (21-22) due

April
9th: District Conference in Bloomington at the IU Memorial Union

May
1st: District Grants 22-23 Due

June
18th: Changeover: (Tentative)
---