District Leaders
L. Kirk Bouchie
District Governor
Mandy Jo Lohrum
Assistant Governor, PHF Society Chair
Lance Eberle
District Governor Elect
Laura J. Carie
Vice Governor
Kim Ingalsbe
Assistant Governor
Sara G. Laughlin
Assistant Governor
Charles Miller
Assistant Governor
Pepper Mulherin
Assistant Governor
Scott Peyton
Assistant Governor
Lacretia Ulery
Assistant Governor
Randall D. Wheeler
District Secretary
Shanon Kae O'Toole
DGN
Rotary's 117th anniversary!!!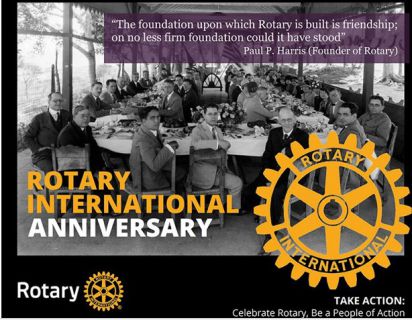 ---
February is Peacebuilding and Conflict Prevention Month
in the Rotary World!!!


Featured in the February Newsletter:

*Governor Kirk's February message
*SCENES from the Governor Kirk's January Visits
*Rotary's Commitment to Peace: Each year Rotary awards up to 130 fully funded fellowships for dedicated leaders from around the world to study at one of our peace centers.
*Philadelphia Police Officer Uses Techniques learned from Rotary Peace Fellowship

to Defuse Conflict and Build Trust


*Center Grove Rotary Club Trifecta -an evening of merrymaking in Johnson County!
*You are invited!! Friends of the Foundation Event
*Columbus Signature Academy – New Tech High School (CSA) Interact Club Recognizes the work of School Nurses
*Kelsey Lechner selected as 2022-23 Global Scholarship Nominee
*We're doing SO MUCH MORE than Eradicating Polio! CREATING JOBS


*ShelterBox Responds to Typhoon Rai in the Phillippines


*Feedback Requested on Potential Virtual Talks


*SAVE THE DATE!! 2022 Ryder Cup for the Rotary Foundation scheduled for June 16


*Bloomington Sunrise Rotary Club Supports Community through Donations

to

Four Local Non-Profit Organizations


*How do I promote Rotary to the General Public?




*What's coming up on the District Calendar??



Do you know any stories of Rotary's work in your community to share in this newsletter? Please contact Bettye Dunham, bdunham@rauchinc.org.
---
Governor Kirk's February message
Greetings fellow District 6580 Rotarians! Welcome to February 2022. Our Rotary International theme for this month is Peace and Conflict Resolution. This is a very timely topic as our world continues to become more dangerous. Rotarians everywhere are peace-loving folks who are doing many great things worldwide to lessen tensions by serving to change lives for the better. Some examples include our work to improve drinking water for many, our work to eliminate polio, our work to improve literacy, our work to improve maternal and children's health and especially our work this year to empower young girls throughout the world. On Wednesday February 23, 2022, we will celebrate Rotary's 117th birthday. Can you imagine what Paul Harris and his fellow founders (including our own Silvester Schiele from Brazil, IN) would have to say about Rotary today? I suggest that they would be very proud and pleasantly surprised at all the wonderful outcomes they initiated. I want to challenge each Rotarian in our district to ask yourself, "Are we relevant in our community?". What more could we be doing to make an even bigger impact in our club, community, and the world? As we all plan for the last five months of this Rotary year, please consider having a Rotary Day of Service in your community, please consider bringing a potential member to a Rotary meeting as your guest, and please consider making a commitment to our Rotary Foundation. These ARE the nuts and bolts of making good happen in our world. Thanks to all of you for what you are already doing as Rotarians!

In closing, I want to thank all of our clubs and members that have recently donated funds and relief supplies to our neighbors to the south in Kentucky and Tennessee. Rotarians worldwide have come to the aid of our neighbors. To date, District 6580 Rotarians have donated over $12,610 ( includes the District match). Please go to https://brandcenter.rotary.org/ to view our newest 30 second video about you all. You all are the best!

HAPPY BIRTHDAY ROTARY!

L. Kirk Bouchie
Rotary International
District 6580 Governor 2021-2022
PO Box 749
Vincennes, IN 47591
812-887-7681
kbouchie@vinutilities.com
---
SCENES from the Governor Kirk's January Visits
THANK YOU to the Interact clubs that hosted
Governor Kirk in January!!
Vincennes Lincoln Interact and South Knox MIddle School
Vincennes Lincoln Interact
District Governor Kirk with Presidents Colton Pfoff and Amelia Lane
South Knox Middle/High School Interact Club
Governor Kirk meets with South Knox Middle/High School Interact Club
Thank you to these Interact Clubs for hosting District Governor Kirk! If you have an Interact Club that would like a visit from Governor Kirk please contact Bettye Dunham: bdunham@rauchinc.org
---
Rotary's Commitment to Peace

Each year Rotary awards up to 130 fully funded fellowships for
dedicated leaders from around the world to
study at one of our seven peace centers.

Rotary's ongoing commitment to peace and the generosity of Rotarians around the world are what have made the Rotary Peace Centers program a success. Since the program began in 2002, the Rotary Peace Centers have trained more than 1,400 fellows who now work in more than 115 countries. Many serve as leaders in governments, NGOs, the military, education, law enforcement, and international organizations like the United Nations and the World Bank.

Each year, Rotary awards fellowships for master's degrees and for certificate studies at premier universities around the world.
• Master's degree programs: Last 15 to 24 months and require a practical internship of two to three months during the academic break.
• Professional development certificate program: For experienced professionals and lasts three months with two to three weeks of field study.
Through academic training, practice, and global networking opportunities, the Rotary Peace Centers program develops the capacity of peace and development professionals or practitioners to become experienced and effective catalysts for peace. The fellowships cover tuition and fees, room and board, round-trip transportation, and all internship and field-study expenses.

• Our fellowships
The Rotary Peace Fellowship is designed for leaders with work experience in peace and development. Our fellows are committed to community and international service and the pursuit of peace. Each year, The Rotary Foundation awards up to 50 fellowships for master's degrees and 80 for certificate studies at premier universities.

• Master's degree programs
Accepted candidates study peace and development issues with research-informed teaching and a diverse student body. The programs last 15 to 24 months and include a two- to three-month field study, which participants design themselves.

• Professional development certificate program
During the one-year blended learning program, experienced peace and development professionals with diverse backgrounds gain practical skills to promote peace within their communities and across the globe. Fellows complete field studies, and they also design and carry out a social change initiative. This program is intended for working professionals.
Note: New Peace Center in Uganda is not shown on this map.
---
Philadelphia Police Officer Uses Techniques learned from Rotary Peace Fellowship to Defuse Conflict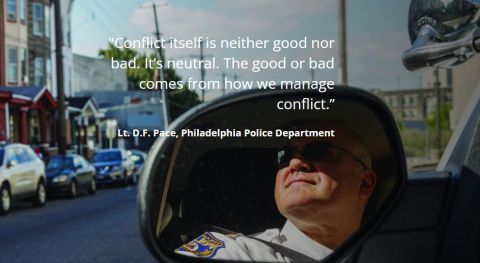 excerpts from article by Bryan Smith, senior writer at Chicago magazine and a contributing editor at Men's Health.
In his 15-year career with the Philadelphia Police Department, Lt. D.F. Pace has taken pride in being naturally tolerant and level-headed, qualities that helped him rise through the ranks. But he is human. To maintain a level head under pressure, at times he uses several techniques he learned through the Rotary Peace Fellowship program.

In 2010, Pace applied for the intensive three-month professional certificate program in Thailand. The idea had come to then-Police Commissioner Charles Ramsey through a suggestion from the Philadelphia Rotary Club, the 19th-oldest Rotary club in the world. Pace relished the challenge. "As soon as I saw it, I said, 'This is a once-in-a-lifetime opportunity.'" Even before events like what happened in Ferguson (Mo.), I saw an unease developing between police and the community. I thought, 'If we don't get a handle on this, the lid's going to come off.' Pace saw the fellowship as a way to defuse a developing powder keg. "Even before events like what happened in Ferguson [Mo.], I saw an unease developing between police and the community," he recalls. "I thought, 'If we don't get a handle on this, the lid's going to come off.'"

The growing tension between police and residents also troubled members of the Philadelphia Rotary Club. They considered a few ideas until Joseph Batory, then scholarship chair of the club, had a light-bulb moment: the peace fellowship. "Sometimes the obvious is right in front of us," says Batory. "It finally dawned on me that a police officer is at the very forefront of violence prevention and peacebuilding and, as such, would be a great fit for Rotary's three-month certification program."

In D.F. Pace, known as "D" to friends, Batory believed the club had found the perfect candidate: "He was an up-and-coming young lieutenant with patrol experience on the streets, but he's also a lawyer and thus well-versed in the legal aspects of proper policing," he says. "He reflected Commissioner Ramsey's vision of creating a new generation of police officers with enhanced professionalism, dramatically improved judgment, and dedication to being instruments of peace."

Each year, Rotary selects up to 100 individuals from around the world to receive fully funded academic fellowships at a peace center. These fellowships cover tuition and fees, room and board, round-trip transportation, and all internship and field-study expenses. In just over a decade, the Rotary Peace Centers have trained more than 1,000 fellows for careers in peacebuilding. Many of them go on to serve as leaders in national governments, nongovernmental organizations, the military, and international organizations like the United Nations and World Bank.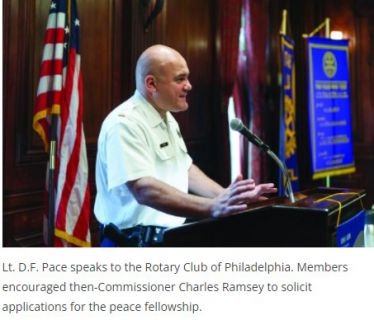 Pace says his cohorts included a labor relations specialist, a women's rights advocate, educators, and lawyers."Conflict itself is neither good nor bad. It's neutral. The good or bad comes from how we manage conflict". As Ramsey and the Philadelphia Rotary Club hoped, Pace incorporates what he learned in Thailand into the seminars he teaches for other officers, including a class called Fair and Impartial Policing.

One of the lessons of the peace fellowship, Pace says: Knee-jerk hostility will likely beget the same, while a simple friendly gesture is likely to disarm. "It's trying to find other ways to dialogue rather than force and suppression." "Ultimately, this is what it comes down to: one human being interacting with another. Is it a positive interaction? Does the police officer add value to the other person's life? If the answer is yes, then we're doing the right thing. If it isn't, then we need to figure out ways to improve that." That, he says, leads to another lesson: "One of the most powerful tools any person has is their ability to communicate – our ability to interact with people. How you talk to people can create a situation that fosters understanding and compromise or put them on the defensive. Once someone puts up a shield, there's little you can do to fix it at that point. You can always escalate, if necessary, but if you start escalating, it's very difficult to de-escalate." The idea, he says, is to "give people a chance. Doing so does not make you less of a cop." It makes you a cop who is going into your toolbox and pulling out your restraint tool, he adds – restraining yourself rather than saying, How dare this person talk to me this way? I'm a police officer. For him, the lesson was obvious: It's easy to vilify people based on snap judgments and stereotypes, but that destroys trust when trying to connect with the community you serve.

Note: To see the complete article go to: https://www.rotary.org/en/police-officer-uses-rotary-peace-program
---
Center Grove Rotary Club Trifecta -
an evening of merrymaking in Johnson County!
This picture includes seven representatives of the Martinsville club (members and family), five are perspective members (and family) who attended our guest day, one family (of three) - the two adults are on the staff of Greenwood Christian Academy (Kevin and Jenni Jackson) (who look to be a part of our first Corporate Membership), and six from the Center Grove Club.
from Center Grove Rotary Facebook page and David Maurer, President
The Center Grove Rotary Club provided an outing event January 22 which wove together: a Club Social event, Future Member Engagement, and a camaraderie emphasis event with our friends from the Martinsville Rotary Club.

Our journey to the 46131 postal code, provided a scrumptious dinner and a lively bowling experience for our Rotary crew and their families.

The first stop included a bite to eat at Greek's Pizzeria & Tapp Room - Franklin… never a disappointment, and thank you for hosting us ~ and we would be remiss if we did not mention the incredible service McKenzie provided our tables!

Then onward to the other side of the town square to 10 Pins Franklin, where Pat Hagan and his warm and welcoming staff brought closure to the evening, as each of us enjoyed bowling and an atmosphere of Family FUN, in vibrant Downtown Franklin.
Center Gove and Martinsville Rotary families and guests enjoy a fun-filled evening.
Center Grove Rotarians challenge all clubs to join forces, in order to have the critical mass of attendees, to make their events lively and to leverage their events to attract new or interested members. We also note we are taking our first steps to be proactive with corporate memberships!
---
YOU ARE INVITED to the February 25th
Friends of the Foundation Event!!!
by Jessika Hane, District Foundation Chair
Hopefully by now, you've seen the invite for our upcoming Friends of the Rotary Foundation event. This in-person event will be held in Jasper, IN at the beautiful Jasper Art Center on Friday Feb 25th. All Rotarians and their guests are welcome to join us. The Rotary Club of Jasper is hosting this event and it is going to be so much fun!

We start at 5:30pm EST and we'll have an afterparty too. This event is also the Paul Harris Society Social and I want to emphasize the word SOCIAL here. This is a chance for us to get together and celebrate the good that we do- we will eat, drink and spend time together. Guests will have a chance to learn a little bit more about the impact Paul Harris Society members have on our District Foundation giving as well. See the invite below for more information.

Again- everyone is invited and we are looking forward to seeing Paul Harris Society members, potential Paul Harris Society members and anyone who is interested in getting together to have a good time.

Still not convinced that this event is for you?
Please allow me one more thought about why you should attend: As human beings living through the junior year of the pandemic- we need each other now more than ever. Spending time together, connecting and sharing stories is truly therapeutic. As Denise Linn said "You'll know the people that feed your Soul, because you'll feel good after spending time with them."
I hope to see you on February 25th in Jasper.

Click here to register by Feb 14th. https://www.dacdb.com/index.html?EventID=77574214 or contact Bettye Dunham at bdunham@rauchinc.org.
---
Columbus Signature Academy – New Tech High School (CSA) Interact Club Recognizes the work of School Nurses
Group photo: l to r: Haylee Cain, Savannah Shreve, Alejandro Loitegui, Rotary Representative Brian Payne
by Brian Payne, Columbus Rotary Club
As CSA Interact Club members began to brainstorm ways they could help their community, a segment of that community came right to the top of everyone's mind… Nurses! In particular, Club members wanted to show how much they supported and appreciated the hard-working nurses of their school system. With the donations from Columbus Rotary Club members and help from the CSA Interact Club members, nurses were awarded gift cards, lotions, pens, and snacks. Every nurse for each Elementary, Middle, and High school was given a basket with a hand-written note from club members.
---
Kelsey Lechner selected as 2022-23 Global Scholarship Nominee
This photo was taken in Bangladesh. The outfit Kelsey is wearing is called a "salwar kameez"
and was something she wore on a daily basis.She reports is is 'very comfortable'.
by Jim Bright, District Global Scholar Chairperson
(Note: at the end of this article is a video of two of our District's past Global Scholars.)
Our district scholarship committee has selected Kelsey Lechner of Columbus, Indiana, as our 2022-23 Global Grant Scholar. Kelsey, who received her bachelor's degree in East Asian Languages and Cultures and International Studies from Indiana University's Hamilton Lugar School of Global and International Studies in 2015, will use the $40,000 award to pursue a master's degree in Education, International Development and Social Justice from St. Mary's College in London. She was endorsed by Columbus Sunrise Rotary, and she will be hosted by a London-area Rotary club.

Through her studies in London, Kelsey wants to learn how to create and strengthen opportunities for students who have been hindered from receiving a quality education. "My career goals match Rotary's in education," Kelsey says. "I want to support Rotary's mission to promote basic education and literacy in children and adults, especially girls and other marginalized students, including refugees, victims of trafficking, and low-income communities.

Kelsey, who grew up in Fort Wayne, has lived in Japan, Tanzania and Bangladesh.

In Japan she was a coordinator for international relations in the Japan Exchange and Teaching Program (JET) and later worked at Human Rights Now in Tokyo.
In 2018 she conducted field research in Rohingya refugee camps in Bangladesh and worked for the Asian University for Women (AUW) in Pathways Pathways to Promise, an intensive student-centered program where she helped students develop English and critical thinking skills needed to succeed in the Western-style, English undergraduate curriculum.

Despite the pandemic, in 2020 Kelsey moved to rural Tanzania where she worked as a teacher trainer at a village secondary school and started a reading program for students.In addition, in Louisville, she served as a refugee summer program coordinator through Americorps for Catholic Charities, helping 35 local refugee children from Africa, Latin America and Asia combat summer learning loss and adjust to their new environment. "These students have taught me the skills needed to represent a community and have an impact upon our world – and also a need to further my own education."

The district committee has sent her application to The Rotary Foundation in Evanston, IL for final approval.

Kelsey will be the fifth recipient of a Rotary District 6580 Global Grant Scholarship. Previous honorees are: Aubrey Seader (2018-19), King's College London; Arts and Cultural Administration; Alexandra Starry (2019-20), Hertie School of Governance in Berlin, Public Policy; Clarice Cross (2020-21), Waseda University, Tokyo Japan, Community Economic Development; and Cameron Davidson (2021-22)), University of Salamanca, Spain, Global and International Studies.
District 6580 Global Scholars Share Their Stories and Give Thanks
---


We're doing SO MUCH MORE than Eradicating Polio!
CREATING JOBS!!
By Vanessa Glavinskas Photography by Andrew Esiebo, TRF
Polio left Isiaku Musa Maaji disabled, with few ways to make a living. At age 24, he learned to build hand-operated tricycles designed to provide mobility for disabled adults and children, and later started his own business assembling them. His first break came, he says, when a local government placed a trial order. It was impressed with his product, and the orders continued. Rotary's Nigeria PolioPlus Committee recently ordered 150 tricycles from Maaji to distribute to polio survivors and others with mobility problems. The relationship he has built with local Rotarians has motivated him to take part in door-to-door polio vaccination campaigns.
"It is not easy to be physically challenged," he says. "I go out to educate other people on the importance of polio vaccine because I don't want any other person to fall victim to polio."
Aliyu Issah feels lucky; he's able to support himself running a small convenience store. He knows other polio survivors who have attended skills training programs but lack the money to start a business and are forced to beg on the street. However, the GPEI provides a job that's uniquely suited to polio survivors: educating others about the effects of the disease. "Some of my friends who used to be street beggars now run their own small business with money they earn from working on the door-to-door immunization campaign," Issah says.
---
ShelterBox Responds to Typhoon Rai in the Philippines
from Shelterbox website
ShelterBox is responding in the Philippines after Super Typhoon Rai (known locally as Typhoon Odette) caused widespread devastation.

It is the most severe storm to hit the country this year. With gusts of up to 150mph, the storm was equivalent to a Category 5 hurricane.

Damaged communication lines and fuel shortages are making needs assessments and travel extremely challenging – but we know that the Super Typhoon has displaced over half a million families.

Our teams at ShelterBox have supported people many times in the Philippines – and we will again. We have an in-country office and emergency shelter aid stored locally. We are working with Rotarians and local contacts to reach families as soon as possible.
Super Typhoon Rai has left over half a million people in the Philippines without a home. Fortunately, families have already received emergency shelter and other aid items like solar lights.

Distributions are led by ShelterBox Operations Philippines with support from our local Rotary contacts. More distributions are taking place over January, and we're hoping to reach 9,000 families in total.

We are also planning to deploy a UK team to the Philippines to help with the response.
Thank you to those clubs and individuals that support ShelterBox!
---
Feedback Requested on Potential Virtual Talks
by Bryan Hane, District Membership Chair
District 6580 is looking to get feedback from you on some potential upcoming virtual talks. We have sent out a 3 question survey that you can complete in under 2 minutes.

Now I know what you are thinking - "YEAH! Another zoom meeting." And yes I know you are being sarcastic as you say that - me too. Here is the difference between this and other meetings you attend.

1. We are going to style this meeting like a "Ted Talk" with a Rotary slant. We will have experts talking on the subject/topic you choose.
2. We are going to be promoting this to non-rotarians too. So you might be able to meet some new people with similar interests - or invite some people you already know.
3. The plan is to walk away from the meeting learning more about the topic and having some real world ideas you can take back to your club or community.

So if you have not already - please take a few minutes to fill out the survey. We won't be able to do every topic so we will only be doing the topic(s) with the most votes. Remember you can select multiple choices for each of the 3 questions.
Link to survey:https://www.surveymonkey.com/r/D6580talks

If you have any questions please contact me: http://bryanhane@gmail.com
---


SAVE THE DATE!!
2022 Ryder Cup for the Rotary Foundation
Scheduled for June 16th
by Bob Browning, Center Grove Rotary Club
The 2022 Ryder Cup for the Rotary Foundation (District 6580 vs 6560) will be held at noon on Thursday June 16 at Hickory Stick Golf Club in Greenwood Indiana. Anticipated cost will be $100 per player with a discount for those obtaining a hole sponsor.

Here's the scoop: :
Districts 6565 and 6580 will meet each other at Hickory Stick Golf Club in Greenwood on Thursday, June 16th. Shotgun start will be at noon.

Format is a modified Ryder Cup where two-person teams from District 6580 and District 6560 will play each other.

Scoring will be match play with no carryovers. When a team wins a hole, it is awarded a point. If the teams tie a hole, the point is split. The team reaching 9 ½ points first wins the match and earns a match-point for their district.

You do not have to possess great golfing skills to participate, just a desire to have fun playing golf with fellow Rotarians. You can find a fellow Rotarian to be your partner and enter together or we will assign a partner to you.

Opposing district teams will be matched up based on combined team handicaps so that matches are as competitive as can be without a lot of handicap strokes. (If you don't have a USGA handicap, we'll work with your average score in order to calculate a handicap.)

The event is intended to raise money for the Rotary International Foundation. Cost is $100 per golfer with a large portion of that going to RIF.
More information to follow.
---
Bloomington Sunrise Rotary Club Supports Community through Donations to Four Local Non-Profit Organizations
Monroe County United Ministries receive gift from Julie Beasley (Sunrise member) plus Beasley children.
Panrtry 279 receiving gift from David Henry (Sunrise).
by Tom P Gettinger, Bloomington Sunrise Rotary Club
Bloomington Sunrise Rotary President Hillary Person announced the group's donation of $8,000 to four area charitable and not-for-profit organizations.

The funds, which were given to Pantry 279, Mother Hubbard's Cupboard, Monroe County Court Appointed Special Advocates (CASA), and Monroe County United Ministries (MECUM), came from the annual fundraising efforts.

Cindy Chavez of Pantry 279 said the club's donation "allowed us to purchase gifts for five families of four or five children each and were able to complete their lists. These were local families whose children would not have gotten gifts on Christmas if not for your donation." She added their ELF Dispatch program was able to get gifts for a little over 1,500 children. Pantry 279 currently feeds over 6,000 people a month, 65 percent from Monroe County.

Megan Betz of Mother Hubbard's Cupboard said, "As COVID continues to impact our community, our patrons are feeling the strain of gaps in food access more sharply." She added the $2,000 contribution from Sunrise Rotary Club "supports us in continuing to meet the demand for our services while providing a range of goods in the boxes we distribute, supporting a varied, healthful diet and offering goods our patrons will truly put to use."

Amber Shride of Monroe County CASA said, "It costs approximately $100 to train an individual volunteer. This $2000 will allow us to train about 20 new CASA volunteers in 2022." Shride added that just before Christmas the organization had 35 children on its wait list. "So 20 new volunteers would be incredibly helpful in ensuring that these children don't have to spend too much time waiting on a volunteer to be available to advocate for them."
CASA receives the check from Bloomngton SR Club.
Mother Hubbard's Cuboard receiving gift from David Lyman (Sunrise Member).
---
What's Coming Up on the District Calendar???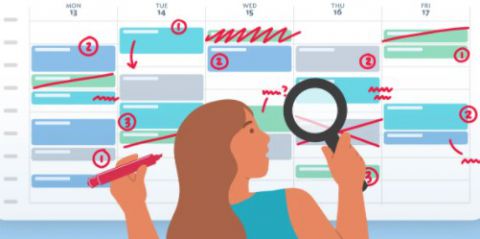 February
19th: District Leadership Meeting by ZOOM
25th: Friends of the Foundation Event: Paul Harris Society Social:
5:30 - 7:30 pm, Jasper Art Center

March
5th: District Speech Contest: Video Recordings due (Note: change in date)
19-20th: PETS: President Elect Training Seminar: to register: http://lolpets.org/Register-Now
31st: District grant reports (21-22) due

April
9th: District Conference in Bloomington at the IU Memorial Union

May
1st: District Grants 22-23 Due

June 16th: District 6560 and 6580 Rotary Ryder Cup Golf Tournament
18th: Changeover: President's Hall, Indiana Memorial Union, Bloomington
---