District Leaders
L. Kirk Bouchie
District Governor
Lance Eberle
District Governor Elect
Laura J. Carie
Vice Governor
Kim Ingalsbe
Assistant Governor
Sara G. Laughlin
Assistant Governor
Charles Miller
Assistant Governor
Pepper Mulherin
Assistant Governor
Scott Peyton
Assistant Governor
Lacretia Ulery
Assistant Governor
Randall D. Wheeler
District Secretary
Shanon Kae O'Toole
DGN
March is Water and Sanitation Month
in the Rotary World!!!


Featured in the March 2022 Newsletter:
Governor Kirk's March message
Jasper Rotary Club ROCKS the Friends of the Foundation Event on February 25th!


'TOGETHER AGAIN' for Clark County – Clarksville and Jeffersonville Rotary Clubs Merge


Young Leaders of Vincennes Rotary Club Service Project provides Children's Books to Children Awaiting Foster Care
Rotarians: Join us in Bloomington for the April 9th District Conference


Greensburg Rotarian – Mandy Jo Lohrum – will serve as 2024-2025 District Governor


Franklin Rotary Club participates in 'Pack Away Hunger' Service Project
Message from Cameron Davidson Global Scholar 21-22 in Spain
Polio down to five cases in 2021
Martinsville Rotary Club and the Greater Martinsville Chamber of Commerce Co-Host State of the City Address


LET'S GO TO HOUSTON for the ROTARY INTERNATIONAL CONVENTION!! June 4- June 8


A Bloomington Rotarian finds father's diary about being captive during WWII
She Completed the Fourteener project, Climbing Colorado's tallest 58 peaks for Charity
Despite the VIRUS Brazil Rotary Club is able to raise BIG BUCKS for 4H through BINGO events
And the World-wide Interact Winners are……..
What's Coming up on the 21-22 District Calendar????

Do you know any stories of Rotary's work in your community to share in this newsletter?
Please contact Bettye Dunham, bdunham@rauchinc.org.
---
Governor Kirk's March message:
Greetings D6580 Rotarians and welcome to March 2022. We are all looking forward to springtime in beautiful southern Indiana. For Rotary International, March is noted as water, sanitation and hygiene month. For many decades, our Rotary clubs in conjunction with our Rotary Foundation have been working to provide safe, clean drinking water to millions of folks around the world through our various grant programs. Likewise, our efforts have extended to improvements in sanitation and hygiene for many people all across the globe. Sustainability of these investments has been a hallmark of our work. Our contributions to our Rotary Foundation and your local fundraising efforts have made a huge impact upon millions of lives. For that I thank all of you!

Since December of 2004, I have had the privilege to work as the General Manager of Vincennes Water Utilities. I am blessed to have a trusted and committed staff of 42 people that are responsible for approximately $1 billion in infrastructure that provides safe, clean drinking water, sanitary sewer, storm sewer and levee protective services to the community of Vincennes, Indiana. Being this close to the whole topic of water, I often find myself taking such resources for granted. My work in Rotary reminds me how fortunate we are in the USA with respect to water availability and advanced sanitation systems and hygiene protocols. I encourage all of our clubs to have a program this month centered around water and what we all can do to help those with inadequate access to clean water and sanitation services.

March is also a fun month for many. We love our basketball in Indiana at all levels. High school tournaments are just wrapping up for our young ladies and the boys tournaments will tip off this week. March Madness is just around the corner. My wish is that we have champions in all levels right here in our district (my bias is showing ??). Enjoy the tournaments!

Two final comments for today. Please consider registering to attend our district conference in Bloomington on April 9th. Our committee has put together an awesome lineup of speakers, programs, breakout sessions and a very timely service project. Let's pack the Indiana University Memorial Union on April 9th. It will be great to see all of you again that I have visited in your clubs this year. Lastly, we need members. Think about Each One…Bring One this spring. When most Rotarians are asked, "Why did you join Rotary?" , the most common answer is simply, "I was asked by…". Let's all get out their and ASK. Please let me know how I can help you be more successful as Rotarians.

Thanks for all you do in serving to change lives,

L. Kirk Bouchie
Rotary International
District 6580 Governor 2021-2022
PO Box 749
Vincennes, IN 47591
812-887-7681
kbouchie@vinutilities.com
---
Jasper Rotary Club ROCKS the Friends of the Foundation Event on February 25th!
Manda Combs, President of Jasper Rotary Club
It was an exciting evening as Rotarians from around the district and Jasper Rotarians and perspective members gathered at the outstanding new Jasper Cultural Arts Center venue for the District Friends of the Foundation Event!!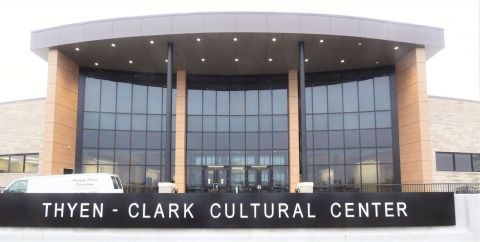 ***Highlights from the meeting included:
Welcoming remarks:
from Manda Combs, President of the Jasper Rotary Club
from Mayor Dean Vonderheide (He is so proud of his city!)
from District Governor Kirk Bouchie and District Foundation Chair, Jessika Hane
Foundation Update: The Paul Harris Society is a recently designed recognition for those contributing $1000 per year to The Rotary Foundation. Members were asked to consider this level of giving to 'our' Foundation.
Donor Recognition:* of Rotarians around the District for their giving to The Rotary Foundation by Jessika Hane, Foundation Chair,

*of Jasper Rotarians as new and continued Paul Harris Fellows
Left to right: Gary Schnell, Darren Patterson, Amy Gehlhausen, Deidra Church,
Dan Collignon, Lauren Popp.
TASTY: Food and Drink (including wonderful desserts!!) AND.........
WONDERFUL FELLOWSHIP and a GREAT TIME HAD by ALL!!
THANK YOU
to all of the Jasper Rotarians and especially to Jim McFaul for the planning of this event of excellence.
Jim McFaul receives Rotary socks from DG Kirk!
Thanks to 'our' District photographer, Steve LaRoche!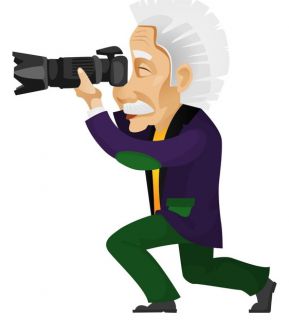 ---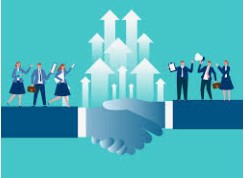 'TOGETHER AGAIN' FOR CLARK COUNTY
Clarksville and Jeffersonville Rotary Clubs Merge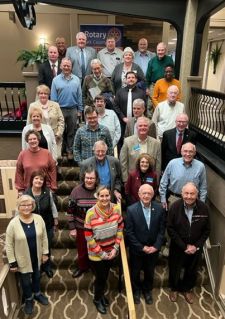 by Mike Mustain, former Clarksville Rotary Club President, elected as Clark County Rotary Club President
The Jeffersonville Indiana Rotary was founded 01/01/1920 and has been a great service in the community. On 11/30/1995 several members of the Jeffersonville Rotary expanded their efforts into Clarksville, Indiana and formed the Clarksville Rotary Club. For 26 years these clubs served their communities with diligence and perseverance separately. Recently it became apparent that by rejoining our efforts, expanding the marketing and vision of the new club to include all of Clark County so much more could be accomplished and on a larger scale.

Both club presidents came together along with a small working group of dedicated members from each club and began the discussions. The mutual agreements between both clubs were exemplary of the Rotary 4-Way Test. As each step progressed, the common theme was "what Is best for the entirety". ("Will it be BENEFICIAL to all concerned")
One overriding desire of the new club was that of preserving the original founding date of the century old Jeffersonville Rotary Club. Every club member from each club had that one singular goal request in mind. Many meetings, both virtual and in person, were held, each time going back to the respective club membership and reporting, surveying, and listening to input from club members. Were there challenges? Yes. Will there be challenges? Yes, but we will face them together as one club. We are now at the threshold of a much greater opportunity for service to our entire community and it is one that must be embraced.

The new name selected for the club is the Clark County Rotary Club. Members have decided to meet on Wednesday at noon at the Raddison in Clarksville. The first meeting of the new club took place on February 23rd and was attended by DG Kirk Bouchie. Their meetings are hybrid, and if you would like to join them for a meeting please contact President Mike (mikemustain1@gmail.com) .

Please visit and like their facebook page: https://www.facebook.com/RotaryClarkCounty. (The formal request for the change is awaiting approval from Rotary International.)
---
Young Leaders of Vincennes Service Project provides
Children's Books to
Children Awaiting Foster Care Placement

by Shelby Smith, Young Leaders of Vincennes Rotary Club
Rotary Young Leaders Club's February Service Project was donating children's books to the Isaiah 117 House Knox County Indiana. Each member brought in new books to our monthly meeting. Their mission is to provide physical and emotional support in a safe and loving home for children awaiting foster care placement.
When children are removed from their homes, out of concern for their welfare, they are usually brought to the Department of Children's Services Offices to await placement with a foster family. These children often have nothing with them and are scared, lonely, hungry, and often in dirty clothing. Isaiah 117 wants to provide a comforting home where these children instead can be brought to wait in a place that is safe with friendly and loving volunteers who provide them clean clothes, smiles, toys, and snuggly blankets. This space will allow children to receive the comfort and care they need while DCS staff are able to identify a good foster placement.

The house now has 50 plus volunteers and plans to open their doors early summer. They are always looking for non-child care volunteers and donations. They also welcome all groups wanting to get involved to help get the house ready and even help when the house is open and functioning. The Isaiah 117 house is truly grateful for all the prayers, support, and hands on work. If anyone is interested in donating, volunteering, or staying up to date with progress you can reach out through Facebook (Isaiah 117 House Knox County Indiana) or by emailing knoxin@isaiah117house.com.
---
Rotarians: Join us in Bloomington for the
April 9th District Conference

Sign up today for the Saturday, April 9 District Conference -- our first "in person" conference in three years and our first at the historic Indiana Memorial Union since 2009.

To register, go to: https://www.dacdb.com/index.html?EventID=77554519 . Here are the details:

WHO: All Rotarians and Rotaractors in southern Indiana clubs

WHEN: Saturday, April 9, 8:30 a.m. through dinner

WHERE: Indiana Memorial Union, 900 E. 7th Street, Bloomington

REGISTRATION: $99 includes lunch and dinner, keynote presentations, breakout sessions and more. If you can't make it in person … For $49 you can catch the three keynote presentations online. Deadline to register: Monday, April 4 – less than six weeks away.

PROGRAM SCHEDULE – For the schedule and other info, visit the district website at www.rotary6580.org.

SERVICE PROJECT -- Join fellow Rotarians to prepare "Period Positivity Kits" for Girls Inc of Monroe County. Through our district's "Empowering Girls" project, Rotarians will sort and pack menstrual hygiene products and other supplies for young women.

Clubs and Rotarians are encouraged to bring donations of menstrual pads and tampons or donate money to the project. For more info, contact Project Chair Jessika Hane at jessika@hane.com.

HOTEL – We've reserved a block of hotel rooms at the Indiana Memorial Union's Biddle Hotel and Conference Center so, if you'd like to stay overnight, give them a call at (812) 855-2536. Be sure to mention that you would like a room in the "Rotary block." The cutoff date for registrations is Monday, April 4.


TOP TEN REASONS TO ATTEND THE APRIL 9 CONFERENCE
10. This is our first "in person" district conference in three years!
9. See old friends. Make new friends.
8. Enjoy the historic Indiana Memorial Union in the heart of the IU campus.
7. Share best practices. Bring home ideas to make your club even stronger.
6. Celebrate the many successes of your club and clubs throughout our district over the past three years.
5. For just $99, you'll enjoy lunch and dinner, three keynote presentations, breakout sessions, the House of Friendship, and more
4. Come away inspired!
3. Network, network, network.
2. Make a difference by participating in the "empowering girls" service project.
1. The conference might just change your life!!


Questions? Contact Bettye Dunham at (502) 609-1923 or bdunham@rauchinc.org.
WE HOPE TO SEE YOU THERE!!
---
Greensburg Rotarian- Mandy Jo Lohrum will serve
as 2024-2025 District Governor
by Jessika Hane, iPast District Governor and District Foundation Chair
Please join us in congratulating Mandy Lohrum, who has been chosen as our District Governor Nominee Designate. Mandy has been a Rotarian since 2015 and is a past-President of the Greensburg club.

She currently serves as the Assistant Governor for Area Six (Greensburg, Batesvill, Madison & North Vernon) and as the District Paul Harris Society Coordinator. A Major Donor to the Rotary Foundation, Mandy is also a Paul Harris Society Member, a Benefactor and a Bequest Society Member. She is a graduate of Rotary Leadership Institute.

Professionally, Mandy is the Executive Director of the Hospital Foundation of Decatur County and previously worked as the Director of Development for Girls, Inc.

Mandy's husband, Micah and children, Mackenzie and Mason are all Paul Harris Fellows.
Mandy will be officially elected at the General Meeting of our District Conference on April 9th in Bloomington. Please join us that day to cheer her on!
---
Franklin Rotary Club participates in
'Pack Away Hunger' Service Project
by Tim Thurston, PE, Franklin Rotary Club
On February 5, members of the Franklin Rotary Club participated in a service event, "Pack Away Hunger." Together, with other volunteers in the community, 40,392 meals were packed for families in Haiti and Kentucky. These meals make a significant impact for people fighting hunger and malnutrition brought on by hurricanes and tornados.

Through the meal packing service events, this group of volunteers packed highly nutritious Nutri-Plenty® meal consisting of a dehydrated mix of rice, soy, veggies and a powerful micronutrient pack. This tasty meal provides essential nutrition that has been clinically proven to offset chronic malnutrition. Each meal serves 6 people experiencing food insecurity.
Locally, these meals are distributed through food pantries, school programs and community centers. Internationally, these meals are served in schools and community nutrition programs in countries where chronic malnutrition is prevalent.

Based in Indianapolis, Pack Away Hunger is a non-profit with a mission to eliminate hunger in Indiana and around the world by starting with providing nutritious food, hunger education, and service opportunities.

For the past several years, Franklin Rotarian Andy Kinsey, has hosted these sponsor events at Grace United Methodist Church where he serves as Senior Minister. This has become and annual event for the community and one that the Franklin Rotary Club has supported and plans to support in the future.
---
Message from Cameron Davidson
Global Scholar 21-22 in Spain


Hi District 6580 Rotarians! I wanted to reach out with a quick update. Classes have started once again in Salamanca and things are picking up. I scheduled a meeting with Keith Weedman (Columbus Rotary Club) to record an episode for his podcast on February 18th.

I've also begun volunteering with an organization in Salamanca called "Acoge". This organization works exclusively with asylum seekers and refugees from Latin America and the Middle East. They help provide them with housing, legal resources, and Spanish and English classes. I have only worked with them for a few days so I haven't accomplished much, but I am very eager to continue working with them.

Regards from Salamanca!

Cameron Davidson
B.A. Political Science & Spanish Studies
Rotary Global Grant Scholar 2021-22
---
Polio down to FIVE cases in 2021
by Jim Gislason, District Polio Chair
Rotary has seen only 5 cases of Type 1 Wild Polio in 2021. There may be a couple more, as reporting, confirming often take months, but we do know it is a great improvement since 2020 when 140 cases were confirmed.

Afghanistan reports 4 case and Pakistan has one. So where do we go from here? you ask. WHO and UNICEF reported in an October 18 press release that the Taliban leadership is supporting the resumption of house-to-house polio vaccinations across Afghanistan.

The program, which was begun on November 8, 2021, was the first in over three years to reach all the children in Afghanistan, including some 3.3 million children in some parts of the country who had previously remained inaccessible to the vaccination campaigns. A second nationwide polio vaccination campaign has also been agreed to and will be synchronized with Pakistan's own polio campaign planned for December, 2021, according to the WHO and UNICEF sources.

"The urgency with which the Taliban leadership wants the polio campaign to proceed demonstrates a joint commitment to maintain a health system and restart essential immunizations to avert further outbreaks of preventable disease," said WHO Regional Director, Dr Ahmed Al Mandhari.

It is this kind of cooperation and effort that will make it possible to eradicate polio from both Afghanistan and Pakistan, hopefully with 2022 being the first of the necessary 3 consecutive years, in order to be certified.
Rotary and its partners continue the work of raising money to fund this final (hopefully) push. That will be followed by continuous inspections and work by Rotarians and others to keep verifying the elimination of polio from the world. Local Rotarians can be of tremendous help in this area by donating $25, $50 or $100 to The Rotary Foundation for polio eradication. Those "small" donations are being matched by the Bill & Linda Gates Foundation and others to multiply each donation by 300% or more. It has been said that $10 to $20 Million dollars will be needed for the next three years. This is the year to kick off the final push to eradicate this terrible disease.
JUST IN: Malawi declares polio outbreak
Brazzaville/Lilongwe – The health authorities in Malawi have declared an outbreak of wild poliovirus type 1 after a case was detected in a young child in the capital Lilongwe. This is the first case of wild poliovirus in Africa in more than five years.
Africa was declared free of indigenous wild polio in August 2020 after eliminating all forms of wild polio from the region. Laboratory analysis shows that the strain detected in Malawi is linked to the one that has been circulating in Sindh Province in Pakistan. Polio remains endemic in Afghanistan and Pakistan. As an imported case from Pakistan, this detection does not affect the African region's wild poliovirus-free certification status.
"As long as wild polio exists anywhere in the world all countries remain at risk of importation of the virus," said Dr Matshidiso Moeti, World Health Organization (WHO) Regional Director for Africa. "Following the detection of wild polio in Malawi, we're taking urgent measures to forestall its potential spread. Thanks to a high level of polio surveillance in the continent and the capacity to quickly detect the virus, we can swiftly launch a rapid response and protect children from the debilitating impact of this disease."

Polio as of February 9th
---
Martinsville Rotary Club and the
Greater Martinsville Chamber of Commerce Co-Host
Martinsville State of the City Address: Looking to the Future

Information from Jonathan Presley, President, Martinsville Rotary Club
The Martinsville Rotary Club and the Greater Martinsville Chamber of Commerce will co-host the 2022 State of the City. This prestigious event is held annually in the spring to honor the City of Martinsville and the many individuals, businesses, and organizations that contribute to the economic growth and development of our community. Outstanding Business, Outstanding Business Professional and Ruth Rusie Spirit of Service awards will be presented, and we will enjoy Mayor Kenny Costin's State of the City interview. Questions will be accepted at the entrance to the dinner.

This year's event is Tuesday, March 15th at the Martinsville High School Cafeteria, with the social hour beginning at 5:30 pm and dinner at 6:30 pm. Lisa James, Heavenly Helpings, will be providing a delicious dinner and, as in the past, there will be a silent auction with a wonderful variety of donated items. This is a great opportunity to network with local business and community leaders and to learn more about all the good things happening in Martinsville.
Tickets are just $30 and will be available soon through the Martinsville Chamber office (765.342.8110).

If other Rotary clubs are interested in learning more about this event, how it was started, and the logistics please contact Jonathan.
---
LET'S GO TO HOUSTON for the ROTARY INTERNATIONAL CONVENTION!! June 4 - June 8
By Shanon O'Toole, DGN
Hey Ya'll,
There is nothing quite like the experience of Rotary's annual International Convention. Rotarians are the most inspiring people in the world. This year it's in Houston, Houston ya'll! My last RI Convention is where I really became a Rotarian, a truly inspired and passionate Rotarian! The experience is something I love to share and why I can't wait for Houston.

The Rotary Convention offers something for ALL MEMBERS. It's where we unite and get inspired to take action that creates sustainable, lasting change in the world. Whether you're a longtime member or new to your club, you'll have an unforgettable experience.
Here's why you'll want to attend:
• You'll be inspired by the world leaders, philanthropists, and celebrities who speak during the general sessions.
• You'll learn about international and local Rotary projects, enjoy live entertainment, and sample Houston's diverse cuisine.
• You'll hear new ideas, discuss thought-provoking topics, and gain new skills from our engaging speakers, the breakout sessions, and the exhibits in the House of Friendship.
• You'll meet new friends and, with them, discover the city that explores the universe.
Rotary International Conventions are held in different countries each year. Please join us in Houston, it's a great destination. https://convention.rotary.org/en/houston/
SAFETY MEASURES: The Board has determined that all participants, including Rotary International preconvention participants, must either be fully vaccinated against COVID-19 (as defined by the U.S. Centers for Disease Control and Prevention) OR provide a negative result from a COVID-19 test taken no more than 72 hours before their arrival at the convention.
---
A Bloomington Rotarian finds Father's diary about being captive during WWII.
Father became a Rotarian after the war until his death in 1998
By Henk Haitjema, Bloomington Rotary Club
"This is it, I thought." These are the words my father Marten Haitjema (1919 - 1998) wrote in a 25-page diary (small notebook) while in captivity during WWII. I found this diary in the inheritance of my mother who recently passed away. Marten served as a conscripted sergeant in the Dutch army when the Germans suddenly attacked the Netherlands in the early morning of May 10, 1940. The confusion was great. Some soldiers were still in their pyjamas when shooting at overflying German aircraft … with rifles. Marten and his 10 men received 20 bullets each to guard an important bridge over the River Meuse near Rotterdam. He wrote: "We don't know who to shoot at because we were told that the Germans are dressed as Dutch soldiers."
After being exposed to some friendly fire, they were ordered to retreat. While doing so Marten was called over by a civilian to help a wounded soldier who was lying behind his house. Marten entered the house, parked his rifle near the rear door, and walked up to the wounded soldier. While he turned him over a bullet whistled past him. He wrote: "I am looking into the barrels of two submachine guns of the Germans. This is it, I thought, but no, they see that I am unarmed and I have to walk up to them, hands in the air, captured."
Together with another 350 prisoners of war he was driven across the very bridge they were guarding earlier that morning. They were held in a church and fed (sparingly) by nuns from a convent across the street. He described his experiences in that church, including how on May 14 they heard German bombers fly overhead. These carpet bombed Rotterdam to force the Dutch to capitulate. The fight was over and Marten was released the next month. After the war, he became a Rotarian until his death in 1998.
Henk Haitjema, Bloomington Rotary Club
---
She completed the Fourteener project, climbing Colorado's 58 tallest peaks, for Charity.
from ShelterBox article:
Colorado resident Brittney Woodrum climbed all 58 of Colorado's 14,000-foot peaks to raise money for ShelterBox USA, which provides resources to vulnerable and displaced families globally.

Brittney Woodrum likes simplicity, so when she set out on a three-month journey to climb Colorado's largest peaks in July, she packed only essentials. She threw a sleeping bag, air pillow, food, clothes, camping gear, gas and a portable box from ShelterBox USA into her white Toyota RAV4 and decided she wouldn't enter any towns until her project was complete.

Woodrum's objective was to mount all 58 of Colorado's 14,000-foot peaks to raise money for ShelterBox, which provides resources to vulnerable and displaced families globally. The novel coronavirus outbreak increased the need for those materials. So, Woodrum lived in her car and spent her days climbing and traveling to new peaks. By the time Woodrum had conquered every peak near the end of September, she had raised more than $80,000.
"If I had started this project, just as a desire to climb the Fourteeners just as a whim, or as some type of physical challenge, I probably would have quit on day two," said Woodrum, a 27-year-old who resides in Leadville, Colo. "But the fact that I had this greater purpose, and I had this box and I was going to take it to the top, it was really what encouraged me.

Woodrum moved from Kentucky to Colorado in September 2019 to study international studies and humanitarian aid as a graduate student at the University of Denver. That month, she became an ambassador for ShelterBox, hoping to complete an impactful project. When the coronavirus spread throughout the U.S., in March, and Woodrum's summer travel plans were canceled, she glanced at mountains from the window of her small Denver apartment. The idea of climbing peaks popped into her mind.
Few ShelterBox ambassadors had completed such ambitious programs, and organization leaders asked Woodrum whether she desired more time to cap a mission many people make a life goal. But Woodrum planned her trip and was confident she could trudge through the 540 steep miles. She used June to dehydrate fruits and vegetables to last throughout her journey. She didn't want to enter towns because she feared spreading or catching the coronavirus.

On her travels, she carried a 13-pound green box from ShelterBox on her back that contained water, snacks and extra clothes. Though Woodrum didn't believe she would raise much money, many rotary clubs donated. When an organization devoted $1,400, Woodrum shot a photo with the company's logo atop a peak.
Woodrum expected to climb most of the mountains alone, but Colorado residents and friends who heard about the task joined her.
"I'm definitely very people-driven," Woodrum said. "So people are always like, 'What was your favorite peak?' And I think it really just goes back to who was out there with me. What I didn't expect was how many people would just hear about the project and reach out to me and want to join me on hikes, or who would actually meet me on the side of the mountain and then want to join me just because people were so excited about this project."

Woodrum has hiked since she was a child, often visiting the Red River Gorge in Kentucky with her family growing up. She described herself as a tomboy, spending her childhood clambering trees and dashing through woods. When she was 24, Woodrum became serious about backpack hiking and trekked the Appalachian Trail through West Virginia and Camino de Santiago in Spain.
She has also spent her 20s helping less fortunate people. When Sam McLean, one of Woodrum's hiking friends, met her in 2018, Woodrum's hair was short because she had shaved it to serve as a monk in Yangon, Myanmar. There, as well as in Mexico and Thailand, she said she assisted with the countries' education. With her Fourteeners project, Woodrum helped ShelterBox purchase more building materials, solar lights, mattresses, blankets, food, water and school supplies. "She was a gal on a mission to make a difference," ShelterBox USA President Kerri Murray said. "During covid, she combined the things that she loves to serve humanity and particularly those who are most vulnerable in our world. We all know that every person on the planet has somehow been impacted by this virus, but there are those in our world that are really at risk and are particularly vulnerable."

In mid-September, when she needed to complete five more mountains, Woodrum ran into a snowstorm and doubted for the first time whether she'd accomplish her goal. But she finished about a week later, rejoicing that the money she raised through her favorite pastime would provide shelter to those in need around the world.
---
And the 2021 Interact Award winners are...
Hundreds of Interact clubs around the world shared their service-learning journey through videos, photos, and essays in the 2021 Interact Awards.

Congratulations to the following clubs on their awards.
"Best Video" - Interact Club of Valmiki Shiksha Sadan, Nepal
"Best Photo" - Interact Club of Santa Rosa Science and Technology High School, Philippines
"Best Essay" - Interact Club of North Balwyn High School, Australia

View and read their inspirational submissions and follow the Interact Facebook page to also see the three runners-up in the video category, and the finalists in the photo and essay categories.

VIEW THE AWARDEES: https://www.facebook.com/interactofficial
---
Despite the VIRUS Brazil Rotary Club is able to raise BIG BUCKS for 4H through BINGO events
by Chad Schopmeyer, Brazil Rotary Club
In the early months of 2019 as 4H board members were brainstorming new fundraising ideas, Leslee McDonald reached out to current president of Brazil Rotary Club, Chad Schopmeyer, about a possible BINGO event like no other one they had ever had. They met about this idea of having an event where all the items won would be from Maria Schopmeyer and her business of The Farm & Co. It was felt the following she has for her business should make this event a success. What they did not know, is just how successful it would be, and how much it would impact the 4H so much financially.
After the first year's bingo event, the Rotary wrote a check to 4H for $7,480 and presented it during the auction. At that time, both 4H and president of Brazil Rotary knew this was something that could continue and continue to bring revenue. While also providing a "night out" for many local BINGO players.
What they did not account for was the same thing this entire world wasn't ready for, and that was what happened to this country around March 2020. The coronavirus shut down all activities, and had the entire world flipped upside down. They continued to plan to hope that things would clear by Mother's Day weekend, but it just didn't happen, and the event was postponed a couple months, to then being postponed until the following year into 2021. The virus had not gone anywhere, and we were still making all efforts to not let this event go by the wayside. The May timeframe was still too soon due to all protocols and mandates being enforced. With one last effort, the event was pushed back to September. We were still recovering but this couldn't have come in a better time. We needed this, not only for the 4H, but for our community. This virus had destroyed all "normal" that we had ever known, and now we must adapt to how to pick ourselves up and continue going forward.
Members came together and decided the event would go on, and the interest in coming back was overwhelming. Tickets purchased from 2020 were exchanged for new ones, and then the remainder of the tickets were sold. Final numbers and expenses allowed Rotary to present $8620 to the 4H.
This year, we knew the challenge was still there and COVID wasn't going away, but we have adapted and learned to deal with the virus. It was decided to have 2 BINGO events this year. The excitement is still there and that gives us all a chance for bingo in the late winter/early spring, or later in the fall, or possibly for many others. The doors were set to open at 3, a couple of vendors setup up to sell some of their items and 4H members serving food and refreshments in the back. When the clock struck 5, it was bingo time, and some last-minute arrivals were trying to find seats. The 450-470 players were in the building, games went smoothly, with door prizes, raffle prizes, all daubers completely sold out. It was a remarkable event and an evening for all.

Rotary looks forward to continuing this partnership with 4H and making this a great revenue stream for both organizations. Final numbers are being calculated and it looks like that, after all expenses, Rotary will be writing the 3rd check totaling just over $8700. That brings the total raised and contributed to 4H at just over $24,800.
---
What's Coming Up on the District Calendar???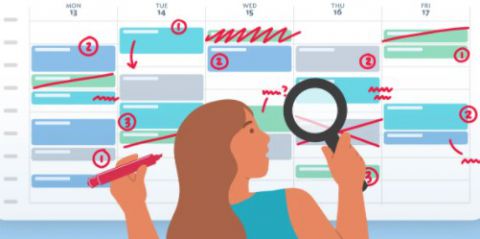 March
5th: District Speech Contest: Video Recordings due (Note: change in date)
9th: 4th Session of prePETS meetings
19-20th: PETS: President Elect Training Seminar: to register: http://lolpets.org/Register-Now
31st: District grant reports (21-22) due
April
8th: PDG meeting and dinner: Bloomington IU Memorial Union
9th: District Conference in Bloomington at the IU Memorial Union

May
1st: District Grants 22-23 Due

June 16th: District 6560 and 6580 Rotary Ryder Cup Golf Tournament
18th: Changeover: Indiana Memorial Union, University Club's Presidents Room
---