District Leaders
L. Kirk Bouchie
District Governor
Lance Eberle
District Governor Elect
Laura J. Carie
Vice Governor
Kim Ingalsbe
Assistant Governor
Sara G. Laughlin
Assistant Governor
Charles Miller
Assistant Governor
Pepper Mulherin
Assistant Governor
Scott Peyton
Assistant Governor
Lacretia Ulery
Assistant Governor
Randall D. Wheeler
District Secretary
Shanon Kae O'Toole
DGN
May is Youth Services Month in the Rotary World!!

*Governor Kirk's May message


*Scenes from Governor Kirk's April Visits: Rotary Club of
Seymour and Terre Haute Vigo High School Interact
*District Conference 2022: No matter what you call it ...
The District Conference (Convention??) was awesome!
*SIGN UP NOW!!! 2022 Ryder Cup for the Rotary Foundation
scheduled for June 16th
*DISTRICT CONFERENCE 2022: Two Rotarians are honored for
Rotary Service at the District Conference in Bloomington


*Franklin Rotary Members Improving Accessibility


*DISTRICT CONFERENCE 2022: Edgewood Freshman Wins
District Rotary Speech Contest.
*In case you are wondering what else our District Governor is and will
be doing next year----Kirk Bouchie, World Series Host President for Youth.
*Rotary Club of Columbus volunteers for the Adventure Concert:
Over 2500 3rd and 4th graders have a live musical experience
with the Columbus Indiana Philharmonic Orchestra.


*Save A Life – Save A Child's Life - Be Their Hope




*DISTRICT CONFERENCE 2022: Service Project to EMPOWER GIRLS was a BIG SUCCESS!!


*DISTRICT CONFERENCE 2022: Rotaractors, Interactors, Scholars,
create 'exuberance'.
*Jeffersonville Interact Club looks to raise money for student crisis fund
with a Decathlon.
*District Conference 2022: Bea Boccalandro, keynote speaker,
ask us to IMAGINE your club doing 10 times the good it does now.
*Terre Haute South Interact Club provides Spring Event for
local Community Center.


*What's Coming up on the 21-22 District Calendar????
Do you know any stories of Rotary's work in your community to share in this newsletter? Please contact Bettye Dunham, bdunham@rauchinc.org.
---
Governor Kirk's May message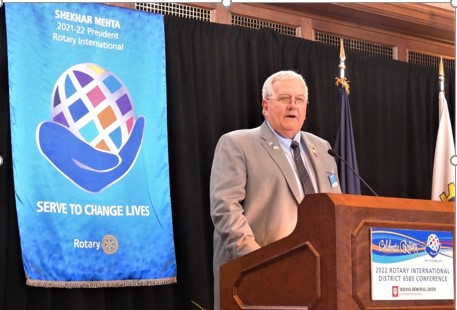 Greetings District 6580 Rotarians,

The month of May is a special time in Indiana. Spring is in full bloom, the April showers and clouds are behind us (hopefully) ??, and we can all get outside to enjoy the season. We will celebrate all of our great mothers next weekend. Many high school and college graduations will take place as our young people anxiously enter new phases in their lives. Later this month the world will once again be focused on our state as we host the Indianapolis 500. The greatest spectacle in racing, but, also such a great tribute to our current, past and fallen military heroes. No one does an annual ceremonial tribute to all veterans like the Indianapolis Motor Speedway on Memorial Day Sunday. Please take time out of your busy lives to enjoy these special times with family and friends.

Rotary International's area of focus for May is youth services. How fitting as May is so special to many of our clubs work with the young folks through our scholarship and literacy programs. Just yesterday, Becky and I visited a local elementary school in Vincennes to deliver a kindergarten class their I Like Me books. The Vincennes Rotary Club has for over 25 years provided a personalized story book to every kindergarten student in Knox County. I know many of our clubs have so many service projects that focus on our youth…thank you all. At the district level, youth services are alive and well. We had a very successful Four Way Speech contest this spring with many participants. We currently have about 20 Interact clubs at various high schools in our district. I have attended meetings at five or six clubs this year and it is amazing what these young people are doing to serve others in their communities. I encourage all Rotarians to visit their local Interact club. If you don't have one at your local high school, ask why and get one started. This is a wonderful way to grow Rotary not only in the minds of young future Rotarians but also their parents and grandparents. We continue to have a strong commitment to our Global Scholars program. In partnership with Rotary International, we award a $40,000 global scholarship each year. Lastly, while the pandemic caused a pause in our Youth Exchange and RYLA programs, we expect both to be back this coming Rotary year.

Thank you to all D6580 Rotarians for what you do for our young people. Also, THANKS to all that made our district conference a huge success on April 9th in Bloomington. Let's use this renewed spirit and momentum to recruit new members. Consider donating to our foundation while we all serve to change lives.
L. Kirk Bouchie
Rotary International
District 6580 Governor 2021-2022
PO Box 749
Vincennes, IN 47591
812-887-7681
kbouchie@vinutilities.com
---
Scenes from Governor Kirk's May Club Visits
Thank you
Rotary Club of Seymour and Terre Haute North Vigo High School Interact Club with Rotary Club of Terre Haute for hosting the District Governor.
left to right are: Kim Ingalsbe, Rotary Youth Service Chair; Libby Shearer, Rotary Liaison; Ellie Goodwin, Interact President;
Jane Nichols, Rotary President; and District Governor Kirk Bouchie.
Every spring (aside from the last two years, due to Covid), the Terre Haute North Vigo High School Interact Club hosts a Rotary meeting at their school. This is one of our favorite activities. The Interact Club members and their sponsors provide a lovely meal, the high school choral group performs, and the senior members each speak briefly of their plans post graduation.
Rotary Club of Seymour Club Visit
Governor Kirk visits the Rotary Club of Seymour
With Governor Kirk are Brittany Percival, PE, and Julie Atkin, PP
---
DISTRICT CONFERENCE 2022
No matter what you call it...the District Conference was AWESOME!!
by Jim Bright, PR Chair, District Conference Committee
What do you get when you bring together more than 200 Rotarians, Rotaractors, Interactors and Rotary scholars in the second-largest student union in the U.S.? And you haven't met in person for three years?

Apparently, you get an event too big and too special to be called "the district conference."
During his Saturday, April 9 opening remarks in the Indiana Memorial Union (IMU), District Governor Kirk Bouchie welcomed everyone to "the Rotary district convention."

Rotary President's Representative, and a Trustee of The Rotary Foundation, Larry Lunsford of Overland Park, Kansas, Lunsford picked up on the District Governor's inadvertent comment and, to the delight of the crowd, referred to "the convention" time after time during the Saturday. "Convention" is a term reserved for annual Rotary International gatherings that attract thousands of Rotarians from countries throughout the world.

See PHOTO LOOP from District Conference: Go to https://youtu.be/G-5R4BWFpFE

Conference or convention? You make the call! Either way, it was the first "in person" gathering in our District since 2019 and the first at the IMU since 2009. Rotarians and others loved it. Here's what a few Rotarians had to say:

STEVE KIGER, President, New Albany -- "Great event! Larry Lunsford's address on Rotary's efforts to help Ukraine refugees, the service project on Empowering Girls, and Alan Martindale's Four-Way Test Speech Contest were all powerful. And getting to know Rotarians from clubs throughout the district is always a highlight."

MIKE MUSTAIN, President-Elect, Rotary Club of Clark County – "One of the best district conferences I've attended. Well prepared speakers, excellent facilities and delicious food. Great breakout sessions and keynote speakers. One long-time member who was attending his first conference told me impressed and how inspired he was and that he would see me next year in Terre Haute."

RAY BRIGGS, Past President, Bedford – "I was happy to be a part of this year's conference. Excellent speakers. Great planning and execution, including the breakout sessions."

CLARA STANLEY, Brown County – "Well organized. Informative. So happy to connect with Rotaractors and people from other clubs. Wonderful opportunity to network. Great to hear the IU President recognize Rotaract. Larry Lunsford made s positive impression. We can learn a lot from him. Loved the session the breakout session on Toastmasters and on "Developing a Leadership Bench." I would like more opportunities to brainstorm. What should be our future direction?"

TODD BOILANGER, President, Columbus Sunrise – "My first conference. My favorite parts? IU President (Pamela) Whitten, the IMU location, and being able to meet 'in person.' Larry Lunsford and President Whitten were awesome. I would've liked to have Interactors with us for the entire day – and not just part of it. All Rotarians should attend. It inspires you to be a better Rotarian and gives you ideas to make your club better."

DON HARVEY, Columbus Sunrise -- The conference was very well organized, stimulating, purposeful, and friendly. After two years of COVID isolation, I enjoyed spending a day with fellow Rotarians. My thanks and a shout-out to the entire team who made it possible.

JEFF RICHARDSON, Bloomington – My first Rotary conference was a great event. I learned a lot and met wonderful people. Looking forward to future events.

District Conference 2023 will be Saturday, April 22 at the new Terre Haute Convention Center.

P.S. -- By the way, the student union at Oklahoma State University is the largest in the U.S. -- ONLY if you count their parking garage.
---


SIGN UP NOW!!!
2022 Ryder Cup for the Rotary Foundation scheduled for June 16th
(Proceeds go to the Rotary Foundation)
If you want to field a team, please respond to Bob Browning http://bobbrowningcpa@gmail.com
by Bob Browning, Center Grove Rotary Club
We are again hosting the 2022 Rotary Ryder Cup for the Rotary Foundation and battling District 6560 for golf supremacy. It is the same format as last year with the proceeds going to the Annual Fund of the Rotary Foundation. If you recall, 50% of what we raise will come back to our District to be use for programs such as District Grants. The event is June 16 at Hickory Stick Golf Club in Greenwood. The goal is for each district to field 36 players (18 two-person teams). We will take teams on a first come, first serve basis but we will need teams on stand by in the event a team cannot make it the day of the event.



NOTE: Players age 70 can play from the senior tees.
If you are a golfer, it is a wonderful event and I can guarantee you will have fun. I have attached this year's flyer which explains the rules and the costs.

https://www.dacdb.com/Rotary/Accounts/6580/assets/RYDER%20CUP%20FOR%20THE%20ROTARY%20FOUNDATION%20FLYER%202022%20Flier.pdf

Here's the scoop:

Districts 6565 and 6580 will meet each other at Hickory Stick Golf Club in Greenwood on Thursday, June 16th. Shotgun start will be at noon.
Format is a modified Ryder Cup where two-person teams from District 6580 and District 6560 will play each other.

Scoring will be match play with no carryovers. When a team wins a hole, it is awarded a point. If the teams tie a hole, the point is split. The team reaching 9 ½ points first wins the match and earns a match-point for their district.

You do not have to possess great golfing skills to participate, just a desire to have fun playing golf with fellow Rotarians. You can find a fellow Rotarian to be your partner and enter together or we will assign a partner to you.

Opposing district teams will be matched up based on combined team handicaps so that matches are as competitive as can be without a lot of handicap strokes. (If you don't have a USGA handicap, we'll work with your average score in order to calculate a handicap.)

The event is intended to raise money for the Rotary International Foundation. Cost is $100 per golfer with a large portion of that going to RIF.
---
DISTRICT CONFERENCE 2022:
Two Rotarians are honored for Rotary Service at the
District Conference in Bloomington on April 9th
by Bettye Dunham, District Administrative Assistant
Two awards were presented at the District Conference in Bloomington on April 9th. The Orphie Bridges Award is presented annually to one Rotarian who has demonstrated a strong commitment to Rotary on both the club and district level and even beyond. Rotarian of the Year Award: This year the Rotarian of the Year award honors a local club member for their outstanding service to their local Rotary Club. It is presented to one Rotarian who has demonstrated a strong commitment to Rotary at the club level through service in leadership positions, participation in service projects and fundraising events, and support of The Rotary Foundation.

Orphie Bridges Award: The Orphie Bridges Award began in 1996-97 to honor Past District Governor Orphie Bridges, who had passed away, for his outstanding service to his Rotary Club and to District 6580 in many capacities. Orphie was a Past President and longtime Secretary of the Columbus Rotary Club and served 3 years as District Treasurer and in 1986-87 as District Governor of Rotary District 6580.Orphie Bridges was a no-nonsense guy, but he had a gentle heart. Orphie was a strong believer in The Rotary Foundation, so much so, that he presented each of his children with a Paul Harris Fellow recognition at his district conference.

This year's recipient is PDG Sue Wright, member of the former Rotary Club of Clarksville (now the Rotary Club of Clark County). Since her induction into Rotary in August 2010, Sue has served the Rotary Club of Clarksville as Secretary, Foundation Chair, Board Member, and President (2014-2015). At the District level, Sue served as District Governor (2018-19), Assistant District Governor (2015-2017), and Finance Committee Chair. Also, Sue has served on the Rotary District Global Grant Scholarship Committee for four years. Sue is a Paul Harris Fellow, and she is a sustaining member. Sue is also a graduate of the Rotary Leadership Institute (RLI). Sue has also been a champion for "diversity, equity and inclusion" at the club, district and zone levels. She enjoys travel, and has traveled to the Rotary International Conventions in Sydney (2014); Atlanta (2017); and Toronto (2018).
Rotarian of the Year Award: This year's recipient is Del Newkirk, member of the Rotary Club of Brown County. Del has been a Rotarian for well over 30 years. As a successful businessman he had been a member in several different Rotary clubs in the West prior to moving back to Indiana. In the early 1990s he retired to Brown County and, after realizing he had a little more time on his hands and seeing a local need, decided it would a good place for a Rotary Club. With advice and assistance from then District Governor Orphie Bridges and the Columbus Indiana Rotary Club, Del started the process of finding and recruiting 25 charter members needed for a new club. The Rotary Club of Brown County was officially chartered in 1992 and Del has provided leadership throughout these 30 years and still participates in meetings, volunteer activities, fundraising, and most importantly, NEW MEMBER RECRUITMENT! He has been responsible for attracting many of the active club members over the past 30 years and several of the current club leaders. Del has served three times as President of the Rotary Club of Brown County over the past 30 years. He has also attended multiple District, National, and International Rotary Conventions. Del is a recognized Paul Harris Fellowship Major Donor to the Rotary Foundation. He and his wife Letty are also participants in the Rotary Foundation Planned Giving program. They both actively support our local fundraising efforts and volunteer at fundraising programs.
---
Franklin Rotary Members Improving Accessibility




l to r: Tim Thurston, Bill Oakes, Elisha Hale (guest), Craig Moorman, Steve Young, Steve Brown, Steve Yount, Mo Keithley.
By: Willie Matis, Franklin Rotary Club
Rotarians were hard at work during the blustery first weekend of April!
There were curveballs thrown from different directions - demolition, a design change, and recharging batteries. But that doesn't break a Rotarian's spirit.
l to r: Bill Oakes, Tim Thurston, Craig Moorman, David Yount
This group of volunteers forged ahead to build a ramp that has allowed Carolyn and Eva to exit their home safely. Our partnership with SAWS Ramps aligns with our club's motto of "Service above Self". SAWS stands for Servants At Work, and they are dedicated to providing freedom to low-income, permanently disabled individuals through the construction of wheelchair ramps to the exterior of the homes.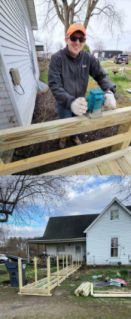 Top picture: President David Yount
Assisting our community members is what keeps Rotarians energized! Thanks to all who contributed. You can learn more about SAWS by visiting their website - sawsramps.org.
Finished ramp: l to r: Craig Moorman, Elisha Hale (guest), John Saxon, Phil Smith, Tim Thurston, Bill Oaks, Carolyn (client), Eva (client's mom), David Yount, Steve Brown.
For anyone interested in learning more about SAWs Ramps or to schedule a ramp build in your area, contact:
Tim Thurston
Operations Manager
Cell: 317-517-6808
tthurston@sawsramps.org
---
DISTRICT CONFERENCE 2022:

Edgewood Freshman Wins District Rotary Speech Contest
Sponsored by Rotary Club of Bloomington
Alan Martindale, District Speech Contest Winner
by Jim Bright, District Conference Publicity Chair
Rotary's southern Indiana district has selected Alan Martindale, a 15-year-old Edgewood High School freshman, as the winner of Rotary's 2022 Four-Way Test Speech Contest.

Alan, chosen from a field of seven finalists, received a check for $1,000 at the April 9 Rotary District Conference where he delivered his speech on "The Pandemic and Rotary's Four-Way Test", which emphasizes truth, fairness, goodwill, understanding and friendship.

Other award recipients were juniors Emma Martin, Floyd Central, New Albany, $500; and Libby Shearer, Terre Haute North, Terre Haute, $250.

Rotary has 34 clubs in southern Indiana, including three in Bloomington.
---
In case you are wondering what else our District Governor IS and WILL be doing next year.....
Kirk Bouchie, World Series Host President for Youth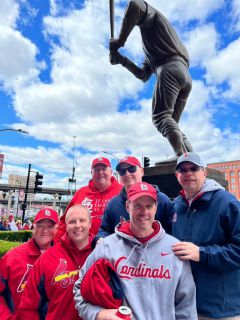 Left to right are: Rotarians Gary Hackney, Matthew Lindsey, Kirk Bouchie, Prospective Rotarians Daniel Ashby,
Greg Cardinal and Rotarian Greg Parsley (all of Vincennes Rotary Club).
VINCENNES, INDIANA TO HOST
2022 CAL RIPKEN BASEBALL 10-YEAR-OLD WORLD SERIES
Hamilton, NJ… Vincennes, Indiana will roll out the red carpet to welcome the top 10-year-old talent in the country to Joe Bilskie, Sr. Field and Earl Lawson Field, two of the finest youth baseball facilities in the Midwest, for the 2022 Cal Ripken 10-Year-Old World Series. The World Series, one of the largest youth sporting events in the country, will include people from across the country and meet a variety of economic goals and community involvement. Teams will have competed at their local District level, successfully advanced through their State and Regional tournaments, to earn the right to play in this World Series.

As the host community, Vincennes Cub League is selecting its own 10-year-old and 9-year-old teams to compete in the event, which will also include eight 2022 regional champions and eight 2021 9-year-old regional champions from across the country and the Indiana Cal Ripken 10-Year-Old State Champion. Games will be played August 5-13, with competition beginning with pool play before advancing to a single elimination bracket to determine the World Series champion.

Vincennes has hosted six previous Babe Ruth League World Series and 31 Ohio Valley Regional Tournaments. The city has recorded many firsts in youth baseball history. Vincennes is the first community to host two World Series in the same year – the 2001 Cal Ripken inaugural 10-Year-Old and 12-Year-Old World Series, and the first to host two successful Ohio Valley Regionals simultaneously – the 13- and 14-Year-Old in 1999 and the Bambino 10- and 12-Year-Old in 1995.

"Vincennes is a strong baseball community," said Kirk Bouchie, World Series Host President, who also serves as President of the Vincennes Cub League. "We have been the proud hosts for several Babe Ruth League World Series and look forward to once again welcoming 20 baseball teams, players, families, and fans, from every corner of the country to participate in the 2022 Cal Ripken 10-Year-Old World Series."

Joe Yochum, the Mayor of the City of Vincennes, said, "We are excited and honored that Babe Ruth League has chosen our historic city for this event. We look forward to welcoming our guests from all around the USA this August."

The World Series serves as a gateway experience for many first-time visitors, inspiring large numbers to make plans for subsequent trips and vacations to the area and region. Area hotels, restaurants, grocery stores, shopping outlets, gas stations, entertainment venues, and other local business will experience direct spending from attendees.
Babe Ruth League, Inc. is a non-profit, educational organization dedicated to developing better citizens by providing properly supervised baseball and softball competition for 4 through 18-year-old players. It is the basic intent of Babe Ruth League that every player who has a desire to play the sport is given the opportunity to participate and have fun.
---
The Rotary Club of Columbus volunteers for the Adventure Concert:

Over 2500 3rd and 4th graders have a live musical experience with the Columbus Indiana Philharmonic Orchestra.




Top Picture l to r: Rotarians: Past President Paul Bippen, Past President Roger Brinkman,
Past President Mark Pillar, Melissa Fairbanks, Donnie Robinette (also Exe Director of Columbus Indiana Philharmonic)
Kelly Daugherty, Brian Payne
by Mark Pillar, Rotary Club of Columbus

The Adventure Concert is The Columbus Indiana Philharmonic providing live orchestral music to the 3rd and 4th graders in Bartholomew and surrounding counties. They come from as far away as Sunrise. The Concerts are held at Columbus North High School where The Phil performs most of their concerts. The buses arrive at about 8:40. Volunteer Rotarians hold a sign up in the air and lead the children to their assigned seats, usually 1 Rotarian per bus. There are normally about 10-15 bus loads. Familiar tunes are played and Dr Bowden breaks the various instrument sections down so the kids can hear and see what each looks like. He then has each section play a part of the tune by themselves so the kids can hear that. Then he puts it all together so they can hear what the music is like when they all play their individual parts together. Then he has all the kids stand and they sing patriotic songs. During this he tells them that if they want, they could play one of those instruments.

Finally, The Columbus Youth Orchestra, which is part of The Phil, joins the orchestra on the stage and plays a couple of songs together. When the concert is over, the Rotarians grab their signs and lead the kids back to their buses. The buses for the next concert are already in the parking lot waiting for the first group to leave. The next set of busses parks and we start the whole procedure over again. We do that 3 times. Approximately 2500 students attend.

For many of these kids, it is the first time they have ever attended a live orchestra performance. The thrill and excitement that they exhibit is absolutely amazing. It is a very rewarding event for us to be involved with.

Dr. Bowden and The Phil started the concert in 1989. Columbus Rotary has been shepherding for about the last 10 years.
In addition, Rotary is one of the major sponsors of the concerts.
---
Save A Life – Save A Child's Life
Be Their Hope
By Dan Ryan- Rotary Foundation Coordinator for Zone 30
Zones 30 & 31 have launched a fundraising campaign for the Rotary Foundation through June 30th. Our goal is simple – maximize contributions so we can change, and, often, save more lives! You can make that difference with a donation. We need you!

John Germ, Trustee Chair, has advised that Rotarians have once again moved quickly to provide donations to those suffering, this time for the people of Ukraine. So far $7.3 million has been received by the Disaster Relief Fund for this purpose.

Did you know that since July 1, 2021, approximately 9 months, our 31 Districts have participated in 38 newly awarded Global Grants valued at approximately $3 million? This includes school refurbishment and other literacy projects; a tissue/skin bank; oxygen generation projects; several projects for children's heart and other surgeries; water and sanitation; empowerment; sustainable farming; newborn care; blood collection van; dialysis machines...and more.

In the last Rotary year, Our Foundation approved 2066 Global Grants, a 50% increase, and program awards totaling $130 million. Also, District Grants totaling $31.1 million were awarded to support small-scale projects in our local communities and around the world. District Grants in this Rotary year for our two Zones total about $2 million.

During the same period, Polio program awards, including PolioPlus Partners Grants, totaled $152.9 million.

All of this should produce a resounding "WOW!" from all Rotarians as we make a huge difference for those less fortunate.

The Rotary Foundation answers the call for help, to provide hope, and to be the engine behind sustainable projects. Simply said, we have a responsibility to meet as many needs as possible as outlined in our Seven Areas of Focus.

With the demand for our programs, sadly, our giving has not kept pace. Historically, only 30% of Rotarians worldwide support Our Foundation and less than 50% in our combined Zones. This is almost unbelievable given our exceptional ranking by Charity Navigator.

To get back to pre-pandemic levels in our combined Zones (30 & 31), we need to increase Annual Fund donations by $825,000 in this Rotary year. Similarly, polio donations need to increase by $390,000. While this may seem daunting, Rotarians are already on pace to reach these lofty goals. But we need everyone's support of our fundraising campaign "Finish Strong Challenge/Better than Good...the Best".

We have a long and distinguished history of meeting every challenge, to ensure we wipe away the tears of the children. Be their hope with a donation today !
---
District Conference 2022
Service Project to EMPOWER GIRLS was a BIG SUCCESS!!




THANK YOU

to ALL who helped assemble the 'period positivity pouches' for Girls, Inc. of Monroe County AND all of those individuals and clubs that contributed products or donations for this major initiative. Over 350 pouches were assembled and will go to Girls, Inc.





---
District Conference 2022:
Rotaractors, Interactors, Scholars create 'Exuberance'
IU President Pamela Whitten with IU-Bloomington Rotaract President Linh Dinh Tran
by Jim Bright, PR Chair, District Conference Committee 2022
There was a feeling of youthful exuberance on April 9th as 13 Rotaractors, 35 Interactors and two Global Grant Scholars joined us for the conference.

In her keynote address, IU President Pamela Whitten called on the young people to stand and be recognized. "They're the focus of all that we do at IU," she said.

Three members of the IU-Bloomington Rotaract Club gave the Interactors a one-hour afternoon tour of the campus.

Here's an interview with IU-Bloomington President Linh Dinh Tran, an IU junior majoring in Human Biology.

Q. Highlights of the district conference?
Two fellow Rotaractors and I got a chance to give a campus tour to the Hope Horizons Interact Club with two other Rotaractors, Monica (Dang) and Yash (Agarwal). It was an experience that I will cherish forever because it was my first time ever giving a tour of the campus. I was ecstatic to give this tour because I was once an Interactor in high school, and I wanted to reminisce a little. We had one hour to give a tour of our huge campus, so we did the best we could.

We took the Interactors around the IMU, Old Crescent (where we stopped at Sample Gates so they could take a picture!), and the area around the bell tower so they could see the library, the Global and International Studies Building, and other sites.

The free bowling and billiards on Fridays seemed to stand out as a few Interactors wanted to come back and enjoy it. Others enjoyed hearing about our art museum (especially when we mentioned that it was designed by I.M. Pei -- the same person who designed the Louvre in Paris).

Even on that cold day, the Interactors were excited to tour the campus. It was really heart-warming to see. At the end of the tour, they asked us questions about college life and it was such an intimate moment because we (Rotaractors) were able to reflect on our years at college (Monica and I are juniors while Yash is a senior) and share a few of our stories with the Interactors. I really hope this left somewhat of an impression in the Interactors' hearts and minds so that they will join the IU family in the near future.

When I arrived at the dinner, I will say that it was a bit intimidating because there were so many Rotarians, who I know are very well accomplished and successful. It wasn't too long after that I felt at ease because of Clara Stanley and Jim Bright. Clara made sure that all 13 of us had a seat somewhere. Jim helped us with meeting President Whitten, which was a wonderful experience. We were able to speak with President Whitten for a couple of minutes and take a picture with her. During dinner, I shared a few stories and laughs with District Governor-Elect Lance Eberle and other Rotarians and Rotaractors at our table. It was a riveting experience. I hope to attend again next year!

2. How many students are IU-Bloomington Rotaract members?
Currently, there are about 20 members.

3. What effect has the pandemic had on membership? Service activities?
The semester that Covid emerged was the same semester that Rotaract at IU launched. So it was definitely difficult to keep our memberships up, especially when we were sent home. Maren and Megan did a great job transitioning our club online. When the fall semester came, we were able to meet online through Zoom, where we had guest speakers and workshops. The pandemic made it difficult for us to do service activities and as Community Service Chair at that time, I had to find ways for the members to do service activities. We had an outdoor event with masks on, where we wrote letters to a nursing home and a few Rotarians. In the springtime, when regulations were a little lenient, we volunteered wherever we could, this ranged from My Sister's Closet and Community Kitchen. This year, we were able to volunteer more. We helped at the Bloomington Community Orchard, Brown County's road cleanup, cereal packing with Bloomington Rotary, Lotus Festival, Community Kitchen, and Generosity Feeds.

4. How did you learn about Rotaract? How are other IU students learning about it?
I knew a little about Rotaract when I was in high school because I wanted to join when I got to college. However, when I got to IU in the fall semester, Rotaract was still in the process of being created. It was at the Winter Involvement Fair where I met Maren (McClelland) and Megan (Gearhart), who had a booth for Rotaract. I immediately wrote my name on their list and went to the first call-out meeting. This seems to be the way that other IU students are learning about it. They also learn about it through word of mouth and with a few of my friends, I drag them to our meetings.

5. What Rotaract accomplishment makes you the most proud?
I am very proud of Rotaract for surviving the pandemic. I am so proud of everyone who has put in so much effort to keep our club going. Even though the pandemic, we were able to collect winter items for people experiencing homelessness and a food drive for people experiencing food insecurity. I am proud to be part of our growing club and the members who are so dedicated to helping our community and the world.

6. What will be your role with IU-Bloomington Rotaract in 2022-23? Who will serve as club president?
I will be taking a step back from the Executive Board of Rotaract in 2022-2023. I will still be a part of Rotaract, possibly as some sort of Senior Advisor for them if the new board has any questions. John Miller will be serving as club president. I believe he will do an amazing job!

7. Anything else?
I hope to be more involved with Bloomington Rotary or any other Rotary around the area this upcoming academic year. If there is anything that I can do, please reach out to me! I will try to help out to the best of my abilities because I am really thankful to have met all the remarkable Rotarians who have always lent a hand when I needed it. Rotary has taught and given me so much. Rotary has opened my eyes to the world of service and philanthropy, which I have grown to be incredibly passionate about. Rotary has taught me to be selfless, to put "Service Above Self". Rotary has inspired me to make changes in the world and given me a purpose.


As for the summer, I will be taking summer classes and possibly searching for an internship! I may also be working to save up money for graduate school. The next chapter in my life is coming up fast! It's a bit daunting, but I can't wait to take it on.
---
Jeffersonville Interact Club looks to raise money
for student crisis fund with Decathlon

from News and Tribune, by Makenna Hall makenna.hall@newsandtribune.com Apr 21,2022
Jeffersonville High School's Interact Club is hosting a 10-day decathlon to bring awareness of the group and raise funds for the school.

The decathlon has two main purposes, said Jessica Lacobee, Jeffersonville High School teacher and Interact Club sponsor. "One of them is to start a student crisis fund for the campus, so that [if] we have a student who goes into foster care and they need a bed, there's just money waiting for whatever issue because sometimes money is the only answer," she said.

"That's kind of our goal on campus, is to make sure that we're there when a crisis hits, as well as ongoing service." The fund addresses the club's focus on helping the campus. Lacobee said that each year the club has a campus, community and global focus, doing different service projects within each category.

On top of creating a fund to support students in need, Lacobee said the club also wants to create an opportunity for students to have fun because there has been a lack of it over the last couple of years. "We came up with the decathlon in general because there's been a crisis of mental health conditions with teenagers," Lacobee said. She said this is a result of adversity in COVID-19 protocols over the last couple of years, and it has come with a lost sense of community among teenagers and on campus.

"We wanted to create some excitement on campus, bring some groups together for a sense of community in a friendly competition and then on top of that, we wanted just to have some fun," Lacobee said.

Like any standard decathlon, the plan is comprised of 10 events, but unconventionally, it is taking place over the course of several weeks rather than two days. The first nine events started on April 11 and will extend until May 10 because they only occur a few times a week as the high school is still using a block schedule.

The kind of activity that will take place each day is a secret to the students until the day of the activity. The events take place during an open period of the school day. So far, the students have played Hungry Hungry Hippos and had an egg and hula race, a water sports day and a water boat race in the school's pool.

Interact Club invited all of the clubs on campus to take part in the decathlon, and the first 10 that signed up could join. Lacobee said the groups range from the step team to wrestling to student council.

The final event, taking place at the end of May, is when the club will begin to raise money for the crisis fund. The 10-obstacle course will be set on the football field, because Lacobee said it's going to be messy. The tickets are $5 for non-students and $1 for students. Lacobee said they are hoping to raise about $1,500.

The Interact Club plans to have the decathlon every year to raise money for the crisis fund. This year, the final event is only open to students and individuals in the community related to the competitors because it will take place on campus during the school day. Next year, Lacobee said the event will be in the evening and be open to more of the community.

The organization is sponsored by the Rotary Club of Clark County and works to get students involved in service.

"There's evidence that links early experiences with service work to a life of service, so my goal is to try to start that young so that kids understand that there are various ways to get involved," Lacobee said.

The club is comprised of about 70 students this year, but Lacobee said she thinks the numbers will be higher next year without COVID-19. Lacobee started the club initially when she worked at River Valley Middle School and has seen many of the same students rejoin the club in high school. "It kind of went to prove our point that if you get started in service young you stick with it," she said.

The president of the Rotary Club of Clark County, Mike Mustain, said that it's good to see young people getting started in service early."It's good to see young people taking a lead and starting to be leaders among themselves," Mustain said.
---
District Conference 2022....
Bea Boccalandro, keynote speaker, ask us to IMAGINE
your club doing 10 times the good it does now.
by David Bell, Rotary Club of New Albany
Within a few minutes of starting her presentation, Bea Boccalandro raised eyebrows among many of us in the audience. She suggested we entertain the goal of increasing ten times over the positive impact our clubs have. "Impossible!" seemed to the collective reaction. Less than an hour later, however, the mood was of possibility. Suddenly, we could envision our clubs increasing the miles of adopted road from one to 10 or the number of impoverished families aided from 10 to 100, for example.

How? By helping Rotarians use work as a platform for service above self, a practice Bea has dubbed job purposing. She asked us to imagine two construction workers who drive a truck making quick stops, as their schedule allows, to pick up illegally dumped items they see on the roads they travel. By doing service as an ongoing part of their workweek, they do more than they ever could by organizing and attending occasional weekend cleanups. (Although Bea clarified that we should continue to do these as well). Or imagine a Rotarian bank manager giving space at its retail location to a poverty-fighting nonprofit and encouraging her staff to support their non-profit colleagues. This set up facilitates serving many more families than her club could do on its own. The impact-boosting power of job purposing is certainly uplifting, but Bea gave us even better news.

It turns out that there's an overwhelming amount of evidence that job purposing helps those performing the service be happier and more successful at work, according to Bea. The Rotarian mentioned above is likely more productive, more likely to get promoted, more engaged at work and less likely to experience mental and physical health challenges.

In summary, Bea taught us that job purposing benefits the world and Rotarians. No wonder many audience members immediately started coming up with ways to apply it, including at the packed job purposing breakout session following the keynote. Fortunately, they left with something to guide their journey: Bea's critically acclaimed book, Do Good at Work: How Simple Acts of Social Purpose Drive Success and Wellbeing, which was provided in the conference bag.
---
Terre Haute South Interact Club provides
Spring Event for local Community Center


by Bill Allen, Rotary Club of Terre Haute South
The interact club at Terre Haute South Vigo High School is named "Terre Haute South Interact" and is sponsored by the Rotary Club of Terre Haute South. This interact club currently has about 15 members. They have done a Halloween event for Big Brothers-Big Sisters, a big Christmas event for a Title 1 elementary school, and kits for a local homeless support organization.

The Interact Club's Spring Event was for the 14th and Chestnut Community Center. The 14th and Chestnut Community Center is a faith-based Nonprofit organization dedicated to making a difference in the lives of local children. The community center runs an after school program and other various programs throughout the year in order to ensure these children have what they need. The Interact members provided snacks, did a variety of crafts and had an Easter Egg Hunt for the kids in the afterschool program.
---
What's Coming up on the 21-22 District Calendar????



2022

May
1st: District Grants 22-23 Due

June
4th - 8th: Rotary International Convention 2022, Houston, TX
16th: District 6560 and 6580 Rotary Ryder Cup Golf Tournament
18th: Changeover: Indiana Memorial Union, University Club's Presidents Room

July

August

September
28 - October 2nd: Pathway to Our Future: Zone 30 and 31 International Conference
Chattanooga, TN
October
November
December

2023
January
February
March

April
22nd: Rotary District Conference 2023, Terre Haute Convention Center

May
27-31: 2023: Rotary International Convention 2023, Melbourne, Australia
---