District Leaders
Lance Eberle
District Governor
Shanon Kae O'Toole
District Governor Elect
Mandy Jo Lohrum
District Governor Nominee, AG, PHSociety Chair
Randall D. Wheeler
District Secretary
Todd M Boilanger
Assistant Governor
Mike Crumbo
Assistant Governor
Gary Keith Hackney
Assistant Governor
Kim Ingalsbe
Assistant Governor
Sharon Gail Oliva
Assistant Governor
Scott Peyton
Assistant Governor
August is Membership and
New Club Development Month
in the Rotary World!!!



Featured in the August 2022 Newsletter:
*DG Lance August Message

*Scenes from DG Lance's August Visits

*Rotary Club of Batesville Utilizes a District Grant Project to address the Social and Emotional Health




*Polio Virus reported in the State of New York: First since 1979.




*World Polio Day is October 24th!




*Rotary Club of Dubois County (formerly Jasper) Helps Provide Safe-Sitter program for Teens with help from District funds




*DEI Commitment Offers Opportunity to Better Serve All groups in our Communities




*Evansville Rotary Civic Award Presented to Evansville's Mayor and First Lady




*Governor Lance goes FRONT AND CENTER with Social Media: Videos posted of interviews with club members




*Rotary Club of Martinsville Utilizes District Grant Funds to help Local YMCA with Fencing for Playground




*What is RYLA? – Info Sheet for Students/Parents 2022 ROTARY YOUTH LEADERSHIP AWARDS




*Noted Indiana artist, TC Steele, was an Honorary Member of the Bloomington Rotary Club (1923)




*Bloomington North Rotary creates room in SoJourn House for Trafficking Survivors with help of District Grant




*District 6580 22-23 Speech Contest: Two Options for Participation




*Janie Whaley, Rotary Club of New Albany, accepts position as NEW District Interact Chair




*Columbus Rotarians give global scholar 'Royal Sendoff'


*What's Coming up on the 21-22 District Calendar????

Do you know any stories of Rotary's work in your community to share in this newsletter? Please contact Bettye Dunham, bdunham@rauchinc.org.
---
DG Lance August Message
I have just put another week of the Image Rotary Tour 22/23 in the books. It is truly inspiring to see all of the great work that our clubs continue to do in their communities. I certainly can not wait to restart the tour next week.

As we move into the start of the upcoming school year (yes, it is hard to believe that it is that time), I wanted to remind everyone of some of the excellent youth programs offered by Rotary:

1. Interact - does your local middle or high school have an Interact Club? Interact is a great way to introduce young people ages 12-18 to the power of Service Above Self. Contact Janie Whaley to learn more (Janie.whaley@twc.com). For those clubs currently sponsoring an Interact Club, make sure that Janie has the current contact information of the sponsors so that we can continue to share information throughout the year.

2. RYLA - RYLA is live and in person this year!!! After a 3-year hiatus, RYLA will be taking place at Bradford Woods from October 21-23, 2022. This program emphasizes leadership, citizenship and personal growth for exceptional young men and young women. Please contact Loren Snyder (LASnyder@rwbaird.com). if you have any questions or know of a young man or young women who would benefit from this great program.

3. Rotary Youth Exchange. - Rotary International did open up for travel on July 1st. Rotary Youth Exchange builds peace one person at a time. Students learn a new language, discover another culture, and truly become global citizens. Exchanges are for students ages 15-19 and are sponsored by Rotary clubs in more than 100 countries. Let us know of any students who would benefit from this life-changing experience and would like more information as we look to send and receive students for the 23/24 academic year. Contact Rowena Cross-Najafi for more information (rcross11@msn.com).

As always, please make sure to share with us your Rotary Stories. Our District PR team of Chad Dimmitt (cdimmitt@centra.org) and Gretchen Ross(gretchenaross005@gmail.com) are there to assist in getting your story out through our website and social media pages and Bettye Dunham through our district newsletter.

In Rotary Service,


Lance Eberle
District 6580 Governor 2022-2023
1405 N. College Ave.
Bloomington, IN 47404
812-360-0357
lance.district6580@gmail.com
---
Scenes from DG Lance's July Visits
Bedford
DG Lance honors John Bush for the influence he had on him.
Matching IMAGINE Rotary Socks: Tracey Bailey, President and DG Lance
.
Center Grove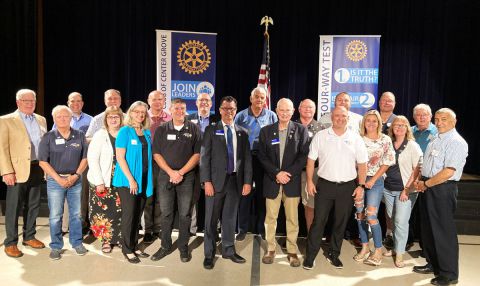 Center Grove Rotary Club welcomes DG Lance!
DG Lance is greeted by Dan Ryan, the Center Grove Rotary Sergeant-At-Arms.
New Albany
DG Lance interviews Joe Hagedorn, District Visioning Chair, for his
Facebook video message.
DG Lance and New Albany President, Andy Atchinson take a selfie!
Greensburg
l to r: PDG Jerry Fox, President Alex Selfton, DG Lance, DGN and PHSociety Chair Mandy Lohrum.
Clark County
DG Lance with Clark County club members.
l to r: President Mike Mustain, DG Lance, PDG Sue Wright, and AG Scott Peyton.
Terre Haute South
President Brady Hansel inducts a new member, Judy Price!
President Brady Hansel acknowledges a donation to the Bikes for Tykes program
made in honor of DG Lance's presentation.
Salem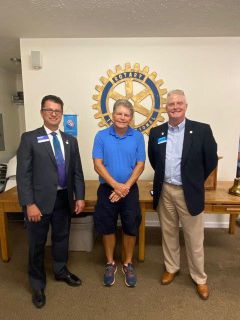 DG Lance, with President Rusty Hudson and AG Scott Peyton

President Rusty thanks the Salem cheerleaders for participating in the Washington County Fair dunking booth and for raising nearly six hundred dollars in four hours. (Note: $150 goes to the team that grosses the highest and the rest to Rotary giving.)
Franklin
DG Lance meets with the Franklin Rotary Club board. l to r: Lisa Lintner, Co-chair of Satellite Club & Community Service Chair; Bean Northcott, HS Interact Chair; Willie Matis, Publicity Chair; Phil Smith, Club Member; Tim Thurston, President; DG Lance.

DG Lance with President Tim Thurston
Brazil
DG Lance meets with the Rotary Club of Brazil.
l to r: President Chris Rodger, Mary Jo Alumaugh, DG Lance. Lance presented Mary Jo Alumbaugh, our foundation chair, with her Paul Harris Fellow +1 pin that she just earned.
Columbus Sunrise
DG Lance with President Jeff Karr
---
Rotary Club of Batesville Utilizes District Grant Funds to address the Social and Emotional Health of School Age Children Ages 3-12

left to right, Kim Linkel – Coalition of a Drug Free Batesville, Bridgette Price - Batesville Middle School counselor, Margie Walke and Tricia Miller from Batesville Rotary Club.
By Don Mobley, President, Rotary Club of Batesville
The Rotary Club of Batesville was awarded a district grant for the 21-22 Rotary year focused on addressing the increases in the social and emotional health of school aged children, grades 3-12, during the COVID pandemic.

The counseling staff at the participating schools each received a "Building Normalcy Wellness Kit" containing age appropriate "hands-on" activities for the students' use.
The activities provided support to existing counseling efforts to develop student coping skills. Among the kit resources were: an iPad, stationary bike peddles, push pop bubble
sensory, sensory fidget toys, Big Mo Mesh Balls, journals, therapy putty, a variety of board games and puzzles.
The project activities primarily took place in each of the participating schools:
Batesville Community School Corporation Elementary, Intermediate, Middle and High School, St. Louis Catholic School.

Rotarians from the Rotary Club of Batesville participated in the project through the following activities:
. Collaborated with the Coalition for a Drug Free Batesville to develop the project.
. Put the Wellness Kits together
. Delivered the Wellness Kits to the 5 participating schools
. Followed up with the schools to identify additional needs . Created/contacted media with project publicity
Students, parents and counselors were able to request student's access to these resources through the schools' counseling centers. A total of 295 students from the 5 schools, utilized the Wellness Kits resources.

The students served, and the community as a whole, benefitted from the project. It offered early intervention to address the serious issues that children/teens can develop when they begin to accept the anxiety, isolation and depression (observed social/emotional challenges brought on by COVID). Through the provided intervention, students received needed support and age-appropriate knowledge of coping skills.

The following are a few samples of the feedback on the outcome of the project from the participating school counselors:
"The materials in the kit were very helpful during this hard time."
"They were great at establishing comfortability and rapport between the counselor and the student by making it easier for them to connect and open up."
It has been a blessing to have the Rotary Club and the Coalition for a Drug Free Batesville come alongside the school system and help combat the increased mental health challenges we are facing as a community due to the COVID pandemic. Having these resources was very useful in helping students to begin to open up about their feelings and develop skills to calm their anxiety. Thank you for your support.
---

Polio Virus reported in the State of New York:
First since 1979
by Elizabeth Usovicz, RI Director, Zones 30 and 31
As you have no doubt heard reported by the news media, a case of vaccine-derived polio virus has been reported in the state of New York. In response to this news, Mike McGovern, Chair of Rotary's International PolioPlus Committee, issued a statement on behalf of the committee. This statement is included below.

This development is a concerning indication that our work as Rotary members is not yet finished in eradicating polio, and it also underscores our collective efforts to eradicate polio and to help to raise the funds needed to keep our promise to the children of our world.

Now more than ever, the world needs us. Past President and Past Trustee Chair, Zones 30 and 31's own John Germ, has set the example for us and has worked tirelessly for decades to keep our promise of eradication. Please emphasize the importance of our PolioPlus campaign and World Polio Day as opportunities for clubs to take an active role in our collective eradication efforts. Thank you for your leadership and your commitment.
Sincerely,
Elizabeth Usovicz
Elizabeth Usovicz
Rotary International Director
Rotary International Women of Action Honoree

Rotary District 6040, Missouri, USA
eusovicz@kc.rr.com
(913) 638-8693
The Power of We is Within Us All
On behalf of IPPC Chair Mike McGovern, please see the statement below:

Dear Rotary Leaders:
News came this Thursday from New York of the first United States case of polio in a decade. The unvaccinated young man was infected by an OPV derived strain. It is thought that his exposure came from outside the U.S., as the CDC said no cases have originated from within in over 40 years. You can find more detail here: https://health.ny.gov/press/releases/2022/2022-07-21_polio_rockland_county.htm.
The US Centers for Disease Control and Prevention (CDC) are coordinating with New York State health authorities on their investigation. Initial sequencing confirmed by CDC indicates that the case is type 2 VDPV.
Any form of poliovirus anywhere is a threat to children everywhere. It is critical that the GPEI Polio Eradication Strategy 2022-2026 is fully resourced and fully implemented everywhere, to ensure a world free of all forms of poliovirus can be achieved.
We are calling on every single Rotarian to take action and be a part of the fight to end polio, helping to raise $50 million per year for polio eradication.




Mike McGovern
Chair, International PolioPlus Committee

Note from District 6580 Polio Plus Chair, Jim Gislason:
There has also been a recent report on a polio outbreak in Pakistan during the month of July. Pakistan is now at 11 cases. Unfortunately, that is a two-year high.

In Pakistan, Rotary and its partners have used a reaction system when a new case is found. That is to vaccinate a 75 mile radius from the outbreak. I do not know if this outbreak is all in one area, or if people have been moving around the country, inadvertently spreading the disease. If this is from a large area, it will be much harder to control, but not impossible. It will take more vaccine and more volunteers.

Again, we Rotarians need to step up and donate to The Rotary Foundation Polio Plus program to fight the uptick in cases in Pakistan and now New York. A $100 donation by a Rotarians will be doubled by The Gates Foundation to a total of $300 to buy vaccine to stop Polio again.
---

World Polio Day is October 24th!
by Jessika Hane, District Foundation Chair
As of July 20, 2022- the number of wild polio cases was 14- the eradication of polio is within our reach and we MUST continue to donate our time, our dollars and our voices to this important cause.

To help in the fight against polio, District Governor Lance, our Polio Plus Chair Jim Gislason and our entire Rotary Foundation committee are encouraging all Rotary and Rotaract clubs in our District to celebrate World Polio Day AND raise at least $500 for the Polio Plus initiative this October.

Club leaders can visit https://www.endpolio.org/world-polio-day to read more about this special day, get event ideas and download a World Polio Day tool kit with message samples, social media images and so much more.

Start planning now to find an event that works for your club and your community. Some ideas for events that have been successful in the past are:
** Pints for Polio- organize an event at your local brewery and donate a set sum per pint to Polio Plus.Celebrate a Big Day:
**Rather than exchanging gifts for a special occasion, request that friends and family make a contribution to Polo Plus.
**Skip a Meal: At your Rotary Club meeting, opt to skip the meal and donate the cost to Polio Plus.
**Host Rotary Night: Arrange with your local ball clubs and host a Rotary Night at the ball game. Both major and minor league teams have pitched in to help Rotary "strike out Polio". Auction off throwing out the first pitch.


**Organize a walk-a-thon, bike-a-thon or skate-a-thon

: Find Rotarians, Rotarian Fellowships, athletic groups or other community members who want to participate and ask them to solicit pledges for miles or kilometers walked, pedaled or skated.
**Create a special item for sale: CDs, cookbooks, ties, teddy bears, and mugs are only some of the items that have been sold to raise funds for PolioPlus.
**White elephant gift auction: after the holidays, ask club members to donate "white elephant" gifts that they do not want or need. Auction these items off at a club or district meeting to raise money for Polio!
**Pennies for Polio: a great way to involve non-Rotarians in the district. Rotarians and their friends and families place coin-collection cans or boxes in local businesses, schools, and homes. All proceeds are combined and donated to Polio Plus.
Whatever you do- have FUN! Please share photos and results on your club website, newsletter and social media. And let us know so that we can spread the word too.

And be sure to join us for World Polio Day as global health experts and partners share our progress on the road to polio eradication. Visit the Rotary International Facebook page to watch with other end polio supporters.
---
Rotary Club of Dubois County (formerly Jasper) Helps Provide Safe-Sitter program for Teens with help
from District Grant Funds

Teens get certificates for completing Safe Sitter program.
by Deidra Church, Rotary Club of Dubois County
Safe Sitter began because of a tragedy: the accidental death of a nurse's young child while in the care of an adult babysitter. Patricia A. Keener, M.D. recognized the vulnerability of young children when cared for by unprepared providers, so she created a program to teach young teens how to be better, safe babysitters. For more than 40 years, Safe Sitter has been a leader in providing life skills, safety skills, and child care training for youth. Now a national nonprofit organization with over 900 registered providers in all 50 states, Safe Sitter continues to help build safer communities by providing youth with the skills they need to be safe while home alone, watching younger siblings, or babysitting.
When the Rotary Club of Jasper (now Dubois County) received a community grant application from the Tri-County YMCA in 2021 asking for support for local Safe Sitter courses, it was clear that the goals and mission of this program aligned with Rotary's values and mission. It was decided by the club to provide $6,000 in funding for next year, which allowed local community youth to participate in the Safe Sitter courses free of charge.

Rotary Club of Jasper member, Lauren Michelle Popp, had a daughter participate in the program. "I am very proud of Millie, for voluntarily spending a Saturday learning how to be a Safe-Sitter at the Tri-County YMCA! She was so excited to be one step closer to having a babysitting business and learning how to take good care of her little brother. Thank you to the Rotary Club of Jasper for providing kids with this amazing opportunity to learn!"

Since receiving the funds from the Rotary Club of Jasper, the Tri-County YMCA has held monthly Safe Sitter courses throughout Dubois County. The courses were hugely successful and nearly all sold out, assisting with over 80 students from the Dubois County community who completed the program.

"We sincerely appreciate the support from the Rotary Club of Jasper," said Austin Welp, Program Coordinator. "I think this is a great program – not only to learn the important skills of babysitting, but the program also teaches a variety of life skills as well. I even learned several things while I did my training!"
The Rotary Club of Dubois County is proud to have provided support to such an important program for the children in our community.
---
DEI Commitment Offers Opportunity to Better Serve All groups in our Communities
by Megan Gearhardt, District DEI Committee
Over the last decade, Diversity, Equity, and Inclusion have become interchangeable terms in the media, used to highlight shifts in employment trends across corporations and organizations. While each term has a distinct meaning and importance, it can be difficult to implement when few know where to start. The inclusion of a Rotary International DEI commitment is an opportunity for us in District 6580 to look at expanding membership from a new lens and to better serve all groups within our communities, including ones we may not directly be a part of. Governor-Elect Lance Eberle has decided to follow in the footsteps of Incoming President Jennifer Jones and the RI Board of Directors in embracing DEI as an important part of Rotary's future. Beyond championing the District 6580 Diversity Equity and Inclusion Committee, he will be encouraging clubs to put together their own DEI Committee in his messaging to the clubs during his visits as part of his upcoming year as District Governor.
---
Evansville Rotary Civic Award Presented to
Evansville's Mayor and First Lady

l to r: Carol McCllintock, Lt. Governor Suzanne Crouch,
Mayor Lloyd Winnecke
by Julie Spratt, Executive Assistant, Evansville Rotary Club
Evansville IN Mayor Lloyd Winnecke and Carol McClintock received the 95th Rotary Civic Award for their collaborative approach to making Evansville a more caring, compassionate, financially successful city that has become the envy of other municipalities in Indiana and in the Midwest.

Lt. Governor Suzanne Crouch told the gathering she tried to come up with three words to describe the couple, saying she could almost use the same for each:
"But for Lloyd is was visionary, bold, collaborative. For Carol, driven, compassionate, and inclusive."

The Rotary Club of Evansville, dedicated in thought and practice to the Rotary International motto of "SERVICE ABOVE SELF", created the Rotary Civic Award, honoring the city's most outstanding citizens since 1927.
---




Governor Lance goes FRONT AND CENTER with Social Media

Videos posted of
Interviews with club members
Have you checked out DG Lance's videos taken at his club visits? If you have not yet had a club visit you will find out that our NEW DG is working to utilize social media with a new idea to help connect clubs. To see, go on Facebook to Rotary6580 and see these FUN videos!!
---
Rotary Club of Martinsville Utilizes
District Grant Funds
to help Local YMCA with Fencing for Playground
l to r Aaron Cunningham, Bethaney Latham, Patty Wood, Judy Bucci, Damon Rautenkranz
by Aaron Cunningham, Rotary Club of Martinsville
Martinsville Rotary Club is happy to report a successful district grant project for 2021-22. We were able to help our local YMCA of Morgan County to have fencing installed around their playground. The playground equipment itself was our club's 2016-17 district grant project, and it has seen a lot of use by the preschool kids, summer camp kids, and general membership.

Fencing was needed as a facility requirement for the YMCA to be eligible for state funding for preschool. It was also needed to make the playground safer for those kids who, for various reasons, don't always stay with the group, the "runners". Our club helped fund the fencing and then had a cleanup day to take care of the weeds and move the rock that tends to wash out of the playground area. The area looks great and we are happy to have partnered again with YMCA to help our community.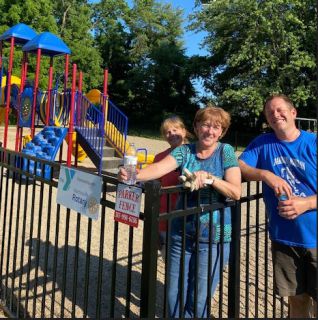 l to right - Patty Wood, Judy Bucci, Damon Rautenkranz
---
READY for RYLA!!!





What is RYLA? – Info Sheet for Students/Parents
2022 ROTARY YOUTH LEADERSHIP AWARDS
Friday October 21– Sunday, October 23, 2022
by Loren Snyder, RYLA Chair
RYLA is a Rotary sponsored youth leadership training program for high school-age students. Each year, more than 9,000 young people are sponsored in RYLA programs by Rotary clubs in over 25 countries. Rotarians provide the RYLA program for FREE to all participating students. Rotary District 6580 sponsors an annual RYLA program at Bradford Woods, which is owned and operated by Indiana University and is located in rural Morgan County.

The RYLA program takes full advantage of the beautiful wooded setting. Under the guidance of trained facilitators at Bradford Woods, RYLA participants gain valuable leadership skills through a variety of adventurous "learn by doing" opportunities.

RYLA participants sleep in modern cabins and spend most of their day in the outdoor setting. Daily activities are a part of the Bradford Woods Outdoor Challenge Education Program. Some of the activities are only inches from the ground while others are a bit more daring. All require the participants to take a risk, give 100% and be a supportive member of a team. All RYLA students grow in self confidence, gain insights into positive group behaviors and interactions, develop leadership skills, make a lot of new friends, and have a lot of fun in the process.

Objectives of the Rotary Youth Leadership Awards Program
* To acquaint RYLA participants with the fundamentals of Rotary's motto of "Service Above Self" and further demonstrate Rotary's respect , support and concern for youth. Rotary believes that "Youth are the future!"
* To encourage and assist selected youth who demonstrate leadership potential in methods of responsible and effective voluntary youth leadership by providing them with a unique training and personal growth experience.
* To encourage continued and strengthened leadership for youth by youth.
* To publicly recognize the capabilities and attributes of many young people who are rendering a service to their communities as youth leaders, and who hold great potential as future leaders in their own communities.

Responsibilities of Participating Teens
Local Rotary Clubs make all arrangements and pay all RYLA program fees, so it is imperative that registered students make the commitment to attend RYLA for the entire weekend. Potential RYLA participants should check the dates carefully before committing to the program. The only other requirement is to come with an open mind and a desire to learn and have fun!

All forms can be found at the District website: rotary6580.org

If you have any questions about RYLA 2019, please contact Loren Snyder, RYLA District Chair at lasnyder@rwbaird.com or cell phone (317)-407-1837.
---
Noted Indiana artist, TC Steele, was Honorary Member of the Bloomington Rotary Club (1923)
by Owen V. Johnson, Bloomington Rotary Club
Theodore Clement "T.C." Steele (1847-1926), noted Indiana artist and member of the Hoosier Group of Impressionist Painters, was inspired by the picturesque scenes that he encountered in Brown County. T.C. was at the forefront of the state's art movement and remains one of Indiana's most honored artists.

The Bloomington Rotary Club developed a friendly relationship with T. C. Steele in the 1920s. At the time, he had artist studios both in Brown County and on the Indiana University campus.

Newspaper records show that Steele brought his friend, writer Hamlin Garland, to a meeting in 1920, when the club was only two years old. On May 23, 1923, the club unanimously elected Steele as an honorary member.

A few weeks later, he spoke to the club at the then new Graham Hotel. He discussed the various ways in which steps were being taken to preserve natural beauty spots along U.S. highways. The unconscious values which beautiful surroundings have upon the mind were great and people were giving time and money toward solving the problem of preserving for present and future generations the beauty of nature.

Footnote: In 1907, T.C. and his second wife, Selma Neubacher Steele, purchased property in Brown County and began construction of their home, which they named the House of the Singing Winds. They built the Large Studio in 1916 to accommodate T.C.'s work. Selma created several acres of gardens around the home and landscaped the surrounding hillsides to enhance the beauty of their property. As T.C.'s popularity grew, an increasing number of visitors came to Brown County to meet the artist and to see his work and estate. Steele's appreciation of nature, combined with his intelligence and capacity for concentrated study, raised his works to an extraordinary level. Tours of the house, studio, and gardens are available at the TC Steele Memorial as well as a visitor's center. Many of TC's paintings are on display in the house and the studio.
---
Bloomington North Rotary creates room in
SoJourn House for Trafficking Survivors
with the help of District Grant


From l to r: Jodi Hoagland, Dr. Mark Dayton, Ryan Zaricki, Terry Ohl, Bryan Hane, Charlie Sinn, and Debbi Ohl.
by Jodi Hoagland, Bloomington North Rotary Club
For the 2021-22 Rotary Year, Bloomington North Rotary, of Bloomington Indiana, organized a District Grant to create a room in the Sojourn House Shelter that allows for the exploration of art and the expression of the deep trauma that trafficking survivors have experienced.

The day of service had Rotarians building shelving, constructing furniture, and organizing curated art supplies. These supplies allow for a wide variety of artistic expression, including painting, drawing, sculpture, and jewelry making.
These art resources build grounding and coping skills, while the serene library holds space for the reflection and growth women may have never had access to until now. This room offers healing methods that address a person's whole experience, which is so critical in the world of complex PTSD.
---

District 6580 22-23 Speech Contest:
Two Options for Participation
by Susan Adams, District Speech Contest Coordinator
Purpose of consideration of holding a speech contest:
Many vocations require skills in good communication, the ability to research and deliver information and ideas confidently. Understanding the importance of values enables the presenter to provide a balanced view which has considered ethical standards and the potential impact on self and others. The Rotary Four-Way Test Speech Contest provides a platform to build those skills aligned with the moral compass of Rotary's Four-Way Test
The aims of the contest are to:
I. Promote the values of Rotary that emphasize ethics and values in life.
II. Develop the confidence and self-esteem in students.
III. Develop relationships between Rotary and secondary schools.
IV. Provide an opportunity for students to test their skills before an audience.
V. Encourage and foster excellence in the art of public speaking.
This year we will continue to offer two options for clubs to participate in the speech contest:



Option 1:

If a club chooses to hold a speech contest but doesn't choose to participate in the District Contest (see below) the District will do the following:
-Clubs can select the theme/topic of the speech and can alter the speech contest rules as they see fit. We hope the club will either choose the Four Way Test for 22-23, but this is the club's choice.
-Once the club (or a panel of their choosing) have selected the winner the District will send the club $100 to be included as part of the prize money.
Option 2:

If a club chooses to participate in the district speech contest, the following is the process to do so:
-The District contest rules must be followed, including the theme/title of the speech. This will be sent out in early fall.
-Once the club has determined the winner of their club contest, they will video record the winner's speech and send this to the district Administrative Assistant (following the rules stated) at bdunham@rauchinc.org. Video recordings must be received by March 4th. There will NOT be an in-person contest.
-A panel of judges from different clubs around the district will review the speeches and, based on the scorecard will rate the speeches. The District Speech coordinator will tally the scores and determine the lst, 2nd and 3rd place winners. All participants will be notified by March 15th of the winning speeches.
-The winner will be invited to speak at the District Conference lunch on April 22nd to be held at the Terre Haute Convention Center. .
-Those selected as the winners will receive the following: lst place: $1000, 2nd place $500, 3rd place $250. (Note: If a club participates in the district contest, they do not receive the $100.)
Much more detailed information will be sent to club presidents and youth coordinators early this fall.

If you have questions, please contact me, Susan Adams, District Speech Contest Coordinator, at adamsmusic@twc.com.

Imagine Rotary,
Susan Adams
District Speech Contest Coordinator
---
Janie Whaley, Rotary Club of New Albany,
accepts position
as NEW District Interact Chair

by Bettye Dunham, Administrative Assistant
Please welcome Janie as the District Interact Chair. Janie is a Rotarian with the Rotary Club of New Albany and she worked last year organizing the Interact activities and students at the District Conference in Bloomington.

WHAT DOES THE DISTRICT INTERACT CHAIR DO? The district Interact chair administers the Interact program and ensures that all clubs submit contact information to Rotary International every year. The Interact chair finds innovative ways to connect Interact clubs with one another and to strengthen the link between Interact and Rotary.

HOW TO DO THIS EFFECTIVELY? In order to do this effectively, Janie needs contact information for the lead person in your club for Interact and the school liaison contact information. Please contact her at Janie.whaley@twc.com.

WHAT IS INTERACT? Interact is a service club for youth ages 12 to 18 who want to connect with other young people and have fun while serving their communities and learning about the world. Clubs are usually school-based and are sponsored by local Rotary clubs. Interact clubs organize at least two projects every year, one that helps their school or community and one that promotes international understanding. Members of sponsor Rotary clubs mentor Interactors as they carry out the projects and develop leadership skills.

SUPPORT OF INTERACT BY THE ROTARY CLUB:
A successful Interact club starts with a committed sponsor Rotary club. Rotary members support Interact as sponsors, guides, and mentors, working alongside Interactors to serve local schools and communities. Rotary members keep the connection between Interact and Rotary strong by reporting the names of club leaders in the Rotary database, connecting Interact clubs with new opportunities, and providing a safe environment for all participants.
---
Columbus Rotarians give global scholar, Kelsey Lechner, a 'Royal Sendoff'



by Jim Bright, Global Scholars Chair
Members of the Columbus Sunrise and Columbus Rotary clubs gave Global Scholar Kelsey Lechner a royal sendoff at a July 27 event. Kelsey leaves Sept. 4 to begin her year in London.

Kelsey met with District Governor Lance Eberle and Columbus Sunrise and Columbus Rotarians at the Chamber of Commerce followed by a photo session in front of the Bartholomew County Public Library.

Kelsey, who received her bachelor's degree in East Asian Languages and
Cultures and International Studies from IU's Hamilton Lugar
School of Global and International Studies in 2015, will use the $40,000
award to pursue a master's degree in Education, International
Development and Social Justice from St. Mary's University in London.

She was endorsed by the Columbus Sunrise Rotary Club, and she will be
hosted in the UK by the Rotary Club of Kew Gardens in London.
Through her studies in London, Kelsey wants to gain knowledge and skills
to help her create and strengthen opportunities for students who have been
hindered from receiving a quality education.
At last night's dinner, Columbus Sunrise Lukie Ulery said to Kelsey: "When we send money to the Rotary Foundation, we usually don't get to see firsthand the good that comes from our gift. Seeing you, Kelsey -- and the impact that this scholarship will have on your life and on the lives of the people that you will touch -- shows us some of the good that we do through the Foundation."

Kelsey will speak by Zoom at 7 a.m. Wednesday, August 17 Bloomington Sunrise Rotary meeting.

Note from Kelsey: I want to reiterate how much I appreciate your support for my future. Thank you for the wonderful send-off yesterday from the bottom of my heart. Both the "presentation" and the dinner were absolutely fantastic. The whole district coming together and your combined generosity are more than I could have ever asked for or even imagined, and I look forward to being able to send and Zoom in with updates in the next year and beyond. I'm excited for my next big step, and your enthusiasm makes me even more excited.

Thank you all again, and I look forward to staying in touch!

Kelsey
---
What's coming up on the 22-23
District Calendar????

2022

July

August

September 28 - October 2nd: Pathway to Our Future: Zone 30 and 31 International Conference
Chattanooga, TN
October
22nd: District Leadership meeting: Strategic Planning: Location: Peggy's cabin/Mitchell
22-23 RYLA
24th: World Polio Day

November 18th: Foundation Event: Friday. Location to be determined.

December
1st: First District Grant Training (There will be two. Two members of your club must attend one of two) 5:00 pm EDT
6th: VIRTUAL District Assembly: Time to be announced2023

January 19th: One of two. District Grant Trainings (Two members of your club must attend one of two) 5:00 pm EDT

February
24th: Paul Harris Society Foundation Event: Friday (Location to be determined)

March 3rd: District Speech Contest Videos due
18-19th: President-Elect Training Seminar, Effingham, Ill.

April
22nd: Rotary District Conference 2023, Terre Haute Convention Center

May
13th: Major Donor Dinner (tentative) Saturday
27-31, 2023: Rotary International Convention 2023, Melbourne, Australia
---