District Leaders
Lance Eberle
District Governor
Shanon Kae O'Toole
District Governor Elect
Mandy Jo Lohrum
District Governor Nominee, AG, PHSociety Chair
Randall D. Wheeler
District Secretary
Todd M Boilanger
Assistant Governor
Mike Crumbo
Assistant Governor
Gary Keith Hackney
Assistant Governor
Kim Ingalsbe
Assistant Governor
Sharon Gail Oliva
Assistant Governor
Scott Peyton
Assistant Governor
September is Basic Education and Literacy Month
in the Rotary World!!!


Featured in the September 2022 Newsletter:
*DG Lance's September Message*Scenes from DG Lance's August Visits
*Rossina Sandoval Monsivais named 2022 Recipient of the Rotary Club of Jasper's ATHENA Leadership Award*Congratulations to five clubs receiving the Presidential Citation for 21-22
*Global Scholar Kelsey Lechner shares past overseas experiences and looks forward to the upcoming time in London*Here it comes again!! Rotary Club of Brown County presents the 7th annual Taste of Art
*Greenwood Rotary Club brings together community leaders with program on the 'State of the Economy'*Everybody Wins! The most significant projects done in Rotary's name are those accomplished through The Rotary Foundation.
*Diversity Matters: Columbus Sunrise Club 'walks the walk' of Goodwill and Friendship*Rotary Club of New Albany teams up with the Kiwanis Club of New Albany and the Mount Saint Francis Center on Spirituality to teach Healthy Eating Habits to Youth
*Brown County Rotary Club reorganizes and puts more emphasis on Community Engagement*Gordan R. McInally of Scotland selected as President of Rotary International for 23-24
*Rotary statement on recent polio detections in U.S., Europe*Stephanie A. Urchick is selected to be the 2024-25 president of Rotary International
*What's Coming up on the 22-23 District Calendar????

Do you know any stories of Rotary's work in your community to share in this newsletter? Please contact Bettye Dunham, bdunham@rauchinc.org.
---
DG Lance's September message:
Greetings Rotarians,

It is hard to believe that the summer is starting to wind down and autumn is just around the corner. The kids are back in school and we are now starting to watch our favorite fall sports on TV and Rotarians are still hard at work improving and making their communities a better place.

As we head into fall, let us take note that September is Basic Education and Literacy month. As stated by John Dewey "Education is a social process. Education is growth. Education is not a preparation for life; education is life itself". It is hard to believe that in our world today over 17% of the world's adult population is illiterate. As Rotarians our goal is to strengthen the capacity of communities to support basic education and literacy, reduce gender disparity in education, and increase adult literacy.

As part of District 6580, we are doing much to support this goal. Many of our clubs take part annually in obtaining school supplies for kids, supporting the Dolly Parton Imagination Library and providing resources to Teachers Warehouse, a Rotary founded nonprofit designated to provide free school supplies to local teachers just to name a few.

Our dedication to basic education and literacy does not show any signs of slowing down as we head into the 22/23 Rotary year. Some of the projects that will be taking place through our district grant program are as follows; hosting a reading festival and interactive panels for exploration walk for early childhood learning; creating a collaborative workspace for creating, learning and innovating for children ages 8 to 12; providing field trips for 3rd graders to learn about food system, nutritious foods, and healthy eating; and hosting a collaborative writing experience to connect local youth and creat diversity understanding . Much more on Rotary's impact on education can be found on the Rotary International Website.

Also as we speak about education, let us not foget about the great youth programing that Rotary has to offer. The commitment forms for RYLA are due for 2022; if you have not done so, please send your form to Loren Snyder. In addition, applications are now being accepted for the Rotary Youth Exchange Program for the 23/24 school year. If you know of any students between the ages of 16-18 years old who would like to study abroad for one year, please contact Rowena Cross-Najafi for more information.

In Rotary Service,


Lance Eberle
District 6580 Governor 2022-2023
1405 N. College Ave.
Bloomington, IN 47404
812-360-0357
lance.district6580@gmail.com
---
Scenes from DG Lance's August Visits
Greenwood (sorry, no pictures)
Jasper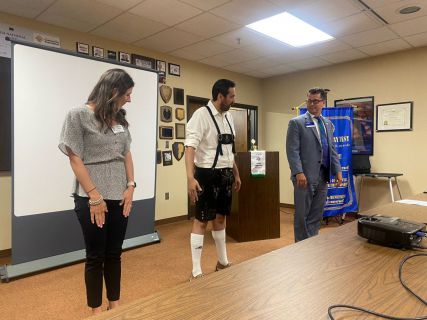 "We are loving how good of a sport our
Rotary District 6580
Governor, Lance Eberle, is!
He's having a "German Good Time" learning the Schuhplattler Dance, which will be a part of this year's
Jasper Strassenfest
opening ceremonies!" (l to r: iPast President, Manda Combs, Dennis Tedrow, and DG Lance.
Evansville
DG Lance addresses the Evansville Rotary Club
Bloomington Sunrise (sorry, no pictures)
Bloomington
DG Lance with Bloomington Rotary Club member Ruth Boshkoff. She was his first grade music teacher!
l to r: Bloomington President Alain Barker, DG Lance, and J. T. Waring, Special Representative of the International President & Board of Directors
at Rotary International.
Vincennes
Vincennes leadership welcomes DG Lance:
l to r: Vice President, Club Treasurer and District Treasurer, Matt Lindsey, DG Lance, President Dana Worland,
President-elect Chelsea Harrington
Vicennes honors DG Lance with $1000 donation to The Rotary Foundation.
l to r: PDG Jim Gislason, PDG Kirk Bouchie, DGE Shanon O'Toole, DG Lance, President Dana Worland, PDG and District Trainer Laura Carie, PDG and District Photographer Steve LaRoche
Martinsville
l t r: DG Lance with President Mark Uebel, District Youth Exchange Outbound Coordinator Meg Butcher, and AG Mike Crumbo
---
Rossina Sandoval Monsivais named 2022
Recipient of the Rotary Club of Jasper's ATHENA Leadership Award.
Rossina Sandoval Monsivalis is announced as the recipient of the
Athena Leadership Award
by Deidra Church, Rotary Club of Jasper PR Chair

The Rotary Club of Jasper celebrated its tenth annual ATHENA Leadership Awards Banquet on Thursday, August 18 at the Huntingburg Events Center in Huntingburg, Indiana, where Rossina Sandoval Monsivais was named the 2022 Recipient of the ATHENA Leadership Award. In addition to Rossina, three other ATHENA Award finalists were honored at the event, which celebrates female leaders of Dubois County: Joyce Beck, Mary Leah Siegel and Patricia Thyen.

"Our tenth annual event was a memorable one," said Rotary Club of Jasper ATHENA Event Chair, Julie Dutchess. "Our four finalists have all truly made a lasting impact on Dubois County. Rossina is a passionate trailblazer who has already changed our community for the better through her work on inclusivity and mental health awareness. We are proud to host this event, and are already looking forward to our 11th annual event in 2023."

In addition to celebrating the four finalists, attendees enjoyed a keynote presentation from Mrs. Patricia Koch, founder of the Santa Claus Village and Museum. Mrs. Koch recently celebrated her 91st birthday, and shared the wisdom she has collected through the years that has helped her live a happy and grateful life. "Mrs. Koch delivered a message that truly inspired the audience," said Rotary President Joyce Fleck. "She spoke of the importance of choosing a good attitude every day, and how each of us has the power to impact one another in a positive way. Her favorite quote shared was one by Abraham Lincoln: 'Most folks are as happy as they make their minds up to be.' I think we will all be thinking back to her presentation for a long time to come. We are grateful she chose to spend her evening with us."

While 2022 marked the tenth anniversary of the banquet, the Rotary Club of Jasper has been celebrating this award for 11 years. 2020 did not allow for an in-person event due to Covid-19, but that year the Rotary Club chose to recognize the "Frontline Worker".

The Rotary Club of Jasper would like to thank its 2022 ATHENA Awards Platinum Level Sponsors: Dentons Bingham Greenebaum, German American Bank, Kimball International and Memorial Hospital and Health Care Center.

A portion of the proceeds from this event benefit the Rotary Club of Jasper's Community Grants program and to a local charity, as named by the ATHENA Award Recipient. This year, Rossina Sandoval Monsivais has chosen the LifeSpring Foundation.

About Rossina Sandoval Monsivais

In 2016, Rossina Sandoval Monsivais made an incredibly hard decision to give up her professional practice of psychology in Mexico to immigrate to the United States. She certainly has wasted no time in making a difference in her new home and leaving a lasting impact on so many members of our community. She currently serves as Director of Community Engagement for Southwest Dubois County School Corporation. She is making an impact on the students, their families, school staff and the community to help carry out her vision of building a system that sustains education equity and cultural competency. Rossina has demonstrated the skill of coalition building and has used that skill to create partnerships with IU, VUJC, ALASI, Latino Collaboration Table, Sisters of St. Benedict, Center for Rural Engagement, the cities of Jasper and Huntingburg, Dubois County Museum, SWICACC, Dubois County Courts, Dubois County Health Department and Dubois County Purdue Extension, among others, to help improve the health and welfare of her community.

Rossina is a Dubois County Board member for LifeSpring Health Systems, and has partnered with them to promote access to health. She has worked with the Dubois County Community Foundation so that all Dubois County students, regardless of their immigration status, can apply for scholarships. Together with the Dubois County Purdue Extension, they brought JUNTOS, a 4-H program, to Southridge Middle School for the first time. She is a member of the Dubois County Latino Collaboration Table, where she has worked to create a system that supports minority communities, their pathway to higher education, and access to wellness.

Rossina is constantly working, gathering, and utilizing data to help ensure that her multi-cultural daughter grows up in a community where all people can access education and health services, a community where cultural differences are not just tolerated but celebrated, and where individuals move through the acculturation process—embracing the richness of their heritage.
---

Congratulations to the five clubs receiving the
Presidential Citation for 21-22
By Kirk Bouchie, iPDG
Batesville (Don Mobley), Columbus Sunrise (Todd Boilanger), Evansville Morning (Bruce Bryant) , Dubois County (Manda Combs) and Greensburg (Jenni Hanna) will all be receiving the 2021/2022 Presidential Citation for completing the criteria laid out by RI President Shekar Mehta. In Rotary Club Central, each club set goals for more than half of the suggested goals, achieved those goals and reported their results in Rotary Club Central. On behalf of Immediate Past President Shekar Mehta, I congratulate all members of these five clubs on this recognition. Thanks to all the Rotarians that made this happen.

L. Kirk Bouchie
Rotary International
District 6580 Governor 2021-2022
PO Box 749
Vincennes, IN 47591
812-887-7681
kbouchie@vinutilities.com
---
Global Scholar Kelsey Lechner shares past overseas experiences and looks forward to the upcoming time in London





Kelsey Lechner in Tanzania
by Jim Bright, Global Scholar Chair
In an Aug. 16 Zoom get-together, Bloomington Sunrise hosted 2022-23 Rotary Global Grant Scholar Kelsey Lechner. Kelsey, who leaves for the UK on Sept. 4, talked about her adventures in Japan, Tanzania and Bangladesh … and her upcoming adventures in London. Kelsey will pursue a master's degree in Education, International Development and Social Justice from St. Mary's University in London.

The Aug. 16 get-together marked the first time that three District 6580 scholars had gathered in the same forum as Global Scholars Clarice Cross (2020-21) and Cameron Davidson (2021-22) also tuned in.

Clarice received a master's degree in International Development from Tokyo's Waseda University in 2021, and Cameron Davidson (2021-22) is wrapping up a master's degree in Global and International Studies at the University of Salamanca in Spain.

Also tuning in were Richard Mason of Kelsey's host club (the Rotary Club of Kew Gardens in London) and IU-Bloomington Rotaract President John Miller. "We wish Kelsey a wonderful time in London," said Bloomington Sunrise President Carolyn Frey. "Deeply inspiring – revealing someone with a high degree of sophistication, intelligence, and cultural curiosity," said Bloomington Rotary President Alain Barker. " I can imagine that Kelsea has a very impressive career ahead of her and it's gratifying to know that the alignment with Rotary is already in place. Wow!!"

To check out Kelsey's talk, go to: https://youtu.be/HmdMWigVihI

Our District Global Grant Scholarship team is accepting applications for the 2023-24 Rotary Global Grant Scholarship. Know any good candidates? Contact Scholarship Co-Chair Jim Bright at (812) 219-0228 or jbright48167@yahoo.com.
---
Here it comes again!!!





Rotary Club of Brown County presents
the 7th annual Taste of Art

Friday, September 16, 2022
5:00pm Silent Auction
7:00pm Fine Art Live Auction

Wine, 'shine, and beer tastings from local brewery, distilleries, and winery along with heavy hors d'oeuvres.
Contemporary and heritage art from Brown County and Indiana artists.
Proceeds fund youth development and community projects.

To Purchase Tickets, click here
(or go to www.rotaryclubofbrowncounty.org).

Location: Seasons Conference Center
560 E. State Road 46
Nashville, IN 47448

Tickets: $45 advance / $50 at door
---
Greenwood Rotary Club brings together community leaders with program on the 'State of the Economy'
Shown in the attached photo are (L-R) are Joe Paulson, Marty Bales, Andy Toth, Rob Campbell, and Gary Sherman
By Steven Powell, member of the Greenwood Rotary Club
An important part of the Rotary Club's mission is to bring together business and professional leaders to advance understanding and goodwill, which we do through a weekly speaker program. The type of program mentioned below, put together by Joe Paulson, serves multiple purposes. It fulfills part of our mission of bringing together community leaders, which, in of itself, is a service to our community. It is also an outstanding way of maintaining and attracting new members.

In a July Rotary program the Rotary Club of Greenwood hosted an informative and insightful panel discussion on the "State of the Economy." Panelists included Mr. Gary Sherman, Owner and President of Falcon Diversified; Mr. Marty Bales, Commercial Relationship Manager at First Financial Bank; Mr. Andy Toth, owner and CFO at GEMCO Constructors; and Mr. Rob Campbell, Director of Business Development at Community South. Mr. Paulson, Partner, at Compass Pointe CPAs, moderated a lively discussion on the current state of business affairs, supply chair issues, labor/human resource shortages, the current economic climate and general trends in the business environment. .

Kudos to Joe Paulsen, member, for putting this together.
---

Everybody Wins! The most significant projects done in Rotary's name are those accomplished through The Rotary Foundation.

by Ian H.S. Riseley, TRF Trustee Chair 2022-23

During my travels, Rotary often comes up in conversation. Most people associate us with local projects and fundraisers — which is great — but few know what a global force Rotary is. It's easier to understand this aspect of Rotary through an example, such as how Rotary responded to the devastating bushfires in Australia in late 2019 and early 2020.
The result of extreme drought, global warming, and adverse weather conditions, the fires caused catastrophic damage. The need for help was obvious and substantial.

No stranger to forest fires themselves, Canadian Rotarians knew the best way to help was through The Rotary Foundation. They were soon joined by Rotary clubs and districts in other countries and Taiwan, resulting in three Foundation global grants totaling $280,000 to support the economic recovery of farmers affected by these fires.

One farmer wrote a letter of thanks on behalf of the remote communities we helped, saying they "were in disbelief that Rotary clubs from other countries would step up and help our relatively small farming region" and adding that "they were very grateful and honored to be considered worthy of such aid."

Friends, this is the kind of impact your Foundation has every single day around the world and why it deserves the support of all Rotary members. The most significant projects done in Rotary's name are those accomplished through The Rotary Foundation. The list goes on and on. Think of the impact of our polio eradication efforts, our peace education programs, and our Programs of Scale grants. All these efforts to make the world a better place emanate from our Foundation.

The Foundation also impacts our club experience, membership, partnerships, and so much more. The more visibility and impact we have through Foundation projects, the more people want to be part of what we are doing as partners or as members. Everybody wins.

To me, Rotary and its Foundation are inseparable — you can't have one without the other. They are two sides of the same coin. I love the friendship and fellowship and projects I experience as a member of the Rotary Club of Sandringham, Australia; but I am also thrilled to be part of a global movement that is changing the lives of countless people through The Rotary Foundation.

Remember that other side of the Rotary coin and support your Foundation. By doing so, you will also be supporting your fellow members who are bringing to life the projects our world truly needs.
---


"My humanity is bound up in yours, for we can only be human together." -- Desmond Tutu

Columbus Sunrise Club 'walks the walk' of Goodwill and Friendship
by Sue Wright, PDG, District DEI Chair
The Columbus Sunrise Club reached out to the district for a presentation/conversation about diversity, equity and inclusion. On August 5th, the club was poised to have that conversation. President-Jeff Karr, President Elect-Priscilla Scalf, Treasurer-Lacretia Ulrey, and Immediate Past President-Todd Bollanger have teamed together to continue making DEI a club goal.

The Columbus Sunrise Club has not only talked the talk but has intentionally walked the walk of goodwill and friendship. The club has honored the Tuskegee Airmen during Black History month and they have participated in Juneteenth celebrations in their community.

In 1933, Paul Harris, the founder of Rotary gave a speech in Boston at the International Convention and he said, "one feature of Rotary that challenges the attention of non-Rotarians is the provision that neither racial, political nor religious standards shall constitute barriers to Rotary membership. Membership is open to representatives from all walks of life, all countries, and forms of religion. We should foster a world where each of us views every person regardless of race, ethnicity, gender or economic status worthy of dignity and respect."

As our country continues to struggle with diversity, equity and inclusion, I hope all Rotarians will take a moment each day to help bridge that struggle.

Sue Wright, District DEI Task Force Chair, Rotary Club of Clark County
---
Rotary Club of New Albany teams up with the Kiwanis Club of New Albany and the Mount Saint Francis Center on Spirituality to teach
Healthy Eating Habits to Youth
by Danielle Archer, Rotary Club of New Albany
With the support of The Rotary Club of New Albany, the Kiwanis Club of Historic New Albany, and the Mount Saint Francis Center on Spirituality, a five-day STEAM-focused (Science, Technology, Engineering, Art, and Mathematics) Nutrition Scientist Camp was held that taught healthy eating to nine students who are current residents at Open Door Youth Shelter. We had 11 volunteers, 1 Nutrition Expert, and 1 Culinary Chef trained at the Culinary Institute of America with many prepping, cooking, shopping, label reading, and hands-on nutrition lessons. The participants all receive a bag of cooking utensils to use in their own kitchen one day and they will receive a book with photos and all the recipes they were introduced to in the coming weeks.
Nancy Heinrich runs the camp. After creating and implementing diabetes and healthy heart programs for thousands of Medicare beneficiaries and achieving measurable improvements in health outcomes for health plan members of a previous employer, Nancy shifted her focus from teaching older adults how to manage diseases to teaching children about preventing diseases via healthy eating workshops.

For most of the past 10 years, Growing Healthy Kids has been collaborating with Sunrise Vero Beach Rotary Club in Vero Beach, Florida to provide healthy cooking workshops and related field trips for children at risk for obesity and obesity-related diseases like diabetes and high blood pressure. Through partnerships with schools with the highest rates of students on the free and reduced school meal program, with organizations serving homeless families and those serving children who have been removed from homes due to abuse or neglect, we have watched the joy in kids' faces as they learn and practice new skills in a nonjudgmental environment.

The arrival of COVID-19 right after her move to Floyd County, Indiana to help her mother safely remain in her home paused the work. Her mother's neighbor, Shaunna Graf, Rotarian, introduced her to Becki Romans at Mount Saint Francis. They started talking about doing a service project for children on the campus of Mount Saint Francis "after the pandemic". Finally, late last fall, everything started falling into place after several planning meetings with staff at Mount Saint Francis. We decided to move forward with the 2022 summer camp project, including the Retreat Center's Executive Chef Cigrid Fenwick in the project.

Nancy says working with the children served by the Open Door Youth Shelter in New Albany was wonderful. The week before the Nutrition Scientists Summer Camp, she offered to visit the Youth Shelter loaded with supplies for making protein shakes as an introduction to the Summer Camp's agenda. Together, the kids and Nancy made shakes using frozen bananas, organic blueberries and kale and the kids loved them! The rest is history.
---
Brown County Rotary Club reorganizes and puts more
emphasis on Community Engagement


Dwight Thompson and Tim Kelley install 3 new road signs for club's new meeting days and location
by James Tichenor, President, Brown County Rotary Club
Meeting schedule: Starting in July, we reorganized our meeting schedule to put more emphasis on community engagement. We now have 3 instead of 4 club meetings a month. Committees meet on their own the 4th week or another time that's convenient.
Town Hall Meetings: Once a quarter, we have a Town Hall meeting on the 3rd Thursday. Each committee reports and suggests community activities and events for the club to discuss. Some are already planned, and some are new. Our first town hall was on July 21, and as a result we have a full schedule through December.

Community Activities: Late July and early August were busy with club volunteers at the county fair, the Teacher's Warehouse at Kroger East in Bloomington, the National Night Out community event in Nashville which was very successful, the Pop-up Pantry, and a project to purchase canopy tents for city and county police departments to use in their community activities. I was really pleased that the law enforcement officers accepting the check stayed for the entire meeting and are now enthusiastic about Rotary. In addition, we continue to work every Monday at Mother's Cupboard and busy preparing for Taste of Art.
Tim Kelley gives canopy to Brown County Sheriff's department for sun protection during events
President Jim Tichenor, Yvonne Oliger, Jaydene Laros helped distribute food
at a pop-up pantry
RYLA: We registered 6 students to attend RYLA in October and look forward to that starting again.

Hybrid meetings: Our biggest challenge is technology related to Zoom. Our meetings are hybrid, which works well unless we have a speaker via Zoom. The acoustics in the room are such that communication between the speaker and group in the room is very difficult. Hence, if we have a Zoom speaker, then we have the entire meeting by Zoom. We are trying to find a way to correct this.
GREAT JOB, Brown County Rotarians!
---
Gordan R. McInally of Scotland
selected as President of Rotary International for 23-24

From Rotary International article
Gordon R. McInally, a member of the Rotary Club of South Queensferry, Lothian, Scotland, is the selection of the Nominating Committee for President of Rotary International for 2023-24. He will be declared the president-nominee on 1 October if no challenging candidates have been suggested.

McInally lauded Rotary's ability to adapt technologically during the COVID-19 pandemic, saying the approach should continue and be combined with the best of our past practices as Rotary seeks to grow and increase engagement.

"We have learned there is a willingness within communities to care for one another," he says, "and we must ensure that we encourage people who have recently embraced the concept of volunteering to join us to allow them to continue giving service."

McInally says that senior leaders' ability to communicate directly with club members online will be one positive legacy of the changes Rotary has had to make. But, he adds, "face-to-face meetings remain important, as they encourage greater interaction."

The best way to increase membership is engagement, according to McInally. To better support clubs, he says, Rotary International, regional leaders, and district teams all need to engage with them. Engagement through social media will reinforce Rotary's brand and showcase the opportunities that come with it. And, he says, engagement with governments, corporations, and other organizations will lead to meaningful partnerships.

With better engagement, McInally says, "We will grow Rotary both by way of membership and in our ability to provide meaningful service."

He adds, "Membership is the lifeblood of our organization. I would encourage the use of the flexibility now available to establish new-style clubs that would appeal to a different demographic."

McInally, a graduate of dental surgery at the University of Dundee, owned and operated his own dental practice in Edinburgh. He was the chair of the East of Scotland branch of the British Paedodontic Society and has held various academic positions. He has also served as a Presbytery elder, chair of Queensferry Parish Congregational Board, and commissioner to the church's general assembly.

A Rotary member since 1984, McInally has been president and vice president of Rotary International in Great Britain and Ireland. He has also served Rotary International as a director and as member or chair of several committees.

McInally and his wife, Heather, are Major Donors and Benefactors of The Rotary Foundation. They are also members of the Bequest Society.
---
Rotary statement on recent polio detections
in U.S., Europe

from Rotary publication

The recent detection of the vaccine-derived poliovirus type 2 case in New York, USA, and isolates in several environmental samples collected in London are stark reminders that as long as polio exists anywhere, it is a threat everywhere. It also highlights the importance of vaccination as the only form of protection against polio and other vaccine-preventable diseases and the work that needs to be done in our communities to encourage the uptake of vaccines. Also, as the world gets closer to zero wild poliovirus cases, it is increasingly important to track all forms of the virus wherever they may appear, including in polio-free regions.

The U.S. is still considered low risk for paralytic outbreaks of polio due to the high level of vaccine coverage across the population. If a child has received the entire course of vaccines, the risk of becoming paralyzed by polio is negligible. According to the Centers for Disease Control and Prevention, 92.6% of children aged 24 months are fully vaccinated against polio, slightly below the 95% World Health Organization target.

The best things countries can do to protect themselves from polio until the disease is eradicated from the world are to: maintain high vaccination coverage and robust disease surveillance and be ready to respond in the event of an outbreak to minimize the risk and consequences of polio re-introduction or re-emergence anywhere.

The world currently has a unique opportunity to stop virus transmission for good. Still, all parties, including donors and country governments, must re-commit to polio eradication by fully supporting the Global Polio Eradication Initiative (GPEI) 2022-2026 strategy. This focuses on adopting an emergency posture while generating greater accountability and ownership from country governments to eradicate wild polio and end variant poliovirus (cVDPV) outbreaks.

Rotary, a global service organization with over 1.4 million members, has been at the center of the worldwide effort to eradicate polio for over three decades. Every year, through our funding partnership with the Bill & Melinda Gates Foundation, Rotary commits $150 million to the global effort to eradicate polio. We have contributed more than $2.6 billion and countless volunteer hours to end polio forever. Together with our partners, we engage communities everywhere to encourage high vaccination rates, immunizing over 400 million children annually. More than 20 million people are walking today who otherwise would have been paralyzed because of our efforts and those of our partners in the GPEI.

The time for urgent action is now. A new vaccine has been deployed – novel oral polio vaccine 2 (nOPV2) – which is more genetically stable to stop outbreaks of circulating vaccine-derived poliovirus effectively. With sustained political and financial commitments, the GPEI is confident that we can achieve a world in which no child is paralyzed by polio again
---
Stephanie A. Urchick is selected to be the
2024-25 President of Rotary International

From Rotary International article
Stephanie A. Urchick, of the Rotary Club of McMurray, Pennsylvania, USA, is the selection of the Nominating Committee for President of Rotary International for 2024-25, a decision that would make her only the second woman to hold that position. She will be declared the president-nominee on 1 October if no challenging candidates have been suggested.

With the world facing incredible challenges, including the COVID-19 pandemic, disasters driven by climate change, and conflict in many regions, Urchick says Rotary's leaders can offer a vision and a plan for overcoming these challenges. "Measures taken by Rotary leadership to survive and end critical challenges often make our organization stronger and more resilient for future events," Urchick says. "This kind of essential leadership also creates new levels of cooperation, even among rivals, when Rotarians pull together as people of action to serve and solve a crisis."

"Because Rotary operates in more than 200 countries and regions, it is vital to recognize that the organization has the potential to become more efficient and effective by understanding and reacting to how regional differences affect the way Rotarians work together to address providing service, promoting integrity, and advancing world understanding, goodwill, and peace," Urchick says.

Urchick is partner and chief operating officer of Doctors at Work LLC, a consulting and training company. She holds a doctorate in leadership studies from Indiana University of Pennsylvania. She is active on numerous community boards and committees, and has been honored by organizations including Zonta International and the So
ns of the American Revolution.
A Rotary member since 1991, Urchick has traveled to Vietnam to help build a primary school and to the Dominican Republic to install water filters. She studies several Slavic languages, has mentored new Rotarians in Ukraine, and coordinated a Rotary Foundation grant project in Poland.

Urchick has served Rotary in many roles, including as a director, Foundation trustee, and chair of the RI Strategic Planning Committee and the Foundation's Centennial Celebration Committee. She currently serves on the Election Review Committee and the Operations Review Committee. She is a Rotary Foundation Major Donor and a member of the Bequest Society.
---
What's Coming up on the 22-23 District Calendar????



2022


September
14th: District Club President Happy Hour via zoom 6-7pm EST 28 - October 2nd: Pathway to Our Future: Zone 30 and 31 International Conference Chattanooga, TN

October
22nd: District Leadership meeting: Strategic Planning: Location: Peggy's cabin/Mitchell
22-23 RYLA
24th: World Polio Day

November
10th: Conversation that matters: The Rotary Foundation: DG Lance: Zoom 7:00 pm EST - more info to follow!
12th: Youth Exchange Interviews
15th: Speech Contest Club Commitment Form due (for both local and district contest)
18th: Foundation Event: Friday. Location to be determined.

December
1st: First District Grant Training (There will be two. Two members of your club must attend one of two) 5:00 pm EDT
6th: VIRTUAL District Assembly: Time to be announced

2023

January
19th: One of two. District Grant Trainings (Two members of your club must
attend one of two) 5:00 pm EDT

February
15th: Speech Contest: District Entry Participation form due
24th: Paul Harris Society Foundation Event: Friday (Location to be determined)

March lst: District Speech Contest: Videos Entry Recordings due
18-19th: President-Elect Training Seminar, Effingham, Ill.

April
22nd: Rotary District Conference 2023, Terre Haute Convention Center


May
13th: Major Donor Dinner (tentative) Saturday
27-31, 2023: Rotary International Convention 2023, Melbourne, Australia
---