District Leaders
Lance Eberle
District Governor
Shanon Kae O'Toole
District Governor Elect
Mandy Jo Lohrum
District Governor Nominee, AG, PHSociety Chair
Randall D. Wheeler
District Secretary
Todd M Boilanger
Assistant Governor
Mike Crumbo
Assistant Governor
Gary Keith Hackney
Assistant Governor
Kim Ingalsbe
Assistant Governor
Sharon Gail Oliva
Assistant Governor
Scott Peyton
Assistant Governor
October is Economic and Community Development Month
in the Rotary World!!!



Featured in the October 2022 Newsletter:
*DG Lance's October Message




*Scenes from DG Lance's September Visits


*Take ACTION for World Polio Day October 24 and LET US
KNOW what you did!!
*Rotary Club of Evansville's New Tizimin Mexico Project Purchases
Computers for Students - $11,900 Raised Toward $15,000 goal!!!


*Jasper Rotary Club Changes Name to Rotary Club of Dubois County


*The Rotary Club of Clark County's Jeffersonville InterACT Club is
OVER 100 Strong!!!
*Pathway to our Future: The Zone Institute Engaged, Connected,
Trained, and was …..FUN!!
*Batesville Rotary Club provides Backpacks and School Supplies
to Children in Foster Care


*Rotary accepts applications for $40,000 scholarship




*Bloomington Rotarians enjoy cultural exchange with Afghan guests


*Join us on Friday, November 18th in Columbus for the Friends of the
Foundation event!!
*Rotary Club of Vincennes says THANK YOU to First Responders
IU-Bloomington Rotaract is off to a fast start in 2022-23
*Rotary Club of Clark County Brings Together Optimists, Kiwanis, and
Lions Clubs for a Joint Week of Service


*SAVE the DATE for the 22-23 District Conference in Terre Haute


*What's Coming up on the 22-23 District Calendar????

Do you know any stories of Rotary's work in your community to share in this newsletter? Please contact Bettye Dunham, bdunham@rauchinc.org.
---
DG Message: WELCOME 22-23 DG Lance
Greetings Rotarians,

As we head into fall and get to enjoy the changing of the seasons and the beauty of the leaves changing colors, I would like to thank the 26 Rotary clubs that I have visited so far. I have certainly been energized by how the clubs are taking Imagine Rotary to heart and adapting to our new normal. Some clubs have tried different meeting times or different forms of membership. Other clubs have gone back to the roots of Rotary and shifted meetings to different locations to highlight various businesses and organizations around the community. All the clubs are putting a renewed emphasis on service above self and taking on more service projects around their communities to create a positive lasting change. I cannot wait to visit the remaining 7 clubs to see how they are imagining Rotary and the impact that they are having on their communities.

October 24th is World Polio Day. Since 1988, Rotary and its partners have reduced Polio cases by 99.9% and are on track to make it the second human disease to ever be eradicated. But as a marathon runner would tell you, the last mile is always the toughest. The events over the past month with the first US case in over a decade and the spike in cases in Pakistan reflect that we cannot let down on our efforts. As we head into October, let us come together as Rotarians to raise awareness of our polio eradication efforts and to take action for World Polio Day. Some ways to take action are as follows: HOST – organize a community event and invite the media and local officials to participate or create a fundraiser to collect donations for the PolioPlus Fund. WRITE - propose a story about World Polio Day and your club's contributions toward eradicating polio to your local media outlets or send a letter about the importance of ending polio to the features editor at your local media. SHARE - use the sample posts from the World Polio Day Toolkit on your social media pages and follow @EndPolioNow on Facebook and Twitter. Most importantly, do not forget to share how you're observing World Polio Day and register your club's participation at www.endpolio.org.

Thank you for all your efforts in your communities and for imagining the possibilities in the change that we can make to transform our clubs and the world.

In Rotary Service,


Lance Eberle
District 6580 Governor 2022-2023
1405 N. College Ave.
Bloomington, IN 47404
812-360-0357
lance.district6580@gmail.com
---
Scenes from DG Lance's September Visits
Evansville Morning
DG Eberle conducts membership induction for the Evansville Morning Rotary Club's newest member: Laura Brown. (Pictured left to right: Chaze Patrick, Laura Brown, Lance Eberle)
DG Lance takes a moment to celebrate with the Evansville Morning Rotary Club as they achieved the Rotary Citation from the 2021-2022 year. (Pictured left to right: Chaze Patrick, Bruce Bryant, and Lance Eberle).
Terre Haute
President Thom Foster welcomes DG Lance.
Batesville
l to r: DG Lance, Margie Walke, President Don Mobley, and Nikki Hutchinson celebrating their
Presidential Citation from 2021-2022 rotary year.
Bloomington North
DG Lance addresses Bloomington North Club

DG Lance talks with Bloomington North board members Charley Sinn (in red), Robert Motley in the suit, Tim Ellis in brown shirt
Corydon
DG Lance is signing the book. Corydon RotaryClub invites all guests to pick one of 3 books that week and
they donate the book to the Corydon Library with the guests' signature.
Evansville@night
Members of the Evansville@night club host DG Lance: .Ashleigh Foster - Member, Kristi Miller - Member
Natasha Douglas - Guest, Sharon Mondino - Member, Tina Fuhrer - Member, Ann Angle-Garrett - Member
Bernadette Abundo - Guest, Sharon Oliva - Member, Laura Porter - Member, ,Sarh Capehart - Member,
DG Lance, Leigh Perry - Member, Gretchen Ross - Member, L'Oreal Mitchell - Member
Tony Oliva "Sgt.Major Sunshine" - Member,, Taylor Sid - Guest, Jenni Ransom - Member
Chris Oliva - Member,Kevin Mitchell - Guest
DG Lance presents President Chris Oliva with a Paul Harris Fellow Award with
Foundation Chair Ann Angle-Garrett
President Chris presents DG Lance with a basket of Evansville swag.
Washington
left to right: President Joe Wellman, New Member (inducted by DG Lance) Shea Jones,
Membership Chair Cheryl Thorne, DG Lance
DG Lance was taken on a tour of Washington. The Rotary clock is located in Eastside Park in Washington. In the picture, l to r: Club President Joe Wellman, DG Lance, and Rotarian/Washington Mayor Dave Rhoads.
Columbus
l to r: & President-Elect Bob Morrison, DG Lance, President Brenda Vogel, AG Todd Boilanger
DG Lance interviews Bob Morrison, PE and Global Scholar co-chair, for the Rotary Facebook video.
Young Leaders of Vincennes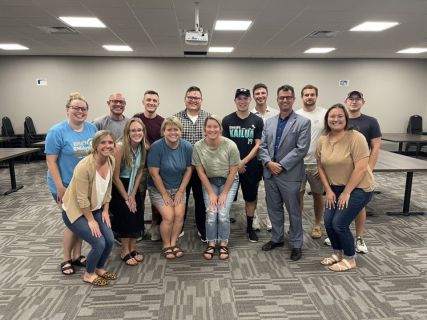 Young Leaders hosted the meeting at the new events room at Old Chicago in Vincennes.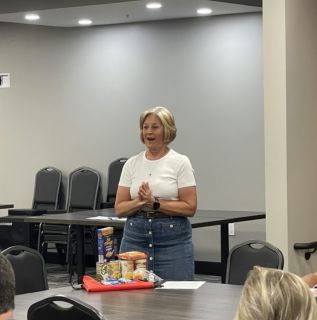 Kathy Clinkenbeard is representing her organization, Backpacks of Love, a group that packs weekend food supplies for children in our school system that do not have a stable food supply over the weekends.
Warrick County (sorry, no pictures)

Seymour

l to r: AG Todd Boilanger, President Brittany Percival, and DG Lance.

Bloomfield (sorry, no pictures)
---
Take ACTION for World Polio Day October 24
and LET US KNOW what you did!!
from Zone website
Every year, the Rotary community mobilizes for World Polio Day to raise awareness about global efforts to end polio for good. If we stay committed, we can make polio the second human disease ever to be eradicated. How can you take part in this year's World Polio Day?

District ACTIVITIES: What is your club doing? Some examples.....
* Rotary Club of New Albany is selling purple pinkie donuts and hosting a Pints for Polio event.
*Rotary Club of Vincennes is hosting a Strike Out Polio bowling event with the three Interact clubs at the Vincennes University Bowling Alley also partnering with a local bakery for selling purple pinkie donuts.
*Rotary Club of Greensburg is once again 'lighting up the courthouse PURPLE' in honor of World Polio Day AND sponsoring drink tickets to hand to community members. They are invited to join us from 10-12 on October 24th at The Branch, the local coffee shop. They get a special PURPLE drink and will learn about Polio and Rotary. We are collecting their information to follow up on joining.
* Rotary Club of Evansville is sticking with their "tradition" of the famous "END POLIO" cookies from Donut Bank Bakery at their luncheon and they will do a "pass the hat. The cookies are so festive and they will play a small from youtube about the guy who lives in the iron lung. He's 76 year's old and contracted Polio at age 6.
*Rotary Club of Evansville Morning will conduct a Pitch for Polio Event at Bubba's 33 in Evansville. 10% of food sales will be donated to the PolioPlus fund. Secondly, the club will have a pie throwing station in order to serve as a fundraiser for the club and connect with potential members.


Please let us know what you are doing or did!!! Lance Eberle, lance.district6580@gmail.com, or Bettye Dunham at bdunham@rauchinc.org.

Internationally:
Host an event or activity. The Rotary Club of Adliya and the Rotaract Club of Bahrain planned a World Polio Day yoga event for women to raise awareness about polio in their community.

Plan a fundraiser. The OKC Midtown Rotary Club in Oklahoma, U.S., held a bocce ball tournament to raise funds for End Polio Now.

Post on social media. Use the assets in the World Polio Day Toolkit to help spread the word about World Polio Day and the importance of polio eradication.

However you decide to get involved, register your club's participation for World Polio Day! Do so by 13 October and you'll get early access to Rotary's Global Update one week before World Polio Day. The program is scheduled to be shown on 24 October on Rotary's Facebook page and endpolio.org.

To learn more, go to https://www.endpolio.org/world-polio-day.
---
Rotary Club of Evansville's New Tizimin Mexico Project Purchases Computers for Students - $11,900 Raised Toward $15,000 goal!!!
District 6580 Rotary Clubs can also participate!
by Jeffrey Berger, Rotary Club of Evansville
A campaign to provide Chromebook computers for children in the small villages in Tizimin, a municipality located in the Mexican state of Yucatán, is the latest in a series of projects our Rotary Club of Evansville has undertaken over the past 10 years. This campaign is simple. $100 buys a Chromebook computer for a child in Tizimin, Mexico. Our goal is to raise $30,000, $15,000 from the Rotary of Evansville members to be matched dollar for dollar up to $15,000, by funds from the Rotary Foundation of Evansville. In addition, the City of Tizimin will also be committing $30,000 to buy 300 more computers if we raise $30,000!! That's 600 computers for children who have little to no access to computers.

Chromebooks are very simple laptops geared toward internet access. Tizimin has extended the internet network throughout the 85 small villages surrounding the City of Tizimin, so access to the internet is not an issue. Over the years, the Rotary Club of Evansville has donated two ambulances, computers, medical equipment and a kitchen for a school that supports children with disabilities.

The City of Evansville has a sister city relationship with the City of Tizimin. The Rotary Club of Evansville also has a sister club relationship with the Rotary Club of Tizimin!

The more we raise, the more computers we can send to Mexico! District 6580 Rotary Clubs are invited to consider making a gift to this campaign. $100 for 1 computer…$200 for 2 computers…$500 for 5 computers…$1,000 for 10 computers. Please make checks payable to the Rotary Foundation of Evansville. If you have any questions, please contact Jeffrey Berger at 812-455-6298 or jberger@rwbaird.com
---
Jasper Rotary Club CHANGES NAME to
Rotary Club of Dubois County


Rotary Club members Celebrate Name Change
by Deidra Church, Dubois County Rotary Club
The Rotary Club of Jasper is excited to announce that as of September 1, 2022, the organization has officially changed its name to the Rotary Club of Dubois County. The name change was voted on and approved by the current club membership in June and was also approved by Rotary International shortly thereafter.

"Our Rotary Club has already been actively serving our community county-wide for years through our programming such as our Community Grants Program and the ATHENA Leadership Award Banquet," said Rotary Club of Dubois County President, Joyce Fleck. "In addition, our current membership reflects community members who live and work all over Dubois County. It made sense for us to change the club's name to better reflect the community we're already serving!"

The Rotary Club of Dubois County also hopes that the name change will encourage those who live and work outside the city limits of Jasper to join in their mission to provide service to others, promote integrity, and advance world understanding, goodwill, and peace through their fellowship of business, professional, and community leaders.

The Rotary Club of Dubois County meets on Thursdays at 11:45 am. As of right now, they intend to keep weekly meetings at the Old National Bank in Jasper but rotate locations of their monthly social activities throughout Dubois County. For more information about the Rotary Club of Dubois County and its mission, visit www.duboiscountyrotary.com, or follow the club on Facebook (Rotary Club of Dubois County, Indiana), Instagram (DuboisCountyRotary), or LinkedIn (Rotary Club of Dubois County, Indiana).
---

The Rotary Club of Clark County's Jeffersonville InterACT Club
is OVER 100 Strong!!!
by Marcus Edwards, Clark County Rotarian
These kids are unorganized, have no spirit and are lazy- NOT! The Jeffersonville High School InterACT group is 101 strong, still growing and the opposite of the first sentence. They get what Service Above Self means and are doing things, sometimes weekly, to demonstrate the Rotary motto.

InterACT is Rotary for High School. It brings together young people ages 12-18 to develop leadership skills while discovering ways to demonstrate Service Above Self. Their fearless leader, Jessica Lacobee, was bold and amazing. After two years of dealing with the pandemic and all of its woes, she saw a big need for kids to re-connect, show leadership amongst their peers, and ignite a lot of school spirit.

Last year, InterACT sponsored a decathlon. They put on 10 events over several weeks. It was a competition between school clubs. Each club had its own colored T-shirt with the InterACT name on it and was worn during each event. "Everyone in the school knew it was competition day and it was sponsored by InterACT, and you had better bring your A game" said one member. The club raised money, organized the events, ran them and participated in them. Sure, they had fun, got out of class, laughed and bonded, but they also had a serious purpose. "We are raising money for a fund where we can hand out money for food or buy a coat or pajamas for another student in a bad situation" said one member. The club feels they have more of a "down low" on who is in need or is really hurting, more than a teacher. Mrs. Lacobee said, "my goal is to teach them transferable life skills."

They run several committees: fundraising, Sunshine, Community Collaboration, Recycling, Blood drive, Campus Needs. Like Rotary, they focus on local, community, and global needs. The Jeff InterACT Club is showing students that together they can make an impact, big or small. They literally run a blood drive. They volunteer for Jeffersonville Parks Department festivals. They are hosting a dance to raise dollars for their Crisis fund and a 5K for Brandon's House Counseling Center.

Jeff InterACT is only 2 years old but may be the largest in the United States. (They are awaiting confirmation from Rotary International.) "We aren't aiming to be the biggest, that's cool, but we want to be the best!" said another member. Rotary International's goals are, be a leader in your school and community and have fun. Mission accomplished
---
The Zone Institute Engaged, Connected, Trained, and was …..FUN!!
By Bettye Dunham, District Administrative Assistant
The Chattanooga Rotary Zone Institute trained future leaders, shared ideas for growing Rotary and supporting projects around the world, had GREAT speakers and recognized successes throughout the zone.

District participation: District 6580 was very much in attendance at the Institute training with PDGs Laura Carie, Santhana Naidu, and Jessika Hane helping provide training for the institute and the future district leaders in our zone and Shanon O'Toole (DG 23-24) and Mandy Lohrum (DG 24-25) receiving training for their upcoming governor years. In addition, Todd Boilanger (Columbus Sunrise), Steve Kiger (New Albany), and Kari Atkins (Evansville) attended the Emerging Leaders training on Friday. Also in attendance were DG Lance Eberle, Bryan Hane (Membership Chair), Kirk Bouchie (iPDG), and Bettye Dunham (PDG).

District 6580 Recognized: Our District was recognized for achieving a net+ in membership growth. We were one of five districts in Zone 30 with this success and we were the only district in zone 30 that achieved this growth 2 years in succession.
DG Lance, IPDG Kirk Bouchie, and Membership Chair Bryan Hane.
We had Conversations that Mattered with RI Leaders:
Holger Knaack was RI President in 21-22, Elizabeth Usovicz is current RI Director for Zones 30 and 31, and Gordon McInally will be RI President for 23-24.
Conversations that Mattered with people doing important work around the world:
William Kamkwamba is a New York Times bestselling author ("The Boy Who Harnessed the Wind") and innovator who designs development projects, including safe water delivery and educational access. William has been featured on The Wall Street Journal, Nyasa Times, The Daily Show with Jon Stewart, and Good Morning America with Diane Sawyer.

Kiran Singh Sirah is a Rotary Peace Fellow and President of the International Storytelling Center and is a sponsor of the Freedom Stories Project. Kiran developed a number of award-winning peace-building programs in cultural centers across the United Kingdom. As an artist, folklorist, teacher, and social justice advocate, he uses the power of human creativity to establish dialogue.

Stephanie Sinclair, Pulitzer Prize winning journalist and Founder and Series Producer, "Too Young to Wed." Stephanie Sinclair is an award-winning documentary filmmaker who examines the deeply troubling practice of early, forced and child marriage.
And we explored the future of Rotary in interactive sessions that encourage open-minded thinking and new ways to experience the Rotary we know and love.
We encourage you to attend this wonderful institute NEXT year!! September 21-24, 2023
---
Batesville Rotary Club provides Backpacks and School Supplies
to Children in Foster Care


by Don Mobley, President
Project T3 provides children in foster care or family placement in the Southeastern Indiana area with a backpack and school supplies. These children may otherwise show up for school without the required backpack or supplies.

Currently, Project T3 services Ripley, Dearborn, Ohio, Jefferson, Switzerland, Jennings, Scott, Jackson, Decatur, Shelby, Bartholomew, Fayette, Union, Rush, and Franklin Counties in Indiana. This year 1600 backpacks were filled with school supplies for needy children.

Between July 18 - 28, volunteers stuffed packs in the Project T3 space within the Batesville Area Resource Center. The Rotary Club of Batesville provided volunteers to help fill the backpacks.

These packs are being delivered now to foster kids overseen by the Indiana Department of Child Services; One Community, One Family; Head Start 3- and 4-year-olds; children staying at the Safe Passage domestic violence facility; and New Hope, formerly Family Connections.
---



Rotary accepts applications for $40,000 scholarship
by Jim Bright, Global Scholar Chair
For the sixth year, Southern Indiana Rotary clubs are accepting applications for a $40,000 scholarship that will enable a scholar to study one to four years in a graduate program at any qualified university outside the U.S.

The 2023-24 program is open to students who have graduated – or will graduate by May 2023 -- from a four-year southern Indiana college (or who maintain a legal residence in the district) and who plan to pursue graduate-level studies at an overseas university.
The program supports exceptional scholars dedicated to pursuing a career in an area of great humanitarian need and who demonstrate a long-term commitment to measurable, sustainable change.

Scholars must present a plan of study and a career commitment that align with one of Rotary's seven areas of focus: promoting peace; fighting disease; providing clean water, sanitation, and hygiene; saving mothers and children; supporting education; growing local economies; and supporting the environment.

Application deadline: December 19, 2022.

For more information, including an application, go to: http://www.rotary6580.org. Under "Foundations and Grants," click on "Global Grant Scholarship."
Questions? Contact Scholarship Committee Co-Chair Jim Bright at jbright48167@yahoo.com or (812) 219-0228.
---

Bloomington Rotarians enjoy cultural exchange
with Afghan guests
by Jim Bright, Global Scholar Chair and Bloomington Rotarian
Bloomington Rotary President Alain Barker and Past President Sara Laughlin had tons of fun with Afghan guests on Saturday, Oct. 1. Alain took the Afghan father and his son on a bike ride through Bloomington, and Sara socialized with the mother and their daughter. Afterwards, they had lunch and were treated to delicious hand-made Afghan delights and tea - including bolani, doogh, and a slightly sweet bun.
Alain's favorite Afghan dish, bolani.
Sara hosts a 11-member committee assisting an Afghan family with shopping, housing, language, clothing, transportation, bike safety, medical, and other needs.

Bloomington Rotary is hosting the family, a couple and their two adult children in their 20s, through Exodus Refugee (Exodus Refugee Immigration | Building a New Life in Indiana), an Indiana-based agency with a long history of helping individuals and welcoming refugees and asylum seekers from many countries, cultures, languages and faiths. Exodus has helped thousands of refugees from more than 50 different countries establish new lives in Indiana.

NOTE: For security reasons, Afghan citizens cannot be photographed or identified by name in social media or in other media.
---
JOIN US in APRIL!!
SAVE the DATE for the 22-23 District Conference in Terre Haute!
Information to follow on fun family attractions,
fun facts and great speakers!!

---




Rotary Club of Vincennes says THANK YOU to First Responders
from the Vincennes Sun Commercial newspaper
Motorists driving by the Fortnightly Clubhouse, 421 N. Sixth St., on Tuesday afternoon may have thought the place on fire — or under siege. Fred McCormick and Steve Sharp, members of the Vincennes Cub League, grill hamburgers and hot dogs outside the Fort Clubhouse, 421 N. Sixth St., for the fourth annual First Responders Lunch.

Firetrucks and police cars filled the parking lot and the blocks surrounding the historic building — but not for any emergency. They were there simply to receive a token of gratitude from members of the local Rotary Club and Vincennes Cub League.

"Most first responders are not in it to get recognition or to get rich, not by any means," said Tim Smith, chief of the Vincennes Township Fire Department, as he made his way inside the Fortnightly, the smell of hamburgers on the grill filling the cool, late summer air. "But the mere act of someone saying, 'Thank you,' and recognizing their efforts, that's what they really appreciate."

Rotarians four years ago partnered with the Vincennes Cub League in extending a gesture to local first-responders. Amid a national movement to offer a greater sense of appreciation, they opted to host for them a simple lunch, grilling out hot dogs and hamburgers, a side of chips and a cookie, too.
Response has been great, said Rotarian Jim Gislason as he greeted firefighters and police officers as they arrived; on Tuesday, they welcomed nearly 50, taking an additional ten meals out to the Knox County Jail, too. It's a simple meal, but it's an easy way for them to offer a much-deserved thank you, Gislason said. "Everybody is so appreciative, and sometimes they sneak an extra cookie," he said with a chuckle. "It doesn't have to be a lot and it doesn't have to be fancy, but its good and they appreciate it."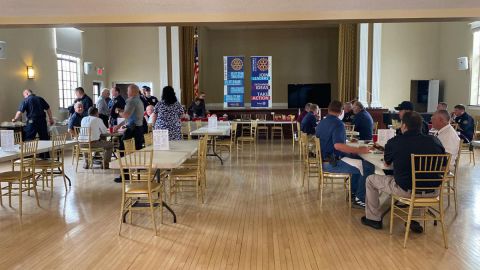 Inside, uniformed police officers and firefighters — as well as members of both the local Rotary and Vincennes Cub League — sat at tables in fellowship, enjoying a good meal."This shows appreciation to all the first responders in the county that give their time — some of them are paid, some are just volunteers — and serve the community," Smith said. "We know people are grateful, and this is a good showing of that gratefulness. "It's something simple that really makes first responders feel good."

And that's all local Rotarians are trying to do, Gislason said.
"These people serve us day in and day out in our worst-case scenarios, fires, accidents, all kinds of things," he said, "and when we see them, we're not in any great mood. We're not going to say, 'Thank you.' We're going to say, 'Gosh, it hurts or whatever.' "This is a way for us to smile, and say, 'Thank you.' "
---
We hope you plan to join us on November 18th in Columbus
for the Friends of the Foundation event!!
(more details to follow)

---

IU-Bloomington Rotaract is off to a fast start in 2022-23
by Jim Bright, Global Scholarship Chair, Bloomington Rotarian
The 30-member IU-Bloomington Rotaract Club is off to a fast start in 2022-23. *We have weekly volunteer activities and programs with speakers," says IU-B Rotaract President John Miller. "Most recently, we volunteered to help out at IU's Hilltop Gardens and Nature Center (About: Hilltop Gardens: Indiana University) and at the Rotary-sponsored Teachers Warehouse where we helped sort school supplies donated for students in grades K-12 in six counties."

Rotaract meets at 7 p.m. Tuesdays in Woodburn Hall Room 106.
Bloomington Rotarian Ashley Wesley of Boys & Girls Clubs spoke at a recent meeting.

President John Miller, an IU Hamilton-Lugar School of Global & International Studies sophomore, is focusing his studies on international law and Chinese. "I joined Rotaract last year, and it was my first introduction to Rotary," says John Miller, an IU Hamilton-Lugar School of Global & International Studies. John is focusing on international law and on Chinese. He also works as a Spanish translator, and he's active in IU's Chinese Flagship Program.

Fellow Rotarians,
Do you have kids or grandkids at IU who might enjoy an "on campus" Rotary experience? Invite them to follow the IU-B Rotaract club updates on instagram. For updates on meetings, join the club's and GroupMe page.

Questions? Contact Rotaract President John Miller at Johnmmiller1022@gmail.com.
Rotaractors help out at IU's Hilltop Gardens and Natures Center …
And at Teachers Warehouse ...
From left: Athziny Marrufo, Joana Regalado, Vicky Dong and Rolando Reyes
---
Rotary Club of Clark County Brings Together Optimists, Kiwanis, and Lions Clubs for a Joint Week of Service



Mary Kramer and Bob McIntosh with the Rotary Club of Clark County
with the Public Collection mobile trailer.
by Mike Mustain, President, Clark County Rotary Club
In the weeks leading up to September 11-17, the Rotary Club of Clark County (RCCC) Club President Mike Mustain brought club Presidents and service committee members from the Optimist Club, Kiwanis Club and Lions Clubs in Clark County together to discuss a "Joint Week of Service" project. The goal was to determine a service project that would benefit people both locally and internationally. After hearing many great ideas from the other clubs (some of which we intend to circle back to), the committee arrived at a project brought forward by RCCC member Bob McIntosh. As a joint service project, we partnered with the WaterSteps organization and the schools of Clark County.

WaterSteps collects donated shoes to sell internationally to put shoes on those who have no shoes. The profits from the sale of the donated shoes fund the organization's water purification station assembly operation. In essence, WaterSteps puts shoes on those who have no shoes to provide clean drinking water to those who don't have it. WaterSteps assists with clean drinking water stations both domestically and abroad. They have assisted in Western Kentucky following tornados, Eastern Kentucky following flooding and most recently in southern Mississippi when their drinking water was compromised.

With the assistance of every Clark County Indiana school, our project placed shoe collection boxes in every school lobby. Students and staff were asked to donate shoes. Members of all four organizations took an active part in the collection of donated shoes. ADDITIONALLY, we asked for glasses and hearing aid donations which the Lions Club processed separately from the Shoe Drive.

Our Jeffersonville High School InterACT club was very instrumental in the shoe drive at their school. The Alumni Association of Our Lady of Providence High School put the word out to their organization to bring shoes to sporting events. We also placed a attended Public Collection mobile trailer in 4 different communities over a total of 5 days for 4 hours each day.

The project was a huge success! We collected almost 1,500 lbs. of shoes, almost a hundred pairs of glasses and a hearing aid. It is estimated that every 3 pairs of shoes equals one water purification station for life for someone!

The clubs are already planning to work together on other projects throughout the year as well as planning for next year!

Thanks to Rotary for the opportunity to serve!
RCCC President Mike Mustainand Mickey Higdon ,Clarksville Optimist Club with shoe collections.
---
What's Coming up on the 21-22 and 22-23 District Calendar????



2022

October
22nd: District Leadership meeting: Strategic Planning: Location: Peggy's cabin/Mitchell
22-23 RYLA
24th: World Polio Day

November 10th: Conversations that Matter: Zoom event. 'The Rotary Foundation' Join DG Lance, Foundation Chair Jessika Hane, and our guest PDG Dan Ryan, who is Zone 30 - Rotary Regional Foundation Coordinator for a facilitated 'deep dive' into our Foundation.
12th: Youth Exchange Interviews
15th: Speech Contest Club Commitment Form due (for both local and district contest)
18th: Friends of the Foundation Event: Friday: 5:30 - 7:30 pm EST: Helen Haddad Hall, Columbus

December
1st: First District Grant Training (There will be two. Two members of your club must attend one of two) 5:00 pm EDT
6th: VIRTUAL District Assembly: 6:30 - 7:00 pm EST: Training topics will include: Membership, Foundation, Public Image, Youth, and DEI.2023

January 19th: 2nd (One of two). District Grant Trainings (Two members of your club must attend one of two) 5:00 pm EDT

February 15th: Speech Contest: District Entry Participation form due
24th: Paul Harris Society Foundation Event: Friday (Location to be determined)

March lst: District Speech Contest: Videos Entry Recordings due
18-19th: President-Elect Training Seminar, Effingham, Ill.

April
22nd: Rotary District Conference 2023, Terre Haute Convention Center

May
13th: Major Donor Dinner (tentative) Saturday
27-31, 2023: Rotary International Convention 2023, Melbourne, Australia

June
District Changeover (date and location to be announced)
---