District Leaders
Lance Eberle
District Governor
Shanon Kae O'Toole
District Governor Elect
Mandy Jo Lohrum
District Governor Nominee, AG, PHSociety Chair
Randall D. Wheeler
District Secretary
Todd M Boilanger
Assistant Governor
Mike Crumbo
Assistant Governor
Gary Keith Hackney
Assistant Governor
Joy Kahn Harter
Assistant Governor
Kim Ingalsbe
Assistant Governor
Sharon Gail Oliva
Assistant Governor
Scott Peyton
Assistant Governor
April is Maternal and Child Health Month
in the Rotary World!!!
Featured in the April 2023 Newsletter:
**DG Lance's April Message


**'Early Bird' Registration for District Conference EXTENDED to April 7th:Top Ten Reasons
to attend the April 22nd District Conference in Terre Haute


**Bloomington Rotary celebrates the Key Role of Women


**Martinsville Hosts State of the City Address and Takes Opportunity to tell the Rotary Story
**Land of Lincoln President Elect Training (PETS) trains Rotary Leaders
**Antonio Oliva IS 'Sergeant Major Sunshine' for Evansville Rotary @ Night
**Columbus Rotary Club's District Project, Steam for Students,
provides a Learning Experience to Students...and so much more!!
**IU Rotaract Raises funds to Support Disaster Relief in Turkey
**District 6580 kicks off new PolioPlus Society: Become a member, get a pin....Help Eradicate Polio!


**Have you ever heard of 'GLOW GOLF'??? Check with Vincennes Rotary Club!


**Franklin Satellite Group of the Rotary Club of Franklin seeks support for project
to provide food for families in Ukraine
**What's Coming up on the Rotary Calendar????
Do you know any stories of Rotary's work in your community to share in this newsletter? Please contact Bettye Dunham, bdunham@rauchinc.org.
---
DG Message:
Greetings District 6580 Rotarians.

As the old saying goes, March showers bring April flowers. Oh wait, that should be April showers bring May flowers. Certainly, I hope you've all been able to keep dry during the monsoons that we've had in the past month. As we closed out the month of March, Women's History Month, I would be amiss if I didn't give a shout out and recognize the vital rule that women members have played in Rotary. It is hard to believe that women were first allowed in Rotary jets 36 years ago. What a difference that has made. I would like to also give recognition to our current G-line, which includes Shanon O'Toole, Mandy Lorum, and Kari Akin. Our district is certainly in good hands as we move forward into the future.

April is also an extremely exciting month as our District Conference will be taking place. On Saturday April 22nd, we will be gathering at the new Convention Center in Terre Haute IN to once again catch up with our friends, share best practices, develop new contacts, and join together in a service project. The Conference Committee has worked hard to make it an exceptional day of speakers and breakout sessions for your benefit, as well as to take the opportunity to recognize all of the great work that Rotarians have done over the past year. In addition, we have the inaugural Rotary Youth Summit to take as part of the Convention. This represents an opportunity for our Interactors in RYLA participants to come together, network, develop their leadership skills, and share ideas in addition to participating in the keynote addresses and the service project with fellow Rotarians. Please make sure that you register for this for the Conference prior to April 11th. I look forward to seeing everyone there.

As I was able to attend the president-elect training earlier this month in Effingham, Illinois, I would like to offer my sincere thanks to the current Presidents and the President Elects for stepping into their roles. The Club President position is the most important role that we have in Rotary. It's certainly where all the work and magic of Rotary happens. I would encourage all Rotarians to consider taking on leadership roles within their Clubs or the District. I am certainly grateful for all the blessings that Rotary has provided me in the various and various leadership roles. Please do not hesitate to contact myself or any of the other district leaders with any questions that you have.

Lastly, let us remember that April is environmental month. Rotarians are committed to supporting activities that strengthen the conservation and protection of natural resources, advance ecological sustainability, and foster harmony between communities and the environment. Please use this as an opportunity to address environmental issues and come up with projects that will help us plan for our and our children's future.

Thank you for all of your service.

Lance Eberle
District 6580 Governor 2022-2023
1405 N. College Ave.
Bloomington, IN 47404
812-360-0357
lance.district6580@gmail.com
---
'Early Bird' Registration date extended through April 7th
Rotarians: Join us in Terre Haute for the
April 22nd District Conference

at the Terre Haute Convention Center!!

REGISTER TODAY AND SAVE!!!
COST: $129 (until April 7th; $149 after that date)
To register go to: https://www.dacdb.com/index.html?EventID=77634021
(If you have ANY problems registering, please contact Bettye Dunham, bdunham@rauchinc.org)

TOP TEN REASONS TO ATTEND THE APRIL 22nd CONFERENCE
10. See old friends. Make new friends.
9. Enjoy the downtown area of Terre Haute including the many attractions.
8. Share best practices. Bring home ideas to make your club even stronger.
7. Celebrate the many successes of your club and clubs throughout our district over the past three years. 6. Visit the House of Friendship and have an opportunity to take away great gifts and contribute to The Rotary Foundation at the same time!
5. Enjoy a continental breakfast, lunch and dinner, three keynote presentations and breakout sessions and more!
4. Meet youth from around the district as part of the Youth Summit.
3. Come away inspired!
2. Make a difference by participating in the "Bountiful Books" service project.
1. The conference might just change your life!!
Sign up TODAY for the Saturday, April 22nd District Conference at the new Terre Haute Convention Center!

To register, go to: https://www.dacdb.com/index.html?EventID=77634021




WHO

: All Rotarians and Rotaractors in southern Indiana clubs

WHEN: Saturday, April 22nd, 8:30 a.m. through dinner

WHERE: Terre Haute Convention Center, 800 Wabash Avenue, Terre Haute.


PROGRAM SCHEDULE – For the schedule and other info, visit the district website at www.rotary6580.org.

SERVICE PROJECT – Rotarians are encouraged to bring books for children K-6 to donate for the service project. Join fellow Rotarians and Youth Summit attendees to sort these books and others donated by Half Price Books for distribution to all schools in Vigo County.

HOTEL – The Hilton Garden Inn is attached to the Convention Center and the Candlelight Hotel is across the street.


Questions? Contact Bettye Dunham at (502) 609-1923 or bdunham@rauchinc.org.
WE HOPE TO SEE YOU THERE!!
---
Bloomington Rotary celebrates the key role of Women

By Alain Barker, President, Rotary Club of Bloomington and Glenda Murray, Club Historian

With March as Women's History Month, the Bloomington Rotary Club celebrates the vital role women members have played in the organization. We thank them for their leadership and service above self and know that the future is strong with their increasing involvement in our activities.

It's striking to note that it was just 36 years ago, 1987, that the US Supreme Court determined that women should be allowed to join a small Rotary Club in Duarte, CA. Upon hearing the news and ready to jump into action, Bloomington Rotary (with leadership from President Bud Kohr immediately recruited Vickie Thevenow from county government, Judy Talley from the IU Bloomington Hospital Foundation, and Margaret Joseph from WFIU.

1988 new members included four women still with the club. From those small beginnings, we now have 47 women who are members, and that's 35% of the club.

So far, we've had 11 women presidents of the club. Judy Witt, formerly of WTIU, led us in 2003-04. She also served as Assistant District Governor in 2005-07 and as District Governor in 2007-08, the first woman from our club to serve in a district capacity.

Charlotte Zietlow has played a significant role in guiding and building the Bloomington Club and was appropriately celebrated in 2021 as the Bloomington Rotary Toast honoree. Judy Witt led the club in creating Teachers Warehouse as our centennial project.

Our Club continues to thrive with many new women members. Since January 2021, 20 women have joined the Club. We celebrate the diversity of thought, civic leadership, professionalism, and wisdom all these amazing members bring to our Club and are thankful for their commitment to service.

Two final pieces of history in the Club:

• Joyce and John Poling may have been the first couple to join Rotary in the country.

• In 1990, Monica Kroener traveled back to Germany as a new Rotarian. Upon appearing at a local club as a guest Rotarian, she was first told that she wasn't allowed. In response, she explained she was already a Rotary member, which motivated the club to seriously consider women members in their club – proving that the power of Bloomington Rotary Club members resonates worldwide!
---
Martinsville Hosts State of the City Address and
Takes Opportunity to tell the Rotary Story


Mark Uebel, President, talks about the power of community service.
by Mark Uebel, President, Martinsville Rotary Club

On March 14th, we co-sponsored the Martinsville State of the City Address with the local Chamber of Commerce. It was attended by 300 people. It gives us the opportunity to partner with the Chamber, tell the Rotary story to the community and share in the proceeds.

Among our projects this year has been partnering with Teachers Warehouse in Bloomington. Teachers Warehouse collects classroom supplies. Teachers can obtain supplies free of charge. In the MSD of Martinsville, 200 teachers obtained supplies worth over $33,000. Our commitment is tand $500 fee as well as to volunteer a few hours a month when teachers can shop and to help collect the supplies.

In addition, one of our members, Judy Bucci, was presented the Ruth Rusie Spirit of Service Award. Judy is a long-time member of Rotary, having joined while she was the Executive Director of our local Y. Since retiring from that position, she has used her talents with the Martinsville Arts Council and Stability First (a local shelter for women). The Ruth Ruie Award is named for a local woman who gave of herself in just about any endeavor that promotes the community. In her late 90's, she was the national United Way volunteer of the year.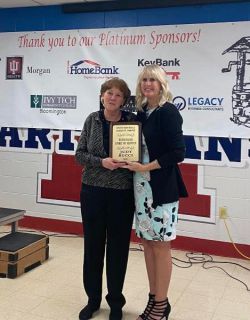 Rotarian Judy Bucci (left) is with Darcy Quakenbush of the Chamber.
Judy received the annual Ruth Rusie Spirit of Service Award.
Now the invitation, in the evening of June 20 we will hold our turnover dinner for the incoming president. You are all invited and feel free to bring a guest
.
It is a great day to be a Rotarian.
---
Land of Lincoln President Elect Training (PETS) trains Rotary Leaders




President-Elect Class of 23-24
by Shanon O'Toole, DGE

As I reflect on our PETS experience, I am inspired! We have a district full of President Elects, President Nominees, Assistant Governors, and other leaders that spent the weekend learning, collaborating, team building, having fun and building excitement. By Sunday afternoon, we all had new ideas and felt empowered to lead our clubs to "Create Hope in the World".
RI President-Elect Gordan and wife, Heather in their District 6580 Glow/Grow Rotary T-shirts.
Our general sessions made an impact on everyone in attendance. Our incoming Rotary International President, Gordon R. McNally and our incoming Zone 30/31 Director, Beth Stubbs both made special visits in our District breakouts and gave inspiring presentations on Sunday about Creating Hope in the World, mental health, growing Rotary and empowering girls. Everyone shared amazing personal stories about the importance of the Rotary Foundation and our global impact. Jenny Stotts, our Assistant Rotary Zone Coordinator shared why she is #rotaryhappy. We also heard from Monica Nea' Jones (Miss Illinois) about uniting diverse souls through MUSIC and Dr. Kenneth Holland shared the impact of Rotary and the Defense of Democracy.

As a District we are excited to #createhopeintheworld #glowrotary and #growrotary
I want to thank everyone that attended for your commitment and participation. Rotary District 6580 has amazing passionate leaders!

Shanon O'Toole
District Governor 2023-24
---
Antonio Oliva
IS
'Sergeant Major Sunshine'
for Evansville Rotary @ Night
by Antoni Oliva, Sergeant Major, USMC, and Sunshine Chair for Evansville@night
"Even for me, life had its gleams of sunshine." – Charlotte Brontë, Jane Eyre.
How does this quote tie into my Rotary function as the Sunshine Chairperson? I'm better known within my Rotary club as Sergeant Major Sunshine, after having spent more than twenty-eight years of active duty in the United States Marine Corps and with numerous deployments away from home, receiving a handwritten letter from home always brought me joy, happiness, and you can say a little sunshine on a day when the going was going a little tuff.

I take this responsibility as the Sunshine Chairperson very seriously, because I enjoy sending out handwritten cards to my fellow Rotarians during special occasions, such as birthdays, anniversaries, funerals, or just a thank-you for a job well done. In today's fast-paced world and with the arrival of email, and social media, hand written letters and notes maybe by-gone days, but not at this club. Hopefully, once received, it brings a smile, joy, happiness or a little sunshine to the person receiving the card.
---
Columbus Rotary District Grant Project, Steam for Students,
provides a Learning Experience for students...and so much more!!



Dawson Payne, son of Brian Payne, the Coordinator of our Club's Grant Project, was our instructor for the Robotics project. Dawson is giving instructions on how participants can assemble a robot.
by Bob Morrison, Columbus Rotary Club

The District Grant Project our Club organized and hosted was a new learning project for 5 and 6th grade students we called Steam for Students. The event was held on Saturday March 4, 2023 from 8 a.m. to 3 p.m.at the Columbus Propeller Maker Space located in Columbus at the Columbus Municipal Airport. Our Club Project leader was Rotarian Brian Payne who was the Master Mind behind the various projects for the Camp. Besides the Rotarians that were involved we had volunteers from Columbus Propeller and Brian's entire family was involved in the day's events. We thought this would be a great learning experience for the parents and students but want happened was so much more!
Participants starting the assembly of a wooden box that was the first step of the planter box.
The day was broken up into 7 forty-five minute work sessions and a lunch break. Students and their parents or guardians were assigned to one of 3 groups. Each group would be doing a different task or project in each work session. The main project was to combine tasks in four of the sessions to assemble a small planter box. This would involve work sessions in wood working, metal forming, painting, decorating and planting. In addition, there were tasks working with electric circuits, robots and building a marble maze we named Marble Madness. The creative designs each team came up with were crazy creative! The goal was to build a maze for a marble to travel through without stopping, but took the most time to get from start to finish. The maze had to be built with recycled cardboard, paper and tape only. The seventh project area was a demonstration of 3-D printing.

There were students from 6 different Bartholomew County schools plus students from Marion, Monroe and Shelby Counties along with home-schooled students.
The Columbus Rotary Volunteer Team: Rotarian Mandy Wyant and her children Virgina and Will, President Brenda Vogel, me in the yellow Rotary hat, Pete King, Rajesh Thyagarajan, Barb Stamper, Dr. Jim Roberts and Brian Payne.
---
IU Rotaract Raises funds to Support Disaster Relief in Turkey
by John Miller, President, IU Rotaract, Hamilton Lugar School of Global and Inernational Studies
After seeing the earthquakes and subsequent destruction that occurred in Turkey in February, our club decided to reach out to one of many Rotaract clubs located in Turkey. We knew we wanted to fundraise to help support disaster relief in Turkey. It just so happened that we had an upcoming fundraiser planned with Chipotle in may, so we thought this could be a good avenue to raise some funds. After talking to the Erenkoy Rotaract Club in Istanbul, they recommended the money we raise be donated to NGO Ahbap, a Turkish NGO helping on the ground in Turkey after the disaster struck.

After promoting our fundraiser on campus and in Bloomington, through organizations like the Turkish student association. Middle eastern student association, and Bloomington Rotary clubs we were able to fundraise about $150 for the Ahbap NGO?

If you would like to assist in this effort please contact John at this email:jmm52@iu.edu
---
District 6580 kicks off new PolioPlus Society
Become a member, get a pin....Help Eradicate Polio!
by Jim Gislason, District PolioPlus Chair, Vincennes Rotary Club
February 2023 was the kickoff for the new PolioPlus Society in District 6580. Jim Gislason, PDG is heading up the membership drive in the District.

Understandably, the early members were District officers and members of Jim's Vincennes Club (Ten members of the Vincennes Club signed up the first week)

The purpose of the Society is to raise awareness and help raise additional monies for the fight against Polio. We need to raise a few million dollars more to complete the eradication of Polio in Afghanistan and Pakistan and Rotary can, and will ,do it!

There is a link to a registration form at the end of this article for members of any club in the district. Spouses of members are welcome to join too. The minimum donation to PolioPlus is $100 per year. Make checks payable to: The Rotary Foundation PolioPlus. Send the completed form with your RI Membership number (where indicated on the form). If you don't know this number, you can find it on your Rotarian Magazine label.

A new PolioPLus Society membership pin has been issued and was presented to those members in attendance at the Foundation reception in Newburg on February 24th. You, too, can have one of these red pins, just fill out the application and include your check for $100 and send it to:
Jim Gislason
PolioPlus Society
111 Hendron Hills Dr
Vincennes IN 47591

Registration form: https://www.dacdb.com/Rotary/Accounts/6580/assets/6580polio-plus-society-membership-form%20(003)%20%20revised.docx
---
Teacher's Warehouse Provides FREE School Supplies
to teachers and other educators


through the

TREMENDOUS SUPPORT

from the Bloomington Rotary Club and Bloomington North, Bloomington Sunrise, Brown County, Bloomfield, Bedford Rotary clubs and now Martinsville Rotary Club




by Anne Bright, long-time volunteer and board member for Teacher's Warehouse and Bloomington Rotary Club supporter
Teachers Warehouse is a "store without a cash register" that offers free school supplies to public school teachers, librarians, counselors, health aides, and other support staff in Monroe, Lawrence, Owen, Brown, and Greene counties. This school year, with the support of the Martinsville Rotary Club, teachers in the Martinsville school district are now eligible to shop.
Opened in 2004 by the Bloomington Rotary Club to serve Monroe County elementary school teachers, Teachers Warehouse had 79 shopping visits its first year and was located in a small business space with a garage. Discovering a much broader need, shopping eligibility was expanded through the years to other counties and middle and high school teachers were included. This expansion happened with the continuing support of the Bloomington Rotary Club and additional support from Bloomington North, Bloomington Sunrise, Brown County, Bloomfield, and Bedford Rotary clubs. Through March 5th, this school year alone teachers have made 2,056 visits to Teachers Warehouse and have taken materials valued at $381,449 back to their schools.

Teachers Warehouse became a 501(c)(3) in 2006 and is now located in a former alternative school building on Fairview Ave. in Bloomington. Teachers enter the lobby where they check-in and check -out. Seven former classrooms are labeled Paper, Project, Classroom, Stem, Book, and Furniture to indicate the materials found on shelves or within each room. Material donations are brought into the garage where volunteers sort, clean, and repackage materials for shelving.

Teachers Warehouse depends on material donations from individuals and businesses but also has an annual supply drive in July at grocery stores and office supply businesses. Rotary volunteers give customers lists of our most needed supplies and collect them as people leave the stores. Contributions from Rotary clubs, grants, and an annual letter to donors raises additional funds to order new supplies.

Teachers Warehouse is an all-volunteer organization with no paid staff and a board that includes Rotarians. Everyone is dedicated to the Teachers Warehouse mission to serve the educational and creative needs of children by providing teachers with materials to make their lessons more effective and engaging.
Please follow Teachers Warehouse on Facebook to see pictures of happy teachers checking-out free supplies and visit TeachersWarehouse.org for more information. If you are close to or visiting Bloomington, don't throw away materials teachers might use; bring them to Teachers Warehouse. No item is insignificant: shoe boxes for crafting items to paper and books. Teachers say shopping at Teachers Warehouse sparks their creativity, and they appreciate saving on supplies they may pay for out-of-pocket.
---
Have you ever heard of '

GLOW GOLF

'???


Vincennes Rotary Club has!





by Andew Hinz, member, Vincennes Rotary Club

The Vincennes Rotary Club is putting on a night golf outing titled "Glow Golf" at their local golf course, Cypress Hills Golf Club. This event is taking place May 13 where they will be serving a steak dinner before taking to the course for a full round of golf... that evening. The idea for a "Glow Golf" outing comes from the club wanting to not only raise funds, but have a good time doing it. Combing community and fun makes it a simple annual event to gain interest, as the 20 team spots sold out in less than 48 hours!

The event proceeds go towards a new cause each year, but this year towards one near and dear to our hearts, Christyn's Place. Our President-Elect, Chelsea Harrington, tragically lost her daughter last year and a large play area is going into one of our local parks, which is to be named after her, Christyn.
---
Franklin Satellite Group of the Rotary Club of Franklin
seeks support for project to provide food for families in Ukraine


By Lisa Linter, Franklin Rotary Club
Dear Rotary Club colleagues,

The Satellite Group of the Rotary Club of Franklin, IN is requesting your involvement in raising funds for an urgent cause. As you are aware, there is an ongoing crisis in Ukraine that has forced thousands of families to flee their homes in search of safety and shelter. These refugees are in desperate need of food and other basic necessities, and we are organizing a project to pack and ship food packages to them.

We are seeking your support as we partner with Pack Away Hunger to pack 100,000 meals to ship to a Rotary Club in Ukraine for distribution. We have already secured funding for the shipment. We are hoping your club, you as an individual, or someone/business you may know will make a contribution. Your involvement can make a significant impact on providing the necessary funds of $35,000, to purchase and package the food. We would greatly appreciate your help in spreading the word about this project and encouraging clubs, individuals and businesses to donate generously. There will also be a volunteer service opportunity as we create the meal packets with Pack Away Hunger. .
Tim Thurston, Franklin Club's current President, as we worked a Pack Away Hunger event with
Grace United Methodist Church in Franklin.
Together, we can make a meaningful difference in the lives of these refugees. Thank you for considering our request, and we look forward to working with you to support this critical cause. Please contact Franklin Satellite Group members Carol Phipps at c.phipps@live.com or Lisa Lintner at lisa.lintner@gmail.com to get involved or support financially.

Will you join us in supporting this project to benefit Ukraine? Rotary Clubs, individuals, businesses, and organizations may receive a tax-deductible donation by making a gift through Pack Away Hunger using this link: https://donate.packawayhunger.org/rotary-ukraine-relief
---
What's Coming up on the 2023 District Calendar????



2023
April:

Rotary Theme: Maternal and Child Health


5th: For PE's, PN's, and AG's: Virtual Post PETS Q&A:
22nd: Rotary District Conference 2023, Terre Haute Convention Center: To register go to:
27-31, 2023: Rotary International Convention 2023, Melbourne, Australia



June: Rotary Theme: Rotary Fellowships


17th: District Changeover in Vincennes, Rotary Polio Room, Good Samaritan Hospital

July: Rotary Theme: Transition Month - New LeadershipAugust: Rotary Theme: Membership and Club Development

September: Rotary Theme: Basic Education and Literacy 9th: District Assembly: 10 - 2 (location TBD)
21-24: Zone 30 and 31 Institute: Memphis, Tenn.

October: Rotary Theme: Community Economic Development
7th: District Leadership Meeting: 10 - 2, Mitchell
22nd: Polio Awareness Event, Lark Ranch, Loogootee, IN
24th: World Polio Day

November: Rotary Theme: The Rotary Foundation 17th: Friends of the Foundation Event: Location TBD

December: Rotary Theme: Disease Revention and Treatment
2024
January: Rotary Theme: Vocational Service
Grant Training Sessions 1 and 2 (Date TBD)

February: Rotary Theme: Peace and Conflict Prevention/Resolution 23rd: Paul Harris Society Foundation Event: Location TBD

March: Rotary Theme: Water and Sanitation

April: Rotary Theme: Maternal and Chlld Health
20th: District Conference 2024, Evansville, In. Location: Old National Bank Plaza

May: Rotary Theme: Youth Services
25-29: Rotary International Convention 2024 in Singapore

June: Rotary Theme: Rotary Fellowships Change Over: Date and Place TBD
---