Jennifer Jones


RI President 2022-23


David Houtz


District 7450 Governor
Swarthmore Rotary Leaders
---
Happy Dollars
pledge $3,647
2021-2022 $4,476
---
Birthdays
Wedding Anniversaries
Years of Service
No Years Of Service Found
---
Guests Last Meeting
unknown
---
Meetings and Events
June 15th, 12:15-1:30 PM
Swarthmore Weekly Club Meeting
Speaker: Viktoriia Zakharova, student, Swarthmore College
Subject: Unplugging e-waste from Swarthmore
June 22nd, 12:15-1:30 PM
Swarthmore Weekly Club Meeting
Speaker: Club Activity
Subject: Club activity on behalf of CARING FOR FRIENDS, a nonprofit organization
June 22nd, 1:30-2:30 PM
Caring For Friends
Location: The Inn at Swarthmore
June 29th, 12:15-1:30 PM
Swarthmore Weekly Club Meeting
Speaker: Pat Francher, Manager of the Swarthmore Farmers Market
Subject: What's New With the Farmers Market
---
Service Quotation
"The youth of every generation has stood in a critical position, for the scales have been tipped one way or the other by the training they received from their elders. This is particularly true today. Our boys and girls have greater freedom, exercise greater power, and have more opportunities for both good and evil, than ever before. How important it is, therefore, that youth's great possibilities for good be realized and developed!" Angus S. Mitchell, 1948-49 RI President
4 Way Test
Of the things we think, say or do
Is it the TRUTH?

Is it FAIR to all concerned?

Will it build GOODWILL and BETTER FRIENDSHIPS?

Will it be BENEFICIAL to all concerned?
Club News
Ruth Ndwiga visited from the Rotary Club of Embu, Kenya.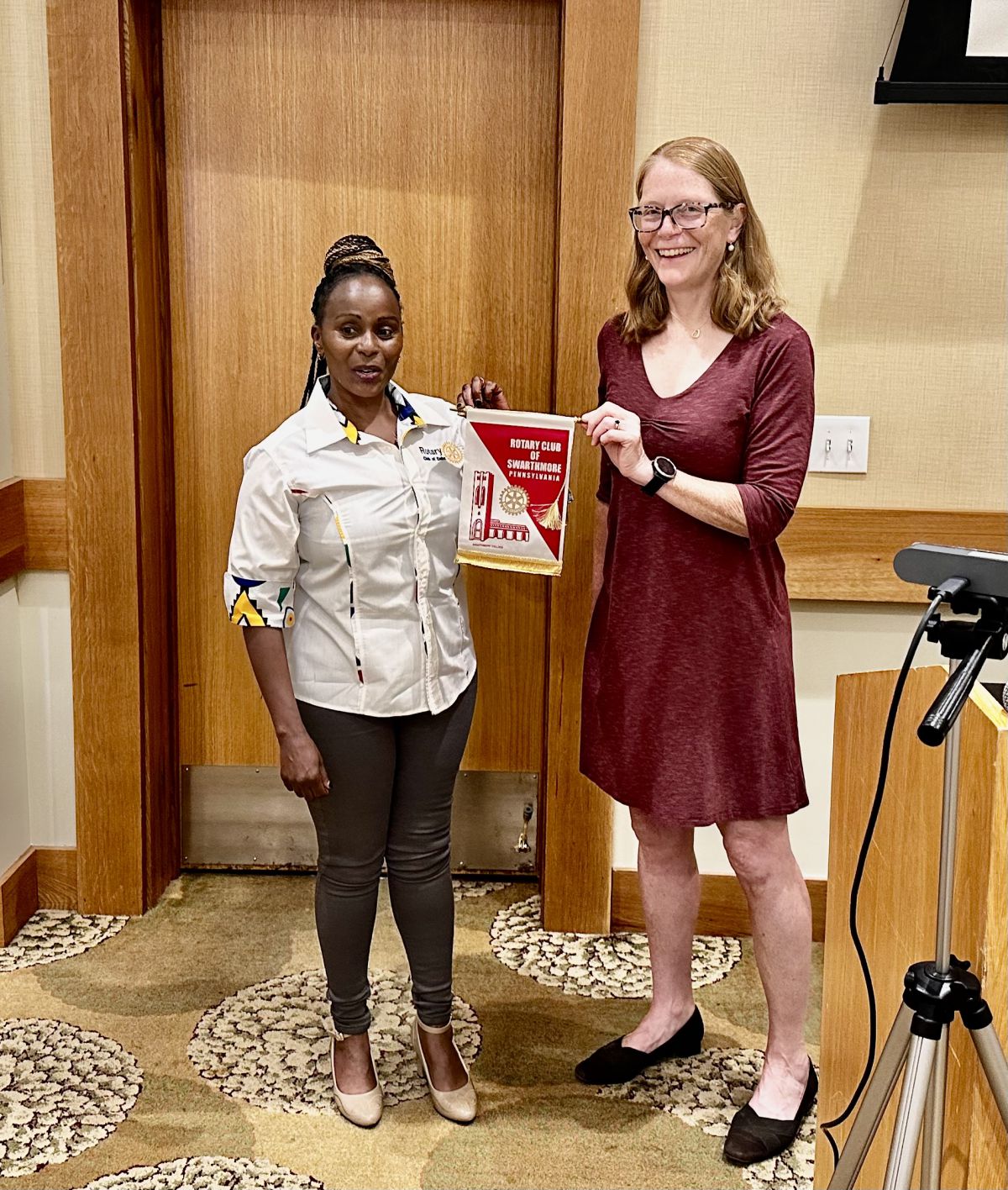 Last Meeting Summary
President Heather Saunders introduced the recipients of the 2023 Swarthmore Rotary and Women's Club Scholarships. The $3,000 scholarships went to Annie Tolson and Luke DiBonaventura.
Annie lives in Wallingford and is the daughter of Carly and Noah Tolson. She plans to attend Catholic University in the Fall.
Annie has been very active providing service to the community. She has volunteered at Chester City Team Ministries for ten years. She started and participated in many other organizations and activities such as "The Bucket Fillers", the Superintendent's Policy Committee, planning the District Wide MLK Day celebration, and volunteering at political campaigns. Annie intends to major in political science on a pre-law track.
Luke DiBonaventura lives in Swarthmore with his mother Tracy, father Stephen, and two younger siblings. He plans to attend American University in Washington D.C.
Luke volunteer services included "City Team" in Chester, "Books through Bars" in Philadelphia, and "Leap into Learning" in Delaware County. He also volunteered at several political campaigns.
Luke plans to major in Communication, Legal Institutions, Economics, and Government. His long-term goal is to be a public-interest lawyer.