Arcadia Rotarians Walk in Support of Cancer Cure
Spearheaded by the Arcadia Rotary Club's Tony Parrille, Eric Barter and Mike Ojeda, members joined hundreds of others in the Arcadia community in the fight against cancer at the American Cancer Society 24-Hour Relay for Life held June 26-27 at Santa Anita Racetrack.
Relay for Life "brings together more than three million people each year to celebrate the lives of those who have battled cancer, remember loved ones lost and empower individuals and communities to fight back against the disease." In addition to raising awareness, the event is also an opportunity for people from all walks of life to raise funds for research.
Calling the Relay a positive event of hope, Parrille said the disease has touched everyone's life in some way and club members were honored to be there to support the survivors as well as remember those we have lost.
As evening fell, glowing bags called luminaria lit the infield footpath, each one representing a life that has battled cancer. Throughout the 24-hour period, volunteers continued to walk, lend support for each other, enjoy karaoke, and visit the various exhibits including an Arcadia Rotary Club sponsored ShelterBox, part of a disaster relief program sponsored by Rotarians in six countries.
"ShelterBoxes provide temporary shelter during disasters such as earthquakes or floods and can house up to ten people," said Barter. "They include comforts such as thermal blankets and other lifesaving equipment depending on the nature of the disaster."
Volunteers greeted the dawn of Sunday morning with a feeling of satisfaction.
"I'm a bit tired, but so proud of what we have accomplished here," said one volunteer.
"The American Cancer Society set an event goal for Arcadia of $80,000 and I am proud to say that we not only beat that goal but shattered it by raising $103,800, with donations still coming in," said Carter Spruill, American Cancer Society event chairman. "I think that is an incredible number and I want to thank all of you for making that possible. This event means a lot to me and by the amount of money we raised, I would say that it means a lot to all of you as well."
Rotarians donated $500 out of the club's community service budget along with an additional $1,000 in member contributions.
"The Arcadia Rotary Club was proud to support this great cause," said Ojeda. "We want to thank our members for their participation and the Arcadia High School Interact Club for helping us out."
First held in 1985, almost 5,000 communities in the United States have played host to the event which to date has raised more than $2 billion in the fight against cancer.
---
Young Rotary Readers Eager for Book Donations Celebrating Program's Tenth Anniversary
Eager little elementary school faces gathered around San Marino Rotarian Will Bortz, founder of Rotary Readers and past president of the club, as he presented nearly 1,000 books to Longfellow Elementary School's principal Erica Ingber for the school's classrooms and library. The San Marino Rotary Readers program provided over 2,000 books this school year to schools in Pasadena and Alhambra, including Longfellow, Cleveland and Emery Park elementary schools.
The San Marino Rotary Readers program, originally called Reading-By-Nine in partnership at the time with the Los Angeles Times and Rotary International, has been expanded from its original K-3rd grades to encompass K-6th grades with San Marino Rotary now in partnership with Scholastic Books Publishers. In the program's ten-year history, San Marino Rotary members have donated approximately 16,000 books among twenty-one different elementary schools in the Western San Gabriel Valley.
"With such severe education budget cuts statewide, including in our San Gabriel Valley, school libraries have been greatly impacted," explains Rotary Readers chairman Will Bortz." It has become all the more imperative that we support the children's reading opportunities."
Bob Nafie, president of the Rotary Club of San Marino, notes, "The Rotary Readers program has made a significant contribution to elementary schools in our surrounding area that need extra help, and Rotarians who are already providing community service volunteer hours to these individual schools act as liaisons with the principals to provide San Marino Rotary Readers grants."
The Rotary Reader's program was founded ten years ago because a 1999 study determined that a major impediment to reading proficiency in the early elementary years was a lack of classroom reading books. At that time, the average number of casual reading books was only five in L.A. County elementary schools, and projections show it may be getting worse with the budget crisis.
For other clubs who may wish to start their own program, here's how it works: our Rotary Readers Committee acts as liaison with the local elementary schools. Age-appropriate books for each grade level are selected from the Scholastic Books catalogue by school personnel and then purchased by donation from the San Marino Rotary. Scholastic Books, a major book-publishing house, provides at least a 45% discount from regular retail prices, so many more books can be donated as a result. When the books arrive, donation bookplates noting the source of the donation, Rotary Club of San Marino, are affixed to each book. Both the Mideract Club at Huntington Middle School and the Interact Club at Southwestern Academy in San Marino, CA, assisted in affixing bookplates to the elementary schools' children's books.
---
Pahrump Valley Rotary Club Raises $26,000 in Just Two Days!
Pahrump Valley Rotarian Tom Saitta just happened to read an article in the local paper about the Food For Thought Program in desperate need. The program provides food to children whose only meal is usually the school lunch provided to them free of charge. Food For Thought volunteers fill the children's back packs with snacks and cereals and whatever food is donated, so these children can have food to eat outside of school hours.
This year, the Food For Thought program was very concerned about the children eating over summer vacation. They did not have the funds needed ($19,000) to continue their program for all the needy children, during the summer break. Upon learning this, Tom Saitta immediately took action and notified the Pahrump Valley Rotary Club of an emergency need for action!
Tom, along with fellow Rotarian Bill Kohbarger, called Karen Jackson, the owner of the local radio station, KNYE Radio. Together, the three of them coordinated a radiothon fundraising event in just a few short hours. Volunteers manned the phones for two days while Karen herself begged and pleaded for support over the radio to our community.
The phones rang off the hook for two days. Donations came from $5 in cash to $1,000 checks, plus boxes and cans of food to fill over two truck beds, plus a large shopping discount provided by Smith Food & Drug Store. By the end of the second day, along with the $500 donation made by the Pahrump Valley Rotary Club itself, the radiothon raised just over $26,000. This was more than enough to support the program over the summer and into the next school year.
---
Rotary Club of West Covina Goes to Bat for Local Little League
As we are all sadly aware, the economic downturn impacted many businesses and residents in our community. What you may not be aware of is that it also impacted the local little leagues and the children of our community from another angle. Budget constraints resulted in the closing of two of our Little League parks. For those clubs that remained open, they were left with little to no funding to cover the cost of basic gear, bases, bats, gloves, uniforms, helmets, etc. Parent pocket books were already stretched thin with the increase in fees. For many residents in the community, it felt like the tradition of Little League was about to come to an abrupt end.
In the true spirit of "Service Above Self," the Rotary Club of West Covina dug deep into their pockets, and without touching the budget were able to pull together over $500 for the West Covina National Little League. The donation went specifically for the refurbishment and purchase of helmets for the kids. In addition to the monetary donation, members of the club and their spouses donated their time to keeping stats at the field, field maintenance, and umpiring to help the League save money.
We are very proud of the children in our community and the values that Little League teaches our youth. In response to the generosity of the Rotary Club, the League helped promote the Club's first annual 5K race and said when called upon they would gladly help in any projects sponsored by the Rotary Club.
From the dismal outlook that began the season, to the positive and optimistic outlook that ended it, the Rotary Club of West Covina and the West Covina National Little League have created a collaborative partnership to benefit our local community.
For the children in the community, the echo and spirit of Little League continues…Play Ball!
---
SMHS Star Athletes Help Raise Funds for Rotary's Polio Plus: Rotary Community Fundraising Raises $29,500 For International Vaccinations
Thanks to two star athletes from San Marino High School whose impressive football and softball accomplishments earned matching funds from Rotarians and community partners, the Rotary Cub of San Marino exceeded its fundraising goal of $25,000 to help eradicate polio worldwide during its community drive ended June 30, for a total of $29,500.
Graduating senior and SMHS Football Team's running back Benny Hung rushed for a total of 1228 yards and 6 touchdowns while freshman Women's Softball Team pitcher Michelle Floyd achieved 301 strikeouts, leading the SMHS team into the CIF Quarterfinals for the first time since 2005. Both earned matching grants for Rotary's Polio Plus international eradication campaign. Benny Hung will be attending the University of Washington in Seattle this fall and is the son of Rotarian Isaac Hung and his wife, Celia. Michelle was named to the First Team All League and First Team All Area, and is the daughter of Rotarian Dan Floyd and his wife Julee.
"San Marino Rotarians thank the community for their support and donations to this important effort to eradicate polio worldwide. Rotary International's work since 1985 has resulted in a 99% drop in cases, from 350,000 to 1,595 last year. Polio remains endemic in only four areas, Afghanistan, India, Pakistan, and Nigeria, which is a major hurdle. We are half way in response to the $335 million challenge from the Bill and Melinda Gates Foundation," said San Marino Rotary President Robert Nafie. "We give great credit to our immediate past president and former San Marino mayor Emile Bayle, for his Polio Plus leadership for this fund drive."
"While most young people today do not live in fear of polio like earlier generations, and polio has been eradicated from the Western Hemisphere, it is important to remember that polio is just a plane ride away," notes San Marino Polio Plus chairman, Lee Mothershead. "Benny and Michelle are fine examples of young people who give back."
Polio Plus donation cans were widely distributed among the many San Marino retail businesses along Huntington Drive and in the Mission District. "Rotary teams walked the blocks in San Marino asking merchant support, and other teams reached out to organizations and neighborhoods for their nickels and dimes. We greatly appreciate everyone's participation," Lee Motherhead said. "There's simply no reason anyone should get this disease anymore."
---
Las Vegas Northwest Rotary Balloon Wranglers Fight Polio in Summerlin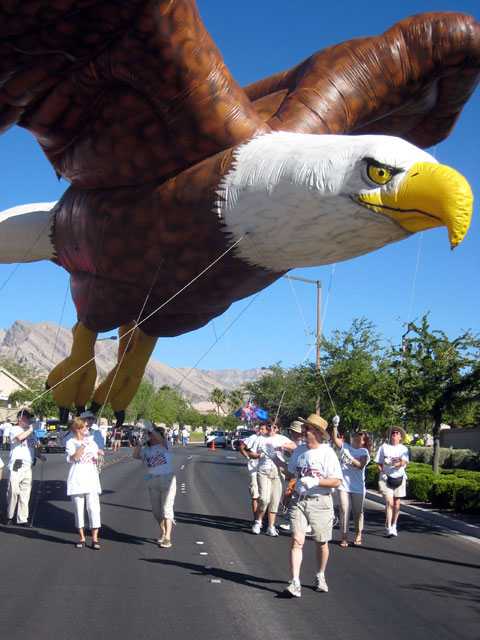 The Las Vegas Northwest Rotary Club walked this Independence Day so others won't need to crawl, crippled for life by polio.
Every year, the community of Summerlin in Las Vegas holds a Patriotic Parade. For the second year, Rotarians served as balloon wranglers, earning $30 a person for riding herd on the giant helium balloons in the Patriotic Parade. We Rotarians got triple bang for their buck because we're doing community service, the money for each of us goes towards the PolioPlus challenge grant, and it's great fellowship. We also rope in (an apt metaphor, don't you think?) friends and family. Organized by Dennis Filangeri of the Las Vegas Northwest club, participants also included Rotarians from the Las Vegas West and Fremont clubs.
There's a knack to balloon wrangling , mostly learning how not to wrap the ropes around your hands, and how to quickly let rope out or pull it in so as to avoid hanging the balloons up on the huge trees and the light poles and traffic lights that line the route. We had high visibility this year, since we were responsible for Uncle Sam's Hat, the oldest balloon veteran in the parade, the 33-foot-tall American Eagle balloon, and the Summerlin Parade balloon.
We line up around 8 and the parade kicks off at 9, to avoid the worst of the day's heat. Although as workers we had to wear the official parade t-shirts, there were a lot of Rotary hats visible. The crowd was estimated to be about 4,000. And the looks on the faces of the kids…priceless!
Our press release was picked up by the Summerlin edition of the View. The reporter, Jan Hogan, interviewed team members and even included pictures from last year's parade.
We ended the morning's efforts at a barbeque at the home of new president Diane Cabral and her husband Dave. Great service; great fund-raising; great PR; great fellowship – all in all, a perfect day.
---
Las Vegas Fremont Rotary Club Celebrates The First Anniversary Of Birthday Club For Members Of The Agassi Boys & Girls Club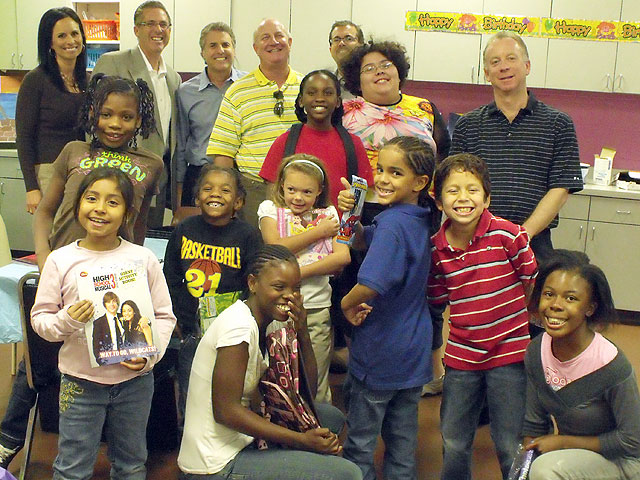 On Wednesday, August 18th at 4:30pm, the Las Vegas Fremont Rotary Club will celebrate the one year anniversary of its "Monthly Birthday Celebration" with the Agassi Boys & Girls Club.
Every third Wednesday of the month at 4:30pm members of Las Vegas Fremont Rotary Club sponsor a birthday celebration at the Agassi Boys & Girls Club. Kids whose birthdays fall within the respective month are invited to share in pizza, cake, ice cream & gifts. Robert Goldstein, a litigation attorney with the law firm of Jennings, Strouss & Salmon, serves as the Club Project Committee Chair and has been instrumental in the development of the program. The first celebration was held on August 19th, 2009 and was attended by several Fremont Rotary Club members.
"This program has been a great opportunity for the boys and girls to celebrate their birthdays with their friends at the Club while interacting with other adults who are role models," said Robert Goldstein, Rotary Club Project Committee Chair and Jennings Strouss & Salmon attorney. "We're happy to provide this enjoyment for these great kids and give back to the community in this way."
The Fremont Rotary Club chose the Agassi Boys & Girls Club because so many of the children who attend the Boys & Girls Clubs may not have the opportunity to celebrate their birthday. This was an opportunity for an ongoing, hands-on project where all Club Kids are introduced to positive role models within the business community. Also, many members from the Agassi Boys & Girls Club also attend Booker Elementary School. Fremont Rotary Club serves Thanksgiving dinner every year to Booker Elementary, so the Rotarians felt it was a perfect fit.
---
Bridging Communities through Education, Connection, and Creation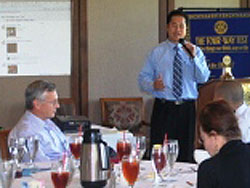 Newly elected President Tony Song, Rotary Club of West Covina Noon, shared his vision for the 2010-2011 Rotary year in three words:
The President's goal is to educate our members and the local community about Health, Fitness, and Rotary (GSE, RYLA, Interact, among others) in an effort to show the reach that our singular actions have locally and across the globe.
In the coming year the club will encourage members and their families not only to connect with one another and other clubs, but also through the education and connection process, we will create Rotary moments together that can be remembered and shared.
Additional goals under President Song's administration include: obtaining a 501c3 designation to help generate more funding opportunities for the club; familiarization with the various media outlets at our disposal for public relations activities (i.e. Facebook, website development, You Tube, Twitter, etc.); and concluding our weekly meetings with the recital of the Four Way Test.
---
Lawry's Top Execs Visit Arcadia Rotary Club
Arcadia Rotarians served up a tasty program when Richard N. Frank, chairman of Lawry's Restaurants, Inc., and his son, Richard R. Frank, president and CEO, were the club's keynote speakers.
According to Richard N. Frank, the history of Lawry's began in 1913 when his father, Lawrence L. Frank, married into the Van De Kamp family. Two years later he and Ted Van De Kamp opened Saratoga Potato Chips on Spring Street in Los Angeles.
Frank's father, along with his uncle, Walter Van de Kamp, founded the Lawry's company in 1922, forming an official relationship between Lawry's and Van De Kamp bakeries. Also that year, the two men opened the Tam O'Shanter, which has the distinction of being Los Angeles' oldest restaurant operated by the same family in the same location. Back in the day, the restaurant's regulars included Tom Mix, Fatty Arbuckle, Mary Pickford, John Wayne and Walt Disney.
In 1938, Lawrence L. Frank and Walter Van De Kamp founded Lawry's The Prime Rib on La Cienega Boulevard in Beverly Hills. For many years, it was unique in that it offered a single entree - roast beef - served "from a large silver cart," designed by Lawrence, "pushed table to table where the meat is then carved to order." The restaurant is also known for its Yorkshire pudding and signature "spinning salad," which is prepared at each customer's table by a server spinning a large metal bowl of green atop a bed of ice.
According to Frank, Lawry's was the first restaurant to serve salad before the main meal. It is also said to have originated the" doggy bag."
"Much of the splendor of the meal was in the way each part of the dinner was prepared and presented," he said.
Also in 1938, Lawry's began selling its seasoned salt in retail stores, followed by a large variety of seasonings made available to consumers bearing the Lawry's name.
In 1956, just prior to the Rose Bowl Game, Lawry's played host to the two competing teams – the Oregon State Beavers and the Iowa Hawkeyes. This went on to become known as the Beef Bowl and the tradition continues to this day.
According to Frank, through the years, the basic elements of Lawry's The Prime Rib have remained virtually unchanged.
"It is still a family business, with the second and third generations of Franks and Van de Kamps working side by side in the restaurants' operation," he said. "Modifications and improvements have been made to meet today's demands, but the meals served remain timeless and still very much Lawry's."
Frank joined the company in 1950 and for many years served as president and CEO of Lawry's Foods, Inc. which includes over 100 products. Under his leadership, Lawry's Foods, Inc., now owned by the McCormick Company, grew from a fledgling family business into a multi-million dollar company.
Franks' son, Richard R., serves as president and CEO of Lawry's Restaurants, Inc. and represents the third generation of the Frank family active in the management of the company. A grandson represents the fourth generation.
"Both father and son have been active Rotarians in the Los Angeles Rotary Club and take pride in their restaurants, which are known for quality and integrity," said Arcadia Rotarian Eric Barter.
"The Lawry's story is quite an impressive testament to family and entrepreneurship over several generations," added Brad Miller. "We are very pleased that both gentlemen took time out of their busy schedules to visit us this afternoon."
The company also owns the Five Crowns and Lawry's Carvery restaurants with Lawry's The Prime Rib also located in Chicago, Dallas, Las Vegas and several international locations.
---
Er, make that a Rotary bus tour – just for Las Vegas
She came all the way from Paris to the parched desert landscape of southern Nevada to tell Rotarians about clean water projects around the world.
The intrepid Parisienne traveler is Cora Meneceur, a Rotary International intern assigned to Florida's District 6960 to help spread the story of the district's involvement in global water projects.
Las Vegas West Rotary was one of only 10 clubs across the nation chosen to be part of Cora's Rotary Rail and Water Tour, named for her prime mode of transportation and for the topic/purpose of her journey.
For Las Vegas, the expedition had to be renamed the Rotary Bus, Rail and Water Tour.
Sin City was founded as a rail halt just over a century ago. But economic facts of life long ago forced passenger railroads in this neck of the desert to go the way of the passenger pigeon. So Cora came and went by Greyhound.
Cora's journey around the United States was aimed at spurring support for District 6960's application for an RI matching grant to fund water projects in the former Soviet republics of Central Asia and in Haiti, and to help an organization called Intelligentsia International.
Intelligentsia International aids village water committees in Central Asian nations and, working with local Rotary clubs, uses interns from the United States and other countries to fulfill its mission.
Cora, 21, a master's degree student at St. Etienne Business College in Paris, visited Rotary clubs in eight states across the nation from late May through June. Her trip took her from Florida to Indiana and Illinois; Louisiana to Colorado, then on to California, Arizona and Las Vegas West in Nevada.
"Access to drinking water is one of the most basic measures of a community's quality of life," says Cora. "It is difficult for me to understand that in so many parts of the world, this access is not guaranteed."
Besides seeing the country, Cora's tour also taught her about Rotary.
"I learned so much about Rotary," she says. "I discovered a multi-faceted country rich in its diversity.
"I met people aware of their commitment and ready to participate, qualities that make me realize where Rotary draws the source of its efficiency and effectiveness."
---
Montebello Rotary Honors Outgoing President, Leadership Team

Montebello Rotary president Martin Castro, along with the club's leadership team for the 2009-10 Rotary year, were honored for their service at the club's 86th annual installation dinner held June 30 at the Rosemead Doubletree Hotel.
Guests enjoyed the music of the Ron Kobayashi Trio during dinner along with dancing in the hotel's ballroom at the conclusion of the evening's program.
As is tradition, club members paid tribute to Castro in the form of a comical skit highlighting his year as president. Always the good sport, Castro donned a sombrero and sung his rendition of "My Way."
Castro then praised his outgoing board for their hard work over the past year allowing the club to continue to benefit the community through its charitable programs and ongoing service projects, especially the worldwide eradication of polio, as well as the club's efforts, along with the Montebello Historical Society, to transform the Sanchez Adobe into a museum, historical resource for local schools and self-supporting venue for community and social events.
"Every Rotarian is essential to our club and I thank all of you for your hard work this past year," said Castro. "We strive to make a positive difference in the lives of all those we serve."
Richard L. Adams II, the evening's master of ceremonies, was named Montebello Rotarian of the Year. Selected by the club president, the recipient is typically someone who has demonstrated outstanding dedication to Rotary and has been of special assistance to the president during his/her term.
It has also been the tradition of the club to award a Rotary International Foundation Paul Harris Fellow in recognition of major contributions to the club over a number of years. Selected by past recipients, this honor went to former District 5300 Governor Barbara Risher Welch.
In addition, perfect attendance awards were handed out to Castro, Adams, Welch, Ted Jones, Robert Monzon, Joanne Miceli, Pete Adriance, Edgar Morales, Kathy Schlotz, Bruce Jugan and Anne Donofrio-Holter.
Welch had the privilege of installing Monzon as president, along with those that will serve as the club's leadership team for the 2010-11 Rotary year.
"Not only must a club recruit new members, it is vital that current members realize how important they are to the work of Rotary," said Welch.
At the annual district conference, Castro was presented with a leadership citation and the club with an exemplary award in the area of public relations (Anne Donofrio-Holter, chairperson).
---
From Russia with love
When Tatiana Vinda of Moscow got an email from America telling her she'd won a VIP trip to Las Vegas, she first thought it was some kind of joke.
Russians play practical jokes on each other on April Fool's Day just as we do in the United States, but Tatiana didn't know if we did it on the same day.
Maybe, she thought, Americans have a July Fool's Day on the Fourth of July.
She knows better now. She's busy planning her trip to Vegas.
Tatiana is the winner of the mammoth It's Vegas, Baby Internet-based global raffle from The Rotary Club of Las Vegas West.
"I'm absolutely happy to have a chance to visit Las Vegas. I think this city is one of the miracles of the world created by the hands of people," says Tatiana.
"Also I've never stayed in a five-star hotel and never traveled by limousine."
As winner, Tatiana earns a four-day, expenses paid trip to the entertainment capital of the world, including round-trip air fare.
She and a partner will be treated to a stay at one of the world's most glamorous hotels; a top-drawer show and fine dining in smart restaurants with taste-tempting menus, amid the brilliant sunshine of this cosmopolitan desert oasis.
The contest drew attention and entries from around the world. On Independence Day , the Glorious Fourth of July, we drew the winning entry. Tatiana was one of nearly 500 entrants in the groundbreaking raffle.
The contest truly put The Rotary Club of Las Vegas West on the map, with entries from such exotic places as the French Indian Ocean island of Reunion; Fiji; Botswana and Finland. It drew widespread support across the world, with notable mass entries from Canada, Australia and the United Kingdom.
The contest even attracted the attention of Rotary International itself for its daring use of the Internet to spur interest in a project by a Rotary club.
The contest was not restricted to Rotarians. Everyone, everywhere, was invited to enter. But the winner is a Rotarian.
Tatiana is a past president of the Rotary Club of Moscow East. The club is named, not for its geographical location in the city, but because its members are people who moved to the capital from areas in eastern Russia.
Tatiana was just settling in back home from a trip to Montreal for RI's annual convention when she got her email sent by President-elect Bill Pierce. Now she's planning on heading back across the Atlantic.
Tatiana is a charter member of the Moscow East club, which was established in 2005. She is the immediate past president.
The mother of Victoria, 14, Tatiana is representative in Moscow of a German company that imports business gifts and promotional items from Europe and China.
"We've had just 20 years of Rotary in Russia," says Tatiana.
"You know that our country was in isolation for many years. Now we are happy to be part of the international Rotarian community."
In Montreal, she says, she was delighted to meet and make friends with Rotarians from around the world.
All proceeds from the contest go to help underprivileged children in at-risk schools in Las Vegas and the other humanitarian programs of the club.
Tom Novotny, immediate past governor of District 5300, and a charter member of Las Vegas West Rotary, picked Tatiana's winning ticket from a drum at a club barbecue at the home of President-elect Pierce.
Immediately after the drawing, Bill emailed the news to Tatiana, who—given the time difference—was fast asleep in Moscow. Entrants in the Internet-based contest were told the winner would be notified by email.
Entrants were obliged to submit email addresses with their Internet entries. Each entry was allotted a paper ticket. Those were then popped into the drum for DG Tom to pick from.
"I want to thank Tom particularly for picking my ticket as the winning entry," says Tatiana.
---
Rotarians: Making a Difference in their Own Health

This year, Bruce Jugan, a 15 year member of the Montebello Rotary Club, began speaking to Rotary Clubs in Districts 5300 and 5280 about the Federal health insurance reform legislation. In his presentation he explained that most of the money spent on medical care is to treat illness associated with lifestyle choices. According to the Centers for Disease Control and Prevention (CDC), 65% of Americans (195 million people) are overweight; chronic illness, such as diabetes and heart disease, follows.
As an example, Americans eat fast food "combo meals" (i.e., French fries, mega-sized hamburger and shake) without realizing that this single meal contains more calories than one should consume in an entire day. It also includes more sodium (salt) than one should consume in a day and a half. Our daily food choices and lack of exercise play a large role in the huge medical bills our country is attempting to finance.
With awareness comes action. As a follow up to Bruce's presentation to the Montebello Rotary Club, and with the enthusiastic support of Montebello President Martin Castro and his board, Bruce and Mike Newton, director of the Montebello YMCA, met with the catering director at the Montebello Country Club and discussed healthy food options for the club's meetings. A win-win arrangement followed where Rotary Club members can now select a "healthy" veggie plate or fruit plate or eat the normal meat-based meal.
Additionally, the Montebello Rotary Club tries to start each meeting with 1-2 minutes of stretching (see photo). This reminds members that moving their bodies every day is important to their health.
Also, after stretching, a member of the club gives a "health minute" where he or she shares an interesting health tip with the club. For example, one member, Byron de Arakal, described how he and his son developed a passion for cooking healthy food in their quest to help the adult son lose weight. Another member, Richard Reyes, shared an article on salads on restaurant menus that are actually very high in fat and caloric content. The article gave specific suggestions for making healthier salad choices.
Bruce has given his talk to about 10 Rotary clubs and the reception has been overwhelmingly positive. Rotarians are leaders by nature. Is it possible that Rotary could lead the country toward better health?
If your club is interested in having a program about the Federal health insurance reform that includes a description of the underlying costs of medical care with suggestions for healthy options for Rotary clubs, please contact Bruce Jugan at work, 323-721-9121, cell 310-428-7300 or brucejugan@benefitscafe.com
---